'Good Earth was more a passion than a business for a long time,' Anita Lal tells Anjuli Bhargava.
'Today, I can assure you I know more about retail than most, but I learnt it all the hard way.'
Illustration: Dominic Xavier/Rediff.com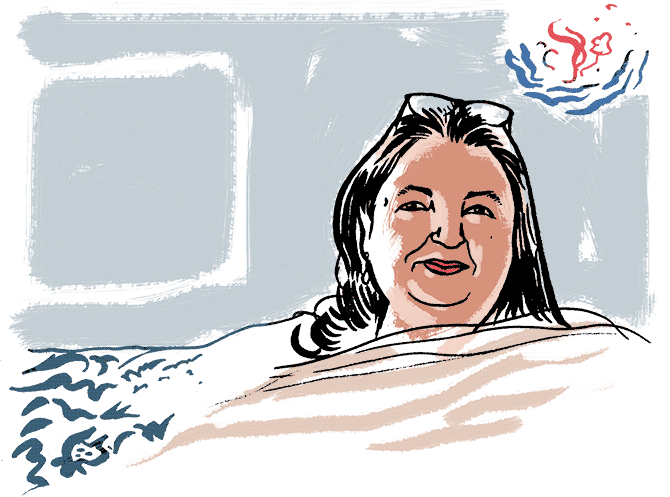 The joy of creating something inanimate and one's own personal journey can at times be inextricably linked.
One starts small and before you know it, the object acquires a life of its own.
The momentum envelopes you and you find you have grown with it every step of the way.
That in a nutshell describes Anita Lal's experience with Good Earth, her tiny creation way back in 1996.
Lal and I are finally meeting for lunch at the Hyatt's China Kitchen -- a delightfully silent place to meet -- after months of being in touch over e-mail. We order a small salad, an egg-fried rice, vegetarian stir-fry and a fish preparation.
Her foray began when she started to ask why Indian potters could not produce quality that would appeal to the modern Indian palate instead of making crude "matkas and gamlas."
At her farm in Delhi's Chhattarpur, Lal hired one young potter, bought a new modern potter's wheel, created a kiln and started making larger, higher quality pots.
A few years later in 1994-1995, she came across a space available on rent in Mumbai's Kemps corner.
By then, she and her potters had learnt to fire and colour glass and etch designs on ceramics. She started with a small crockery collection and earthen pots, never compromising on quality.
I ask how she named it Good Earth. Good Earth was actually the tractor brand that her father-in-law had built, but the name was quite apt for what she had in mind.
This is what one calls the "serendipities of life," she laughs. The food arrives and is excellent. We are both slightly distracted by it, but try to keep on track.
The Mumbai shop in 1996 was created as a space where buyers wanted to linger -- an experience to savour.
Soft music and subtle lighting enhanced the appeal of the merchandise on sale. The fragrance of orange blossom wafted gently towards you. Even the wall textures and stones used were carefully selected.
The store was aimed to capture all of one's senses: To make you want to hang around, even if not buy.
I interrupt here to ask when they decided to shift gears.
There was a time when I could afford an odd thing in their store, but today I head to the café on the top floor in the Khan Market shop in Delhi with my eyes closed lest I be tempted by something.
Almost everything looks irresistible, but is no longer affordable.
She concedes the point totally. With India's opening up in 1991, two things happened. Disposable incomes rose and people's tastes evolved.
Second, there was an influx of imported goods from Dubai -- if slightly lower in quality and aesthetics -- at similar prices.
Good Earth's colossal store with high ceilings, exquisitely crafted interiors and carefully picked furniture items from the Far East in Mumbai's Raghuvanshi mills in 2004-2005 was a sight to savour.
The store was attracting the city's who's who. But clients who came to the store at times left empty-handed: They wanted to spend double on a gift or a purchase than what was on offer.
"That's when we began to question ourselves. Clients were just demanding more."
So they decided to "up the ante". Raising the bar wasn't an easy process: Everything had to be transformed from the items on offer to the way it was packaged to the look of the stores.
But once they had established themselves as this high-end luxury brand, Lal didn't feel quite happy with it.
She didn't want to lose her old loyal clients, many of whom felt Good Earth had "out-priced" itself.
For a while, they tried to keep the less expensive and simpler things in the stores, hoping to retain old clientele while pulling in new ones, but it didn't work.
That was the genesis of Nicobar, the new design brand run by her daughter and son-in-law, which opened two years ago.
Nicobar is aimed at the young, cool and hip India of this century while Good Earth targets a more mature audience.
Even though many perceive Good Earth as 'expensive' or even 'exorbitant', making money was never on the minds of the creator.
"Let me be quite honest. Good Earth was more a passion than a business for a long time," adds Lal.
It was only around 2010 -- after her son Siddhartha guided them a bit -- that Good Earth started to look more closely at the business aspect of it. He made them cut out frivolous expenses, look closely at inventory and warehousing.
Today, the ship is afloat on its own accord -- it no longer borrows from anyone -- and generates its own profit, albeit small.
But Good Earth has made her much richer, she argues, in ways money can never buy.
At the onset, all she had was an innate eye for beauty: She knew nothing about retail or merchandising and found it all quite "daunting".
"Today I can assure you I know more about retail than most, but I learnt it all the hard way," she adds.
She knows how hard she has worked to bring the enterprise to where it finds itself today.
At some stage, with 10 stores across 7 cities, Good Earth acquired a life and momentum of its own and the rest as they say is history.
Small is beautiful is the philosophy that it has adopted and runs like a tight ship. What is perhaps lesser known is that the ship is steered mainly by women.
While there are many men in the over 650 people employee strength, 80 to 100 talented and committed women comprise the heart and core of the organisation.
20 women hold the top positions -- barring one. No titles or hierarchies exist in the flat organisation.
I express complete amazement: Two women in my kitchen and I find they fail to see eye to eye. How did she manage this marvellous feat?
She says it hasn't been smooth sailing all the way. So many women together at one workplace, they have over the years screamed, argued, fought and cried, but eventually they have learned to live with each other.
Now, she argues, it is in "near perfect harmony," calling it the Good Earth family.
It is this cohort and an "easy" ethos that makes it what it is today. The company makes sure the women have the freedom to move, balance their personal and professional stuff and live a happy, full life.
Good Earth's chief financial officer is currently based out of Singapore as she relocated with her husband.
A deep and abiding interest in ancient history pushes her to research and launch collections based on her research.
Ratnakara, Samarkhand and Farah Baksh are collections spawned for the store based on research into cultural, social and ideological history and aspects of the Indian Ocean, the Silk Route and Kashmir's Shalimar Gardens respectively.
Preserving India's heritage and ancient culture is important to her and she reels off a list of projects she supports in India.
As we reach the end of our lunch, she tells me that she and her daughter are now busy giving the final touches to Paro, an "uber" luxury brand aimed at well-being and wellness.
Luxury of a personal kind -- something that goes beyond brands. Based on ancient Vedantic thought, principles, values and way of life, it explores the holistic way to live.
"Just like Good Earth celebrates the design heritage of this country, Paro will celebrate the ancient philosophical thought and heritage of India," she adds with a sparkle in her eyes.
As she catches my slightly confused look, she laughs and says she will send me an invite to the opening.
Paro is something to be experienced, understood and appreciated. Like, I think to myself, Good Earth's exquisite designs.
Not everything can be described in words.