'Kids like something when it is interesting, focused, and offers scope for self-exploration.'
'We teach them how to learn, not force them,' Byju Raveendran tells Bibhu Ranjan Mishra.
Illustration: Dominic Xavier/Rediff.com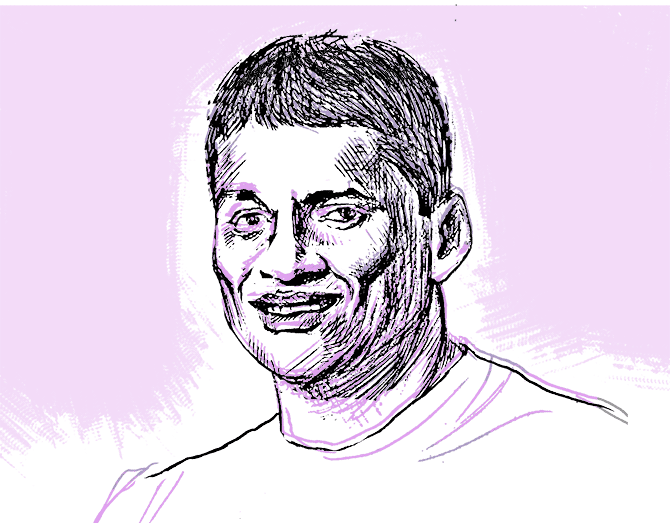 Controlled aggression, many authors say, is the hallmark of a successful entrepreneur.
That's much in evidence when you meet Byju Raveendran, founder of the eponymous learning app.
I would go as far as to say Raveendran is controlled aggression personified, and he admits as much.
"That's why I can't be a defender on the field," says Raveendran, a football fanatic. "I like to play in the forward position."
One of India's most celebrated teachers, Raveendran has gone through five surgeries till date, thanks to the injuries sustained on the field -- of football or cricket or the many other outdoor games he pursues, stealing time from his busy work schedule.
He played football for close to two hours post-midnight before we meet in the morning for breakfast.
I am amazed that he has turned up looking so fresh in his polo-neck t-shirt and denims.
As we settle down after taking a short trip around Byju's swank office located in a business park off Bannerghatta Road in Bengaluru, Raveendran talks animatedly about the football field he frequently uses, close to his home in the plush HSR Layout.
Despite his passion for outdoor sports, Raveendran says he is not much of a social or party animal.
It's very rare, he says, when he goes out for a meal, and when he does, he goes out with his family or some close friends.
'I was given the freedom to learn the way I wanted.'
"I was born into a joint family of 17 members. Even now, most of my close relatives stay in and around the place where we are sitting. So invariably, most days, even if you cook just one dish at home, you will have many more on your plate -- they would have been sent by your relatives," says Raveendran.
Both his parents were teachers -- Raveendran's father taught physics, while his mother taught mathematics.
That would have been an early inspiration, I suggest.
Raveendran agrees, adding his parents never interfered in the way he wanted to study.
And while, like every parent, they wanted him to excel in studies, they never stopped him from participating in sports.
So the teacher-entrepreneur sitting in front of me ended up skipping classes to be on the football/cricket field.
"I was given the freedom to learn the way I wanted. I spent most of my time playing games -- and that's important, that's how you learn life skills."
'Kids don't need to read for two hours to learn something.'
Mathematics and science came easily to this former student of a Malayalam-medium government school in Azhikode, a village in Kannur in coastal Kerala.
He picked up English listening to commentary on radio.
"I listened to every possible game commentary. I did not do that to learn English, but I learnt English because of that."
That's one of the reasons why Raveendran says he speaks English so fast.
"Real learning is driven by the learner himself, while teachers can ideally be mentors making sure that students are learning better outside the classroom than inside."
We are interrupted by a knock on the door.
The office attendant appears with Raveendran's favourite breakfast combo -- puttu, a steamed rice and grated coconut cake, with kadala, a curry prepared with horse gram.
It's a popular breakfast option in most Malayali homes, he tells me and proceeds to demonstrate how to mix the puttu with the kadala.
'What I can't teach you in one hour, I can't teach you in a year.'
Education is the last thing one should standardise, Raveendran says.
"Asking questions is important. Kids lose interest (in learning) because they are taught in the most boring format. Kids don't need to read for two hours to learn something. What I can't teach you in one hour, I can't teach you in a year."
"Kids like something when it is interesting, focused, and offers scope for self-exploration. We (Byju's) teach them how to learn, not force them," says Raveendran.
As I sip my masala tea, Raveendran tells me that even though he had the option of joining a bigger government engineering college in the state, he preferred to pursue it in Kannur itself, travelling a distance of around eight kilometers from his village to his college.
He stepped out of his state for the first time when he got a job offer from South Korean shipping management firm, Pan Ocean, immediately after completing his bachelor's degree in mechanical engineering in 2001.
The close to three years that he spent at the shipping company was real fun -- he travelled a lot and picked up valuable life lessons.
"We worked mostly in the nights when the ships were in the port. After a couple of hours of sleep in the morning, you have almost the entire day to move around and explore new places."
That was also the time when the IT industry in India was riding a peak and most of his engineering batchmates were working in Bengaluru.
During a vacation in 2003, he decided to come to the IT city on the invitation from a friend who wanted his help with maths for the Common Admission Test (CAT).
He taught around 12 of them, and interestingly four got through.

He returned to Bengaluru for a second time when those who didn't qualify previously formed a group of 35 students and hired a place in Bengaluru's Jyoti Nivas College campus.
After he began taking classes, the strength increased to 70 and then to 140.
So then, they had to book the auditorium in the same college which had a capacity of 1,200, paying a huge fee.
By the sixth week, the auditorium was completely full with students mostly in the 21 to 26 age group.
The whole thing began to look attractive financially -- Raveendran typically charged around Rs 5,000 for seven workshops, each lasting a gruelling four hours.
In 2005, he decided to return to Bengaluru for good.
This was the career he wanted to pursue.
Over the next couple of years, his classes -- which became popular as Byju's Classes -- grew by leaps and bounds, He began travelling to other cities -- including Pune, Chennai and Mumbai.
Interestingly, Byju's first investor Ranjan Pai of the Manipal Group came on board after witnessing the rush outside a hotel near the Manipal Institute of Technology, where he was taking a group class for students who were appearing for various entrance exams, including the CAT.
Pai attended one of his lectures in 2013 pretending to be a student and was sold on the idea.
He offered to invest in Byju's.
Interestingly, Sequoia also came with an investment proposal after listening to a lecture Raveendran delivered at Bengaluru's Kanteerava Indoor Stadium, but that happened some years later.
Meanwhile, as the number of students swelled, Raveendran started taking his classes in large indoor stadiums like the Indira Gandhi Indoor Stadium in Delhi, the Sardar Vallabhbhai Patel Indoor Stadium in Mumbai and Hyderabad's Rajiv Gandhi Indoor Stadium.
"It was like teaching math in a festive atmosphere. The only difference was, instead of rock concerts, those were math concerts," recalls Raveendran showing me one such video.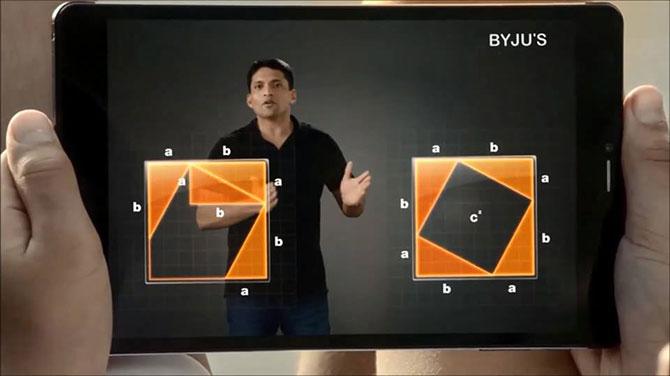 By 2013, he had the financial backing from Ranjan Pai and Mohandas Pai of Aarin Capital who invested around Rs 55 crore.
Raveendran soon realised he had to take the multimedia route and distribute modules on test preparation via VSAT and the internet.
He also beefed up the team.
Things changed further after Sequoia committed its investment in May 2015, though Raveendran says funding was never a problem because his lectures were making enough money.
By September 2013, the first app was launched, and the rest, as they say, was history.
What started as a past-time evolved into the world's most valuable edutech company with a valuation of around $5.4 billion.
Byju's learning app caters to school children in the 4th to 12th standard cohort; there are more than 30 million free users and over 2 million paid users.
The company might have already touched Rs 1,400 crore in revenue in FY19.
So what next?
The whole business has changed with changes in technology and the entry of new players.
"I have come from nowhere, so there's nothing for me to lose," says the ace entrepreneur philosophically.