'Power is always transitory, and you should be the same person whether you have it or not,' the head of the number one law firm in India tells Pavan Lall.
Illustration: Dominic Xavier/Rediff.com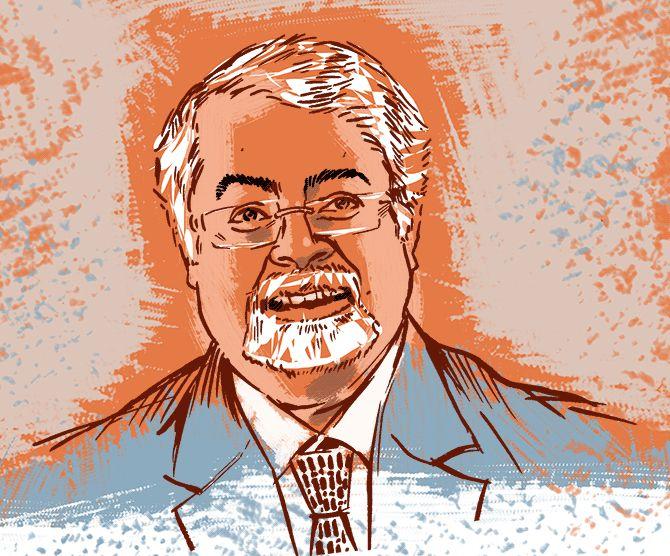 Thanks to his hectic calendar, I am scheduled to meet Shardul Shroff at his 24th floor office in Express Towers at Nariman Point in Mumbai instead of a restaurant.
The office is tastefully decorated with classic Indian art, and has a stunning view that overlooks the Arabian Sea.
It's ironic that the former tenant of that space was none other than rival law firm AZB & Partners.
Within minutes, the founding partner of Shardul Amarchand Mangaldas & Co, a silver-haired 63 year old, enters the conference room.
Dressed in a tailored blue suit and red tie and sporting a french beard, Shroff says matter-of-factly:
"I'm sorry for being unavailable earlier and changing venues, but this will be faster and it's more private."
A look at Shroff's schedule explains it all.
Forty of his lawyers across cities were working on the $16 billion Walmart-Flipkart merger (on behalf of Walmart); he's also representing Punjab National Bank in the high-profile fraud case involving fugitive jeweller Nirav Modi.
That apart, his role as committee member on the panel that drafted the Insolvency and Bankruptcy Code requires him to jet between Delhi and Mumbai as corporate India watches the auction of some of its biggest assets.
We order take-outs from India Jones, housed at The Trident Hotel just across the street.
A vegetarian, he chooses some asparagus and edamame dim sums, another vegetarian dim sum basket and Sichuan silken tofu, and adds I would be expected to help him out.
I opt for a Thai red chicken curry along with some chicken dumplings.
A mild-mannered professorial, with neither the aggression nor the grandstanding that lawyers are expected to exhibit, Shroff cuts an unlikely figure in a world where descriptors like 'bulldog' and 'prima donna' are deemed a virtue.
But as his wife and managing partner Pallavi Shroff has said in the past it would be "a mistake to think that he's laid-back, and underestimate what is going on under the surface".
Three years and a couple of months after calling a truce and agreeing to split the country's largest law firm because of a dispute with brother Cyril over their late mother's will, Shardul, who ran the Delhi business, opened shop in Mumbai in 2015.
Known to send detailed instructions on how to conduct affairs during various puja seasons, Shroff is superstitious to the point that he charted out the exact time and date for renovation work to start at his new office in Mumbai.
Science or art, it seems to be working. Today, his firm has 520 attorneys and 109 partners across seven locations with an annual growth rate of around 30 per cent.
According to ergermarket (an M&A data and intelligence provider) rankings, SAMCO is the number one law firm in India both by deal value and count at $39.3 billion across 46 transactions for the first six months of this year.
Eight of his lawyers are ranked number one across Asia.
"When you parted ways with your brother, did you think it would go so well?"
I ask, as I sip on bottled water.
"The sum of the parts is greater than that of the whole," says Shroff with no hint of arrogance.
"When we were together, we were more constrained. When we are separate we are free and perhaps doing better."
Shroff is modest when it comes to talking about his achievements in a career that stretches four decades saying only hard work, honest delegation and empowerment have been his virtues.
"In the late 70s, we handled the first water project in Tirupur, a new area, with project finance and project contracts, and a first-year lawyer who went along with me. But then I was called back to New Delhi and I left the youngster behind in charge."
That youngster -- Gunjan Shah -- is now an equity partner at the firm.
"I would say they (partners) stick around because I don't breathe down anyone's neck because I hate anyone doing that to me."
A dose of out-of-the-box thinking has also helped Shroff cement his reputation and hold onto talent.
For instance, a 1996 merger between Eicher Tractors and Royal Enfield Motors was conducted at a single-window level in a high court in Chennai which made a potentially complex filing simple, especially because a profitable firm was merged into the loss-making Royal Enfield.
Another was the 1991 amendment for HCL Limited and HCL Hewlett Packard which involved the creation of a new company, namely HCL-Hewlett Packard, where instead of new capital being issued and every shareholder getting diluted, existing shareholders were able to encash their shares on a scheme-approval basis as opposed to individual consent with the transferee being Hewlett Packard.
We are interrupted by a knock on the door followed by a uniformed waiter who rolls in a white linen-covered trolley with the food neatly arranged on it.
Lunch is served with silent precision.
I sample a fragrant vegetarian dumpling laced with truffle oil before tackling my chicken ones that are perfect -- slightly crispy on the outside but tender and well-seasoned inside.
I try to verify a rumour.
"The buzz on the street is you're adding a 100 lawyers..."
Unruffled, Shroff says, "I intend to take a big leap but not 100 lawyers... The existing number of my IBC (Insolvency and Bankruptcy Code) team which is around 40 lawyers, may double."
Shroff turns to his edamame dumplings, making it amply clear that is all he would say on the subject.
Resigned, I help myself to the lemongrass-infused curry and steamed rice, which I conclude is almost as good as the one served by Taj's award-winning Thai Pavilion.
I fire another question.
The Supreme Court has recently ruled that both Numetal and ArcelorMittal must clear dues before aiming to acquire Essar Steel.
In the next few days another major IBC asset, Binani Cement that also saw a tussle between bidders over deadlines, will be decided on at the National Company Law Appellate Tribunal.
How will it all play out?
The answer is both diplomatic and lawyerly.
"I have a feeling that the courts will lay down principles that will prevent disputes and disruptions in the future."
Running a top-notch corporate law firm bestows a founding partner with considerable influence.
How does Shroff balance that with what seems to be his almost insular, Zen-like approach?
"Power is always transitory, and you should be the same person whether you have it or not," he says, picking up a piece of tofu.
Does he mean arrogance is more of a hazard for lawyers?
Shroff nods as he slowly chews and his eyes narrow for a splinter of a nanosecond.
"Very competent lawyers tend to become arrogant and the arrogance of knowledge is the worst of its kind because, truth be told, it ought to be shared and used to help the less fortunate."
I ask Shroff how he unwinds and learn that cinema and art are the two chosen avenues.
Art, judging by what I see on the walls of his office, is a passion.
Shroff nods and says the collection includes works by Tyeb Mehta, Francis Souza, a lot of Bengal School masters such as Gopal Ghosh, Nandalal Bose, Jamini Roy as well as Bikash Bhattacharya.
His favourite?
"All the dead ones, of course," he smiles.
As our working lunch draws to a close, we decide to try a small portion of the dessert -- a silky smooth hazelnut caramel souffle that came as a surprise because neither of us ordered for it.
Even more surprisingly, neither of us question where it came from.
Ascendancy may be the order of the day for Shroff but defections, the threat of foreign law firms, succession issues, and the growing trend of corporate houses adding general counsels in-house are all potential disruptions, but Shroff is unruffled.
A film buff who counts martial arts movies as his top favorites, he's seen the 1978 kung fu cult classic film The 36 Chambers of Shaolin a dozen times.
He recounts a scene where the protagonist is beaten again and again by his teacher until he invents a weapon of his own choice -- a three section-bamboo staff, which then leads him to victory.
If the 36th Chamber was created to teach kung fu to everyday people then after 37 years of practicing law I ask, what is Shroff teaching his partners?
The soft-spoken answer is "How to build and run a winning law firm."