Once tipped to emerge as the biggest exporter, the pharmaceutical industry is yet to acquire the scale of those in software services, says Krishna Kant.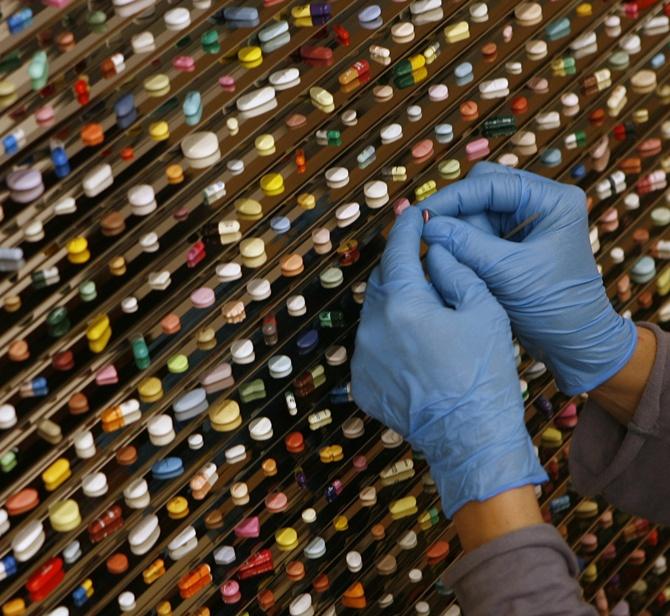 IMAGE: Pharma exports have been hampered by a series of quality and compliance warnings issued to various domestic pharma companies by the US Food and Drug Administration. Photograph: Alexandra Beier/Reuters.
Pharmaceutical exports were supposed to be the next big thing for India, after the global success of its information technology (IT) industry. But, it seems pharma exports are past their prime, even as the industry is still in its infancy.
In FY17, IT services exports, at $160 billion, were nearly 10 times those of drugs and pharma and equivalent to nearly 60 per cent of the country's merchandise (goods) exports.
In FY17 IT services exports were up 3.5 per cent year-on-year (y-o-y), while total merchandise exports were up 5.3 per cent.
In the last financial year, India's pharma exports, including bulk drugs, were down 4.7 per cent y-o-y, and the sector's net sales grew at its slowest in about a decade.
The sector has hit a growth block despite it being a minnow compared to IT services in terms of exports. This, analysts say, will make it tough for India to grow its exports in the face of a slowdown in its biggest export -- IT services.
"Earlier, there was an expectation that India's global cost competitiveness in generic drugs will turn pharma into one of the county's biggest export stories. Events in the past two years have belied that and the industry has hit a growth wall, though it's still a fraction of the IT industry in terms of export revenues," said G Chokkalingam, managing director, Equinomics Research & Advisory.
Pharma exports now seem to be losing their importance due to poor growth.
During 2016-17, total pharmaceutical exports from India, including bulk drugs, were $16 billion, down 4.7 per cent y-o-y. It accounted for 5.8 per cent of India's total merchandise exports, down from 6.4 per cent in FY16.
All this shows in the financial performance of listed pharma companies, facing rough weather after nearly a decade of high double-digit growth.
Combined net sales of the top listed domestic pharma companies were up only 4.7 per cent in FY17, the slowest pace in over a decade.
Some also attribute it to heightened competition in the US generics market.
"In our long-term analysis of US generics, we believe 2011-2015 had exceptional pricing, with multiple tailwinds driving it. In future, per-product competition is likely to increase further, extending price pressure on the base businesses, explaining our continued negative stance on US generics," said IIFL's Abhishek Sharma in a recent report on the sector.
In the past 12 months, the combined market capitalisation of the top 10 domestic pharma companies (excluding listed subsidiaries of pharma multinationals) is down 13 per cent, against a 15.3 per cent rise in the benchmark S&P BSE Sensex during this period.
The BS Pharma index is down 21.4 per cent in two years, against a 12 per cent appreciation in the benchmark index during this period.
"Pharma companies have lost their star status on the bourses. From an average price to earnings multiple of 35-40x earlier, most large pharma companies are now trading at 18-20x their trailing earnings. It shows investors' muted expectation from the sector," Chokkalingam said.
Exports have been hampered by a series of quality and compliance warnings issued to various domestic pharma companies by the US Food and Drug Administration (FDA). The FDA regulates all pharma imports into the US and an import alert from the regulator leads to an immediate halt in exports from the affected manufacturing unit.
Most of the country's top pharma exporters, including Sun Pharma, Lupin, Dr Reddy's, Ipca Laboratories, Wockhardt and Divi's Laboratories, among others, are currently dealing with FDA issues.
The US is India's biggest export market, accounting for nearly 70 per cent of the revenues of the top five exporters.
The sector's future outlook has been further clouded by increasing regulatory issues in their domestic business.
Recently, it was made mandatory for doctors to prescribe generic drugs, rather than branded versions of generics. This will greatly erode profitability, thereby impairing the ability of companies to invest in new products or markets. The development follows expansion in the list of drugs under price control; a price cap on medical devices such as heart stents and a ban on sale of combination drugs.
This spells trouble for one of the most profitable manufacturing industries in the country.
In FY17, the top 50 pharma companies in terms of revenues reported return on equity (RoE) of 17 per cent, much superior than the BSE 500 companies' average RoE of 11 per cent. The high capital efficiency has allowed the sector to make fresh investment in manufacturing and people, despite a slowdown in capex in the manufacturing sector.
In the past five years, the domestic pharma industry's combined investment in fixed assets grew at a compounded annual rate of 19 per cent, as against 12.4 per cent annualised growth reported by all non-financial BSE500 companies during the period.
Pharma companies also offer some of the most lucrative jobs in the manufacturing sector, with the industry accounting for 5 per cent of corporate India's salary bill in FY17, ahead of their 3.7 per cent revenue share.
All this is under threat as pharma companies face multiple growth threats.