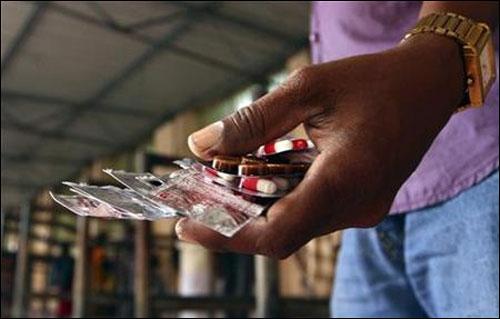 Six pharma majors were sent seven alerts last financial year
At least six major pharmaceutical companies, including Cipla, Ipca Labs, Alkem Labs, Morepen Labs, Abbott and Sanofi were found manufacturing substandard drugs by the Central Drugs Standard Control Organization in 2015-16, of the 181 drug alerts through the year.
Business Standard has accessed this information from the regulator -- Central Drugs Standard Control Organisation.
However, it is not clear if Ipca Labs and Cipla have recalled the affected batches from the market.
These companies did not respond to e-mails sent by Business Standard.
Alkem Labs, Morepen Labs and Sanofi told the newspaper they have recalled their affected batches.
Abbott's affected batches had expired by the time the drug regulator had issued the alert.
Around 99 per cent of the drug alerts issued by CDSCO were for small companies.
The six companies mentioned above were sent seven alerts last financial year.
Cipla was issued the alert in February for its tablet Cip-Zox.
The drug has an annual sales of around Rs 1 crore (Rs 10 million), according to IMS Health, global information and technology services company.
The tablet works as a muscle relaxant or painkiller.
According to CDSCO, the tablet failed the disintegration test -- which is used to check the time taken by the molecule to dissolve in the bloodstream.
Ipca Labs was issued a drug alert in December for its popular drug Zerodol-SP used to give relief to joints pain.
According to IMS Health, it has an annual sales of Rs 92.3 crore (Rs 923 million) in India, making it the leader in the market.
The company's Chairman and Managing Director Prem Chand Godha did not respond to email queries from the newspaper.
Alkem Labs was issued drug alerts twice last year -- in June and July -- for its drug Glimekem.

The company said, of its total annual drug sales of about Rs 3,500 crore (Rs 35 billion), the annual sales of the drug was in few lakh rupees.
"We have already looked into the issues and have taken corrective actions.
New batches are being manufactured and sold according to routine business," said the spokesperson.
Similarly, Morepen Labs, which received an alert for its anti-inflammatory drug Dypen 100 SR in April last year, had recalled the drug after the report from the regulator.
The batch was nearing its expiry date when it was asked to be recalled.
"Also, this formulae does not contribute majorly to our top line and the product sale was only Rs 500,000-10 lakhs (Rs 1 million) a year of the total turnover of Rs 450 crore (Rs 4.5 billion) for 2015-2016," said the spokesperson.
As reported last week, the regulator found Sanofi's popular painkiller drug, Combiflam, to be of substandard quality twice in the past three months.
Consequently, the company has recalled the affected batches.