Following their passion paid off for Harsh Jain and Bhavit Sheth with their fantasy sports platform Dream11 entering the unicorn club with a valuation of over $1 billion.
Romita Majumdar reports.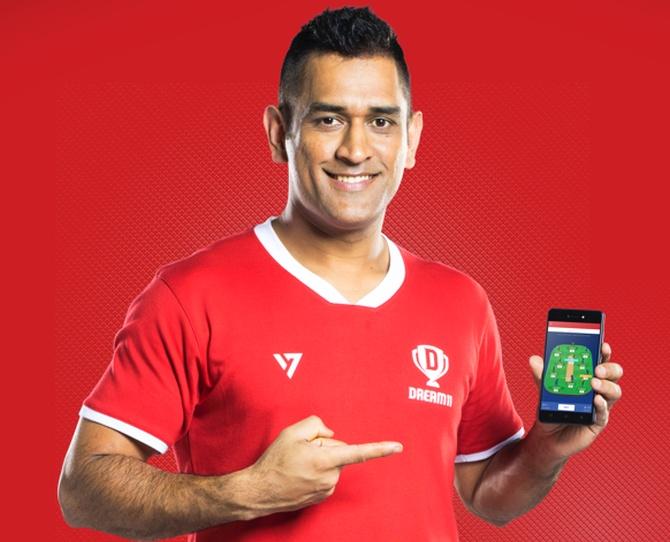 Fate works in strange ways. If Harsh Jain and Bhavit Sheth had not decided to follow their passion for fantasy sports almost a decade back, the former might have ended up in the family real estate business and the latter in textiles.
"If not textiles I may even have ended up in financial services, with my MBA background, but the IPL had just taken off and we felt a need to experience and share the thrill of fantasy cricket with our cricket-crazy nation and things fell into place," Sheth, COO and co-founder, Dream11, reminisces.
Following their passion did pay off with their fantasy sports platform Dream11 entering the unicorn club with a valuation of over $1 billion.
They join the league of Byju's, Zomato, Swiggy, Paytm, PolicyBazaar, Freshworks and OYO among others.
But within the sports genre itself, Dream11 is the first entrant in the club.
Jain, CEO and co-founder of Dream11, calls himself a lifelong Indian cricket team, Mumbai Indians and Manchester United fan.
He also mentions, not-so-modestly in his own words, that he is among the top 1 per cent fantasy sports players globally.
Dream11 was, of course, his brainchild, when he decided to pursue it full time.
Yet, there's a childish excitement when he talks about how Sheth came on board.
"We used play fantasy sports together. I played with a lot of friends but when I wanted to make it into something bigger and pitched it to people, he was the first person to jump on board," said Jain.
Both founders are as passionate about the technology part of the business as they are about the sport itself, but they fill in slightly diverse roles in the organisation.
Jain completed his engineering from the University of Pennsylvania and his MBA from the Columbia Business School.
He is also the chief strategist behind the company's growth plans.
Sheth, with an MBA degree from Bentley University (Boston) and a diploma in e-commerce strategies from Harvard, is the operations man. He keeps the cogs well-oiled on a daily basis.
Last month, Dream11 announced the completion of a secondary investment of an undisclosed amount by Steadview Capital, an Asia-focused alternative asset manager.
Apart from Steadview Capital, Kalaari Capital, Think Investments, Multiples Equity and Tencent are the other marquee investors in Dream11.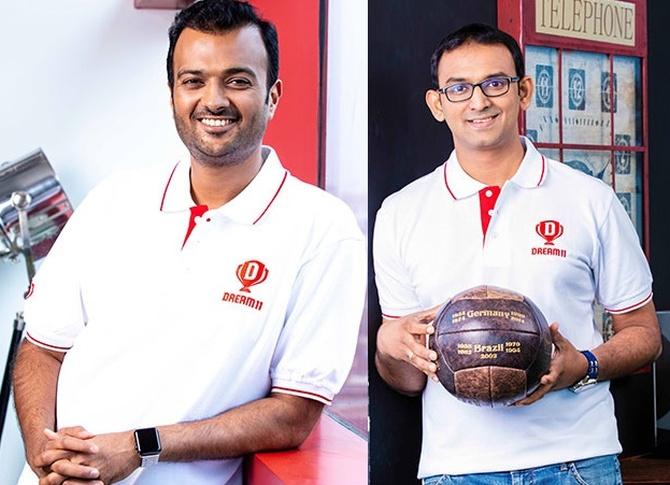 According to the IFSG-KPMG report, in terms of total user base on a fantasy sports platform, Dream11 is the market leader with over 50 million users.
Its user base has grown at a CAGR of 230% over three years, claims the company.
In September last year, the company had raised $100 million from Chinese giant Tencent.
According to KPMG, the online gaming industry in India is expected to generate a revenue of Rs 11,900 crore by financial year 2023 which shows why investor interest has stayed constant in the space.
The company has around 200 employees, largely running the background tech and payment modules to ensure that millions of users can access the platform simultaneously.
The management has asserted plans to double their user base to 100 million this year.
The company culture and expansion pattern is something that the founders track and control very closely. The average age of employees is around 28.
"A lot of the workforce started really young and we have grown together to some extent. Of course, we brought in a few experienced people down the line as well but the idea has always to ensure that the culture is honed for towards the company goals," said Sheth.
The idea, Jain says, is to hire people, stick with them and grow together. "Good talent will always bring in more."
While Dream11 has grown exponentially in the last two years, it wasn't without hiccups and it certainly wasn't overnight success.
When it was originally launched in 2008 in the 'super selector' format, it did not gain much traction.
Dream11 is now the official fantasy partner of the Indian Premier League, the International Council of Cricket, the Pro Kabaddi League, the Hero Indian Super League, the National Basketball Association, the Hero Caribbean Premier League, the International Hockey Federation and the Big Bash League and has Mahendra Singh Dhoni as the brand ambassador.
"Basically, between 2008 and 2011 we figured everything that we shouldn't be doing," said Jain.
By 2012, the current format of the game started taking shape and by 2014, they knew they had to scale it up rapidly.
From 2016 onwards, the company rapidly gained funding following growing investor interest.
The user base also scaled up during this time from 3 million in 2014 to over 50 million today with multiple games on offer.
All this because two young fantasy sports players couldn't find their favourite sports on the conventional fantasy sports platforms over a decade ago.