'India is the largest stomping ground in the world for impact investing as we have an extraordinary combination of entrepreneurial drive with huge, absolute demand for all kinds of social services,' IDFC First Bank's chief Rajiv Lall tells Anjuli Bhargava.
Illustration: Dominic Xavier/Rediff.com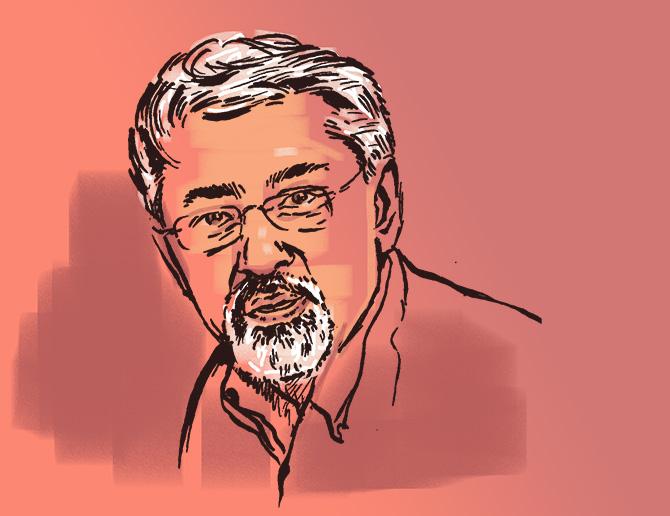 He's taught economics at the Florida Atlantic University, dabbled in private equity with Morgan Stanley and Warburg Pincus, worked with the governments of Chad, Gabon and China during a stint with the World Bank, associated closely with people he affectionately refers to as 'Andhrapreneurs' as CEO of IDFC, converted IDFC into a bank and led it through its recent merger with Capital First, set up Lok Capital (as a philanthropic initiative in 2004) and is in the process of setting up Social Finance India to create an ecosystem for impact investing in the country.
He's also adding the finishing touches to a detailed essay that he hopes will morph into his first book at some stage.
So how precisely does one describe Rajiv Lall, chairman of IDFC First Bank?
Is he an economist, academician or an advisor?
Is he an equity shark or a do-gooder with a hyperactive social conscience?
Is he driven by capitalism and the urgent desire to create untold wealth or is socialism his path to salvation?
It would appear there's little he's left untouched in his 61 years.
Do people like this do anything else, I think to myself, as I smile at him politely while listening to his story.
I am meeting Lall for lunch at Mumbai's popular eatery Yauatcha, minutes away from his office in the Bandra Kurla complex.
The restaurant is packed with office groups and is far noisier than I had anticipated.
We change places to avoid the din. He starts with a helping of chives dumpling.
We order a spicy stir fried rice (for me) and a Singapore stir fried vermicelli (for him) and some stir-fried beans and a pak choi, which we decide to share.
A Modern School pass-out, Lall finished the last two years of school in the UK before heading to Oxford for a degree in politics, philosophy and economics.
After completing his PhD from the Columbia University, he taught economics at Florida Atlantic for a couple of years before heading to the Asian Development Bank in the Philippines.
Soon after, he moved to the World Bank in Washington and found himself thrown in at the deep end.
Africa, back then, was an experimental ground even for the World Bank but for Lall, it was a totally alien animal.
Many countries he was working with -- from Equatorial Guinea to Chad -- were emerging from civil war and were highly fragile states.
He was totally out of his comfort zone, spending four months of the year in the field and functioning in French, a language he knew enough of to get by.
To say those times were unpredictable is putting it mildly.
He recalls making over 60 trips to these countries, often finding that government counterparts he met during a visit in a country were dead by the time he visited the country next, so widespread was the AIDS epidemic in the region at the time (1985-1989).
He went from the frying pan to the fire, landing up in China for the first time only a few weeks before the Tiananmen Square protests.
He worked closely with the Chinese government -- including with Zhu Rongji, first vice-premier and then premier of the People's Republic of China from 1998 to 2003 -- as it prepared for a WTO entry, and also on financial sector reforms with the country's central bank.
China was a great learning experience for him. As late as in 1993 the People's Bank of China did not have control over the country's monetary space.
Each province was flying its own kite and even issuing its own currency, he says.
"Considering where they were as late as 1993, the scale and speed at which they have transformed themselves never fails to amaze me," Lall adds.
He's deeply impressed by how the country used the World Bank and its inputs strategically.
He says he has many "very close friends in China", reflecting on a certain "openness" often missing in India.
This experience brought him to the notice of Vikram Pandit, then with Morgan Stanley, who was looking for someone with experience and knowledge of China.
Lall ended up running the Asia Economic Research wing for Morgan Stanley -- albeit for a short stint -- and conducted some of the early India-China comparisons as a self-styled analyst.
In 1997, he joined Warburg Pincus, spending the next eight-odd years in the world of private equity and finance.
It was during this time -- in 2004 specifically -- that he set up Lok Capital in India, a philanthropic initiative to demonstrate the feasibility of raising and deploying capital for impact investing in India, particularly to support the micro finance sector.
At that time, the idea of social impact investing was still new.
Although he set up the organisation, he is no longer engaged with Lok Capital, leaving its running to a professional team.
We are distracted as our food arrives, but quickly get back on course.
It was not before 2005 that Lall would finally return to India.
While working at Warburg Pincus, he met Deepak Parekh, then chairman of IDFC, a 1997 private-public initiative that aimed to catalyse private financing of infrastructure.
By then, Lall had seen both worlds -- government and private sector -- inside out and was the perfect candidate for the post of CEO of IDFC.
He was posted in Mumbai and not Delhi, his city of choice. Even at the outset, Lall was not convinced about the basic tenets that defined IDFC and its role.
"IDFC was to serve public good by lending to long-gestation infrastructure projects. Yet, it was going public," he says. The economist in him spotted a contradiction in terms.
Nonetheless, he went on a tumultuous journey with IDFC, brushing shoulders with the "Andhrapreneuers", who dominated India's infrastructure scene that time.
The size of IDFC's balance sheet grew many times but it had its share of vulnerabilities.
The financial crisis of 2008 convinced him that a wholesale, funded finance enterprise with no financial legs of its own is limited in how much it can grow relative to the rest of the financial system.
"Any kind of macro instability can lead to a total collapse," he realised.
That's when he started lobbying with the Reserve Bank of India to convert IDFC into a bank, a request that was turned down at the time.
It took the subsequent unraveling of India's infrastructure sector -- a collapse that begun in 2011 and went on till 2016, one from which the sector is yet to recover and that left the IDFC balance sheet highly stressed -- that the stakeholders began to realise the advantages of converting the company into a bank.
In 2014, IDFC and Bandhan were the two bank licences handed out by the RBI.
IDFC Bank has recently merged with Capital First and Lall has now donned the hat of chairman, IDFC First Bank.
This fits in with his plan to extricate himself from mainstream finance because "there's so much else to be done".
"India is the largest stomping ground in the world for impact investing as we have an extraordinary combination of entrepreneurial drive with huge, absolute demand for all kinds of social services," he elaborates.
"Yet, it lacks any advocacy platform or ecosystem for such capital to thrive."
Social Finance India (SFI) will fill this gap. Ashish Dhawan (Central Square Foundation), Vikram Gandhi (Asha Impact) and Lall have together set up SFI (the search for a CEO is on), an organisation that will work to build an ecosystem for social outcome-based investing in India.
The plan is to begin with a narrow focus -- social impact bonds will be offered for financing in the public education space by bringing keen investors in contact with change makers.
Eventually SFI will straddle every sphere of impact investing.
Lall also has a solution for how to use CSR funds to finance the delivery of social services.
He says "social outcome certificates" should be introduced in the country that can be purchased with CSR funds.
This can be done at a district level. Define outcomes, get the official machinery to achieve the goals and raise money for the district by selling the outcome certificates.
Towards the end of our lunch, before Lall rushes off, he tells me he's working on an essay -- which may end up as a book -- on the tri-lemma of the political economy and argues one cannot have prosperity, freedom and justice at the same time. A trade-off is inevitable.
Well, that's another pie he has a finger in. No wonder time is at such a premium for Lall.