The question many are asking is whether Singh, who leads from the front and has often been accused of micromanaging his carrier, will have the bandwidth to bid for Air India while keeping his own airline afloat.
Anjuli Bhargava reports.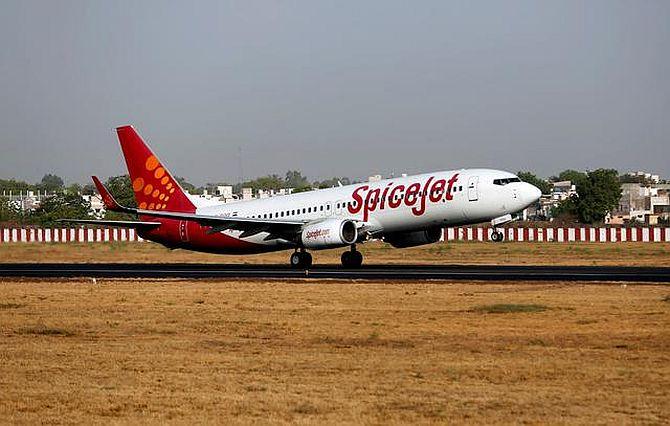 In March 2020, soon after the cessation of airline operations globally and domestic flights within India, many in the aviation sector had written Delhi-headquartered low-fare airline SpiceJet's obituary well before that of most of its rivals.
Unlike IndiGo, GoAir (now rechristened Go First), Vistara and even AirAsia India, SpiceJet did not have founders or backers with deep pockets.
Although it is the only other listed carrier in India besides IndiGo, it was considered the weakest and the least likely to survive the pandemic.
But chairman and managing director Ajay Singh surprised everyone by not only surviving but taking the lead on many fronts.
Within a few weeks of the scheduled flight stoppage, SpiceJet was doing as many charter flights as it could get hold of.
It doubled down on cargo operations — beating leader IndiGo to it — the moment it became clear that passenger traffic was going to take the beating of its life, quickly converting some of its Q400s into cargo planes and adding capacity overnight.
So aggressive was the cargo push that operations, which were pre-pandemic bringing in barely Rs 25-30 crore a month, have now shot up to Rs 150-odd crore.
Cargo revenue for end-March 2021 is Rs 1,118 crore.
In addition, as the pandemic made its true extent clear, Singh began an aggressive drive to save costs and devised strategies to weather the storm: Renegotiating vendor payments, cutting salaries, pushing for government assistance (which has come in the second wave), seeking compensation from Boeing and cutting his fleet in operation.
Payments to vendors and all suppliers were withheld.
The airline cut salaries to a bare minimum across grades (barring the lowest). Any contract that could be renegotiated was.
This led to a sharp cut of Rs 600 crore (Rs 50 crore per month) in a downward revision of its lease rentals.
The airline managed to halve its wage bill from Rs 110 crore to Rs 40-50 crore a month; it is likely to be reduced further as the airline prunes staff.
But even as SpiceJet pulled every rabbit out of its hat to survive the carnage, Singh surprised many by announcing his plans to bid for national carrier Air India in competition with the Tatas, a move that has raised eyebrows given that his own carrier is struggling and that the bid would require a lot of time, attention and resources that would distract him.
Investors who hold the airline's stock have also been "spooked" by this news although there is a strong group of sceptics in the industry, which believes that he has no real intention of bidding for the carrier but is being forced to put in a bid by the government because it requires at least two credible bidders for the sale.'
"Nothing can explain why Singh would bid for Air India in the present scenario unless he plans to shut down SpiceJet or subsume it into Air India in some manner," said a former COO of the airline, who worked with it in the pre-Ajay Singh era.
The question many are asking is whether Singh, who leads from the front and has often been accused of micromanaging his carrier, will have the bandwidth to bid for Air India while keeping his own airline afloat.
Soon after the government asked for an expression of interest for Air India in December 2020, Singh announced his int­entions to bid and was shortlis­ted.
Last month, Ankur Bha­tia, who was a partner in the conso­rtium, died following a massive cardiac arrest.
Although Singh has been reluctant to speak op­enly about his plans for Air In­dia, recent news reports claim that he is readying a "$1 billion war chest" with foreign investors to buy the airline.
The timing of this bid is confounding.
If the first wave had been terrible for the industry, the second was devastating.
Domestic air traffic collapsed by 65 per cent in May 2021.
Passenger traffic that had been inching up since May 2020 disappeared overnight as Covid-19 cases ravaged the country.
Things stabilised a bit in June and July, but most carriers, including SpiceJet, have red ink all over their balance sheet and are at their weakest (see table).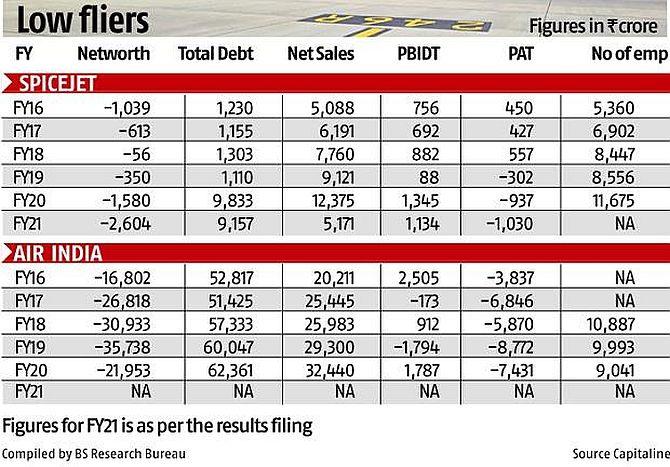 SpiceJet's total liabilities are Rs 13,900 crore, of which, the airline said, Rs 8,446 is future lease liabilities and accounted in books in accordance with IND AS 116 rules, which define the terms for leases.
This amount is not immediately payable.
The balance amount of Rs 5,500 crore is all other liabilities, but not necessarily immediately due and payable.
According to the airline, the near term payable is around Rs 1,700 crore, which is also being restructured.
Pre-pandemic, the airline had 116 airc­raft, including 32 Q400s.
Of these, 13 Boeings (Max) were grounded for reasons unrelated to the pandemic.
The current fleet in operation, according to sources, is around 52 — half the pre-pandemic number.
Singh has consistently maintained that the only way to survive this crisis is to "scale down" and emerge "smaller but stronger".
Capacity, airline sources say, will be brought back as and when things look up.
An airline spokesperson said that the operational fleet is growing on a daily basis and that between July 16 and 30, it is adding around 45 new flights.
Although there is a grudging respect for the way Singh has coped, industry experts are also of the view that he missed a big opportunity to strengthen the company last year.
Soon after Jet Airways' closure, the airline, like most others, reported many quarters of profit, including its highest profit of Rs 261 crore in April-June 2019.
But even be­fore that, through January 2015 to June 30, 2018, the airline had seen 14 quarters of profit.
This, many feel, was the time for the promoter to dilute his equity and bring in much needed capital to build a cushion.
"The share price at the time had risen to its highest and he was best placed to strengthen the airline's coffers," said Jayesh Desai, infrastru­cture expert and former partner of EY India.
Anyone familiar with the national carrier's history and present predicament is aware that it's no mean task to turn around Air India.
"Putting the cash together to buy may be the easiest hurdle in a mountain of insurmountable ones," says a former Air India CMD.
If he actually ends up buying Air India, Singh's reputation as a turnaround artiste will be truly put to the test.
Photograph: Amit Dave/Reuters