Despite the gains from Jet's closure, in 2018 and 2019, the airline continued to make losses in many quarters for a variety of reasons, including some mistakes like taking on Jet's aircraft, which were not in great shape and had business class configuration, a gamble that did not work for SpiceJet.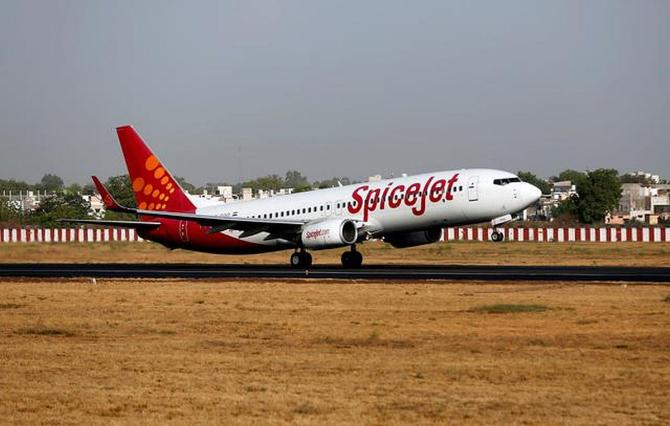 In Lewis Carroll's Through The Looking Glass, Alice and the Red Queen run and run, but in the end find themselves at the same spot.
The Red Queen's race is an analogy that many feel applies perfectly to India's second largest private airline, SpiceJet.
Six years after a turnaround, scripted by the company's chairman and managing director Ajay Singh, people in the sector are asking whether he's back to where he'd started.
In 2014-15, when Singh took charge of SpiceJet, the airline had almost Rs 2,300 crore to pay in dues right away.
Lessors were re-possessing its airplanes left, right and centre, and the fleet was down to 18 Boeings (with no spares) and 12 Q400s, of which a few were unusable.
Unable to pay its bills, the airline was within days of ceasing operations.
It was flying to several destinations with low frequencies, a strategy that was not working.
Singh bought the airline from Kalanithi Maran and got down to setting things right, using common sense above all.
And within just over a year, things were back on track.
The airline renegotiated many contracts, added aircraft, crew, reduced destinations, paid off dues and slowly made a return to profits.
It also forayed into regional UDAN routes and started a cargo wing.
Post-Covid and with almost all Indian airlines teetering on the edge of insolvency, things aren't the same.
So, is SpiceJet back where it began?
"The short answer is yes, but for very different reasons," says industry veteran Shakti Lumba.
Whereas in 2014, the promoter was largely to blame, today's problems are not necessarily of the airline's own making, he says.
The airline is almost three times its 2014 size, and has many more employees and a far bigger and complex operation.
Its problems, too, have multiplied.
Consider this: SpiceJet's first quarter loss for FY 2020-21 was Rs 593 crore, explained by Covid and the stoppage of flights.
Dues to all vendors, including lessors, had climbed to Rs 1,600-1,700 crore (but could stay deferred for now); traffic, aircraft load and revenues were still far lower than during the same time last year; and capacity that can be deployed remained capped.
What worries analysts is that even the last quarter (January-March 2020) — before Covid fully hit — wasn't much better, with losses of just over Rs 800 crore.
FY 2019-20 closed with a loss of Rs 935 crore, almost triple of FY 2018-19 (Rs 316 crore).
Rupee depreciation was one factor that hit all carriers, but a second blow to SpiceJet's functioning came in March 2019, when the Max aircraft — SpiceJet has 205 B737 Max on order — were grounded; 13 of these were already in the airline's fleet.
This was a massive blow as the airline was steadily replacing its older aircraft with the new Max and was hoping to cut costs and make its operations more efficient.
#During Jet's downfall, SpiceJet was among the most aggressive, steadily increasing its market share and managing to corner some of the best time slots out of Mumbai vacated by Jet.
Despite the gains from Jet's closure, in 2018 and 2019, the airline continued to make losses in many quarters for a variety of reasons, including some mistakes like taking on Jet's aircraft, which were not in great shape and had business class configuration, a gamble that did not work for SpiceJet.
If passenger traffic and revenues have taken a hit, more recently, Maran moved a petition against Singh for non-payment of Rs 243 crore in his favour.
After Jet's closure, the airline, like most others, reported many quarters of profit, including its highest profit of Rs 261 crore in April-June 2019.
But even prior to that, through January 2015 to June 30, 2018, it had 18 quarters of profit, with 14 in a row.
"We have been profitable in 17 of the 19 quarters since I took over," says Singh.
"The net worth had been negative for 15 years. We wiped out the negative net worth, but it turned negative again when the rupee depreciated and there were Covid period losses."
Industry experts are of the view that Singh missed a big opportunity to strengthen the company last year, when the promoter should have brought in fresh funds to build some reserves and diluted his own equity a bit.
"The share price at the time had risen to its highest, and he (Singh) was best placed to strengthen its coffers," says Jayesh Desai, infrastructure expert and former partner of EY India.
Two other factors make people in the sector feel he wasn't thinking long-term.
One, having a board that is captive (family and friends) of the promoter weakens the company.
Two, he hasn't made any serious attempt to build a stronger organisational structure.
"He managed the airline alone when it had 30 planes, and he's managing it now — practically alone — when it has over 100. To his credit, this is miraculous, but it's also short-sighted," says a former aviation secretary.
Lumba adds, "As a promoter, micromanaging is always a danger. This, in my view, has been one of the single most prominent reasons behind airline failure in India."
Terrible as Covid is, it has also resulted in a changed environment, bringing in savings in unexpected ways.
Many carriers are beating down leasing rates and asking for sharp discounts, besides not paying lease rentals for now.
SpiceJet has secured a Rs 600 crore annual saving (Rs 50 crore per month) in a downward revision of its lease rentals.
The airline's wage bill has fallen from Rs 110 crore a month in pre-pandemic days to Rs 40 crore now.
Its negotiations for compensation on account of the Max grounding will bring in some cash.
His colleagues and subordinates say Singh displays an even temperament even during times of crisis.
Many in the industry have been both surprised and impressed by his resilience.
Nonetheless, there's no escaping the fact that this boat has sailed into choppy waters.
Reaching a safe shore anytime soon looks far from assured.
Photograph: Amit Dave/Reuters