In 2008, Ajay Singh, ex promoter, SpiceJet had convinced Wilbur Ross of the US to pump in $80 million into the airline.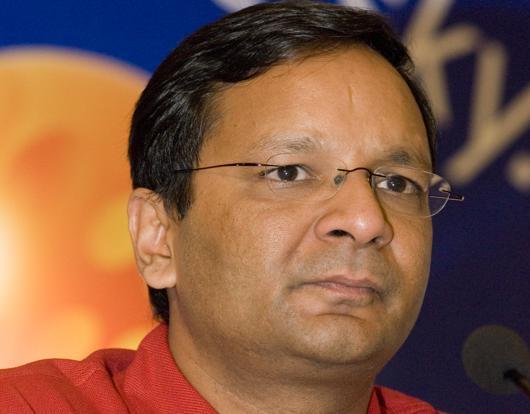 Art connoisseur Ajay Singh may've had a mixed entrepreneurial record but when it comes to pulling in big investors he could still be the man with the magic touch
He is being touted as the "white knight" who can revive the fortunes of SpiceJet, the airline he had once helped build. But Ajay Singh, 49, has had a roller-coaster ride as a serial entrepreneur, with some big hits and some big misses as well as some not-too-amicable partings with close associates and friends.
The lanky and suave IIT-Delhi alumnus has an MBA from Cornell University and is also armed with a law degree.
Along with his wife, Shivani, Singh has a passion for art collection and is the proud owner of paintings by Rabindranath Tagore and other artists of renown.
Singh's initial tryst with politics came in 1995 when he decided to work for the government and was made a director in the state-owned Delhi Transport Corporation (DTC).
With the support of Delhi's then transport minister Rajinder Kumar Gupta, he effected substantial changes in the transport company and turned it around from a loss-making unit.
But the big break, which would realise his passion to work in government, came when he met the then Bharatiya Janata Party (BJP) supremo Pramod Mahajan.
The two struck a chord. As information and broadcasting minister, Mahajan made Singh an officer on special duty.
Later as telecom minister, Mahajan appointed him as an advisor. Singh kept in touch with the BJP ever since and was a part of the media campaign team for Prime Minister Narendra Modi.
In 2004, as the NDA government was voted out, Singh hit the business scene when the Kansagra family, which had bought Modiluft in 2000, was finding it difficult to kick-start the airline and started looking for help.
Singh and his associates not only took 20 per cent stake, but were also assured management control to run the show. The airline was renamed SpiceJet and got off the ground in 2005.
Singh used his linkages and personal friendships with top investment funds to rope in big names such as Goldman Sachs and Dubai-based Istithmar Capital to pick up stakes in SpiceJet.
When the company got into serious trouble in 2008 it was Singh who bailed it out.
He convinced Wilbur Ross of the US to pump in $80 million. Singh was said to be a close friend of Ranjit Nabha, Ross's associate in India. Ross sold his 37.5 per cent stake for Rs 750 crore or Rs 7.5 billion in 2010 to the Marans and Singh also got out of the board but still (with associates) retains a small stake of around 4 per cent. When Maran took over the company, it had over Rs 1,200 crore or Rs 12 billion in cash.
Yet, there were other businesses that Singh was involved with which did not do so well.
One was when Singh and his former friends BVR Subbu (ex-president of Hyundai Motors India), and a Mumbai-based businessman Asish Deora, said to have been introduced to him by the Mahajan family, set up a company to buy out the closed Daewoo Surajpur plant that had over 200 acres of land along with machinery.
The project ended in a damp squib. The initial plan was to use it as an OEM manufacturing base for international companies and talks were on with Chrysler and Proton to make cars as well as engines for them.
A more ambitious plan was to set up an auto hub. But differences arose between the partners on the future course of the company. Subbu quit and sold his share.
There was talk that the focus of the project had moved towards real estate, especially after big auto companies did not come.
Singh roped in new investor ILF&S and DE Shaw as a lender. But matters came to a boil with ILF&S and his former friend Deora took him to the Company Law Board for what was to be a long legal battle.
Singh came under media glare again in the context of his telecom foray.
Deora and Singh with other friends had set up Allianz Infratech to bid for a telecom licence in 2008 after the then minister A Raja had opened the doors to new players.
They tried to get a pan-Indian licence, but were able to win licences only for Bihar and Madhya Pradesh. Realising that running telecom operations in just two circles would be unviable, they sold off the business.
Yet, in 2010, Singh and his company came under investigation, like many others, over whether there was any violation of rules in the grant of licence. Nothing incriminating was found.
Singh's third tryst with a new business also made news. He bought a substantial stake in Star Bus, a company that got orders to supply 234 buses by April 2010 from the transport department of Delhi as part of a policy seeking private company participation in clusters.
But the company did not deliver the requisite numbers in the agreed time frame and the transport department threatened to impose a fine of Rs 1 lakh a day.
Star Bus attacked the government, saying they could not deliver the buses because the department was not giving them enough parking space. Singh increased his stake to 90 per cent in the company.
Executives say the business is now doing well.
Whether his SpiceJet story will have a similar happy ending will be known next week after he presents to the government his plan to revive the airline by roping in a consortium of investors to pump in Rs 1,100 crore or Rs 11 billion.
Image: Ajay Singh, ex promoter, SpiceJet.