The secret behind Singh's success was that he mostly set about undoing all the mistakes made by the Marans, points out Anjuli Bhargava.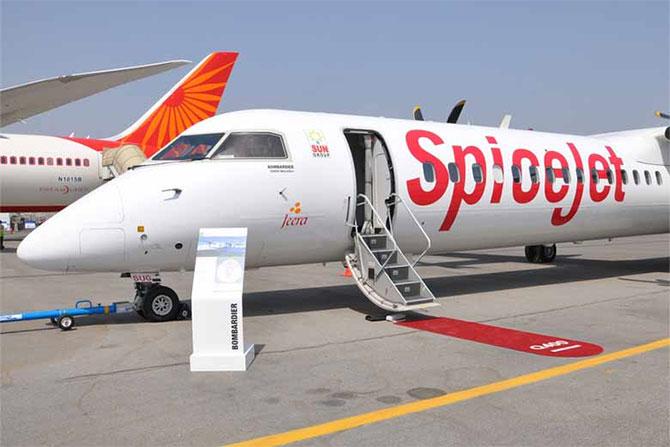 On the day Ajay Singh, bottom, left, took charge of SpiceJet, the situation was as grim as it got. The director general of civil aviation (DGCA) had been told that the airline would stop operations from the next day, December 17, 2014, and all employees had been asked to stop coming to work.
The previous owners, the Marans, had no idea how to stop the airline from going the Kingfisher way. Lessors were hounding the airline for payments.
The airline's dues were mounting by the day and anyone who could find a job had left the carrier.
That's when Singh walked in. And he has painstakingly turned the airline around. When Singh took charge, the airline owed around Rs 2,200 crore to various vendors including the oil companies, the Airport Authority of India and private airports.
It owed money to its lessors, vendors and suppliers. It even owed money to its employees. Lessors were threatening to take back aircraft, thanks to non-payment. Its operating fleet was down to 37. Passengers - fed up of delays and cancellations - had become wary of flying the carrier.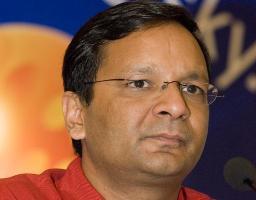 Close to three years later, the airline has doubled its fleet (33 B 737s and 17 Q400s against 26 aircraft when Singh took over) and has placed an ambitious order for 100 B737 MAX aircraft for $11 billion.
On December 16, 2014, the airline had 49 daily flights; this has increased to 364 at present.
Its aircraft are pretty full, yields have gone up (costs are down primarily due to a sharp fall in fuel prices) and several quarters have been profitable.
The airline has improved its on-time performance and is beating many rivals on this count. The airline has grown its staff: 4,912 to 6,725 at present.
The political climate when Singh took charge helped. A Bharatiya Janata Party supporter (Singh had campaigned for the party during the run up to the Lok Sabha elections), the political winds were in his favour.
Moreover, no one - from the prime minister's office to DGCA and oil companies - wanted to see the collapse of yet another airline. Avoiding a Kingfisher-like episode was paramount. So, hurdles in his path were smoothened.
But above all, it was Singh's own innate sense of knowing what to do - and perhaps even more important of what not to do - that saw him through.
Samyukth Sridharan, a former SpiceJet employee who now heads Cleartrip, says, "Only Singh could have pulled off what he did."
So, in the absence of a magic wand, how did he do it? Singh mostly set about undoing all the mistakes made by the Marans, which were aplenty. He started with an almost total rejig of the routes. As much as 90 per cent of the schedule was reworked.
When he inherited the airline, it was flying to 46 destinations and had spread itself very thin with its fleet of 26. Singh reduced stations so that instead of flying all over the place, the airline flew to fewer places with more frequency.
Stations with single flights such as Indore, Lucknow, Aurangabad, Sharjah and Kathmandu have been weeded out. International flights like Kathmandu and Sharjah - which typically had some load going but came back virtually empty - were stopped.
A second key step was to renegotiate, renegotiate and then renegotiate some more. The airline had entered into several contracts with lessors, vendors and suppliers, several of which were badly negotiated and added to the airline's costs.
"Almost every contract entered into by the previous management was re-opened and renegotiated," says Singh.
In many cases, the airline owed money to these vendors and rather than writing off the amounts, vendors chose to accept different terms - even if they were more to the advantage of the airline than themselves.
High-cost debt was retired. Debt has been paid through ticket sales which have gone up substantially. Unpaid dues of around Rs 2,200 crore (Rs 22 billion) have been paid off, mostly from internal accruals, according to Singh.
Revenue was pushed up both through better yields and higher ancillary revenue. Ancillary revenue - from food, seat selection and cargo - has gone up from 7 per cent in 2014 to 17 per cent at present.
While the airline is in a far better position than in 2014, there are a few challenges, as even Singh admits.
A change in the global oil scenario can change the equation dramatically. Competition of the kind Qatar's entry could trigger would hurt everyone's bottom-line.
But perhaps the biggest weak spot investors, passengers and industry analysts see is the fact that Singh has managed this almost totally alone. Industry sources argue that the airline today is too much of a "one-man show or a "single-man army".
"Spicejet needs to strengthen its management team significantly. It is too dependent on the promoter. With massive expansion planned from FY19, a stronger management team is critical", says CAPA CEO Kapil Kaul who has been tracking the airline's progress for several years now.
"Singh is Spicejet and SpiceJet is Singh. What happens to the airline if he's not around tomorrow," asks a senior industry source, saying that micro managing to this extent could in fact hurt the airline in the long run.
In response to this claim, SpiceJet says: "There is a well-structured top management in place with experienced professionals heading key departments like commercial, engineering, operations, finance, sales and safety who take day-to-day decisions.
Many of these senior managers have been at SpiceJet for long and work well with the CMD and with each other."
A second factor that has raised eyebrows is the large 100-aircraft, $11-billion order the airline has placed.
Lenders typically look at the airline's track record, balance sheet, stability and country risk.
"The fact that the whole thing hinges on one person adds to the risk," says aviation veteran Shakti Lumba who argues that finding money for an order of this size could be a challenge.
But challenges are what Singh specialises in: Spicejet in 2017 versus Spicejet in 2014 is clear evidence of that.