But won against Ranbir Kapoor, recalls adman Sandeep Goyal.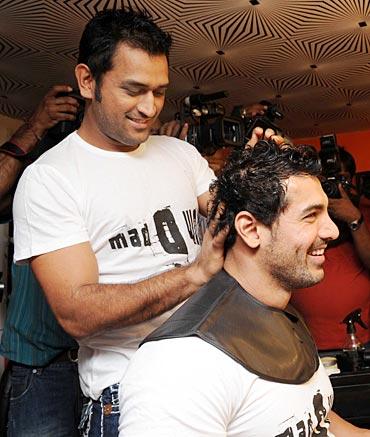 It was well before M S Dhoni became the Rs 100 crore-brand that he is today.
His management company was desperate to find him a spot, but no brand was willing to stake its image on the cricketer with long straggly hair that ran down to his shoulders.
My company was handling the Yamaha account. And we got a call from his agents.
My colleague said, "He is almost our best bet. Lags on stylish. But overall very good fitment with Yamaha. Also, Dhoni does not have any brands, though he is doing extremely well with the Indian team."
We were getting Dhoni at Rs 15 lakh. But Yamaha wanted John Abraham whose agent was quoting Rs 1 crore.
We tried very hard convincing Yamaha, but they were adamant.
And then, because his talent handlers were really pushing, we brought Dhoni's price down to Rs 10 lakh, but Yamaha still did not bite.
A couple of years later, Dhoni was back in contention with another client: Aircel.
By now, he was captain and a rising star.
His Mr Cool image was a big hit in small towns.
At Aircel, he was up against Ranbir Kapoor, who was seen to be sexy, attractive, pedigreed and very talented.
Our client was in favour of Dhoni, but he no longer came cheap.
Ranbir's asking price was less than half of Dhoni's.
We debated quite long and then, one fine day, Aircel decided to sponsor the Chennai Super Kings.
And thus was Dhoni's deal sealed.
Sandeep Goyal, brand consultant, spoke to Arundhuti Dasgupta. An account of this story appears in his book Konjo: Fighting Spirit.
IMAGE: Mahendra Singh Dhoni plays with John Abraham's hair during a promotional event at Sapna Malhotra's Mad-O-Wat salon in Mumbai, December 2010.