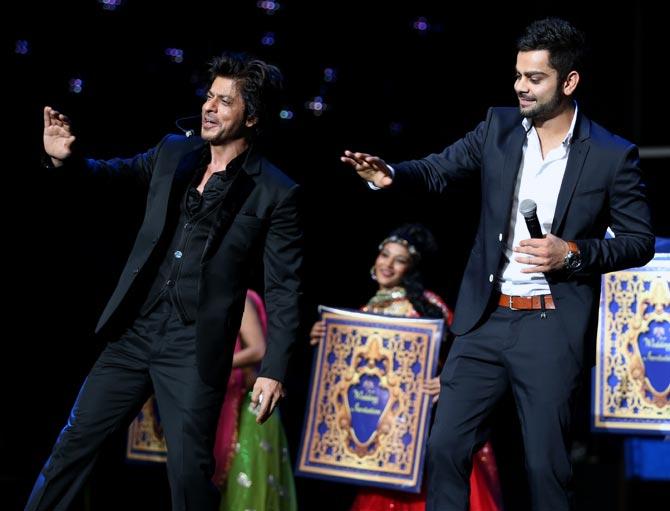 The most expensive endorser in the team is cashing in on his cracking form, launching branded merchandise and an animated series on YouTube
His unbeaten 55 in the match against arch rivals Pakistan in the ongoing ICC T-20 World Cup had many on the edge.
Not just the scores of Virat Kohli fans, but also a clutch of brand managers and advertisers on the hunt for a worthy inheritor to Brand Dhoni.
Can Kohli step into the gap?
Maybe, but advertisers are treading cautiously, waiting till the close of the championship when the team's position and Kohli's role are more clearly defined, before making their move.
Kohli's brand team is wasting no time, however.
An animated avatar of Kohli will be launched digitally as part of a series on YouTube Play in May this year along with the launch of merchandise (caps, wrist bands) with Kohli's logo (in the making).
Already Kohli has beaten the rest of the team in terms of his endorsement fee.
His MRF bat for the championship fetched Rs 8 crore (Rs 80 million) as compared to MS Dhoni's Rs 6 crore (Rs 60 million).
He gets, on an average, Rs 1.5 crore (Rs 15 million) a day for his brands while Dhoni gets between Rs 1 and 1.5 crore (Rs 10-15 million).
Also, Kohli's positioning as a brash young batsman with attitude who does not hesitate to show his emotions on the field (unlike his captain) makes him a perfect fit for brands targeting the urban young.
Brand experts believe that although the crown seems to fit him the best, there is still some time before he can be anointed the brand of cool.
"I don't think brands will sign him on right away.
"They will wait and see how the World Cup pans out and then take their pick. Of course, Kohli will be among the most sought after," says Indranil Das Blah, partner and COO, CAA KWAN, a sports and celebrity management agency.
Bunty Sajdeh, CEO Cornerstone, the sports and celebrity management agency that manages Kohli informs that enquiries for Kohli's endorsement services have not shot up yet.
"It's a continuous process.
"Being on top of his game consistently, Virat gets his share and we look into these on a weekly basis. There has been no spike resulting from recent matches, but there are new offers and conversations on a regular basis."
Currently, Kohli is the undisputed star with 13 brands under his belt, including MRF, Pepsi, Adidas, Audi, Vicks, Boost, USL, TVS, Smaash, Nitesh Estate, Tissot, Herbalife, and Colgate.
Dhoni's list is marginally longer with around 15 endorsement deals.
But, experts believe, the value and nature of the deal gives Kohli the edge.
"Most of Virat's deals are long term (two years or more) and he commits four to five days a year to the brand. Dhoni on the other hand has some deals that are for only a year, with a commitment of one day," says an executive in the know.
Interestingly both Dhoni and his protégé, Kohli are at par with the breed of young male actors from Bollywood -- Varun Dhawan, Siddharth Malhotra and Ranveer Singh.
But they lag behind the likes of Ranbir Kapoor and the Khans.
The difference in the rates is meant to account for the visibility and performance factor says brand valuation specialists.
If a cricketer is out of form, his presence in the press is through negative articles.
On the other hand, an actor spends a lot of time in the media before and after the release and brands find it easier to tackle the consequences of a failed movie, than an out-of-form cricketer, explains one expert.
Consider Ranbir Kapoor, he has not had a hit since 2013 (Yeh Jawaani Hai Deewani</I>) but still commands up to Rs 2.5 crore a day for endorsements.
However it is not the number but the value ascribed to an endorser that matters.
Neerav Tomar, MD and CEO, IOS Sports, the agency that manages Suresh Raina and Mary Kom says, "Virat is at his peak. He is already in the big league.
"At this stage, it's not as if he will suddenly start endorsing more brands."
Tomar believes that Kohli has positioned himself as a 'cool' cricketer with an urban youth appeal.
"I don't think he will start signing more brands just because they come his way.
"However, the new brands that he does sign and his renewals will definitely come at a premium.
"That's the way ahead I feel," says Tomar.
Sajdeh endorses the view and says that growth in future will not be in terms of the number of brands endorsed but higher valuation and better terms of engagement.
Kohli may fortuitously find himself at the right place at the right time.
Dhoni's popularity is on sticky wicket and the entire suite of brands he endorses is up for grabs, although not all brands may find a Kohli a perfect fit.
At the same time Kohli has also moved smartly to set up independent business ventures, which too will benefit from the surge in his brand valuation. He is the co-owner of Chisel Fitness (a chain of gyms), Wrogn (an apparel brand), UAE Royals (tennis team), FC Goa (football), Bengaluru Yodhas (wrestling), and SportConvo (tech start-up).
Now, all he has to do is keep the runs flowing.
THE EMPIRE OF COOL
Endorsement fee: Rs 1.5 crore a day, most contracts are for 4-5 days a year and are usually long-term (two years and more)
Brands: MRF, Pepsi, Adidas, Audi, Vicks, Boost, USL, TVS, Smaash, Nitesh Estate, Tissot, Herbalife, and Colgate; Virat currently endorses around 13 brands while Dhoni has 15
Co-owner: Chisel Fitness (a chain of gyms), Wrogn (an apparel brand),SportConvo (tech start-up). Teams: UAE Royals (tennis), FC Goa (football), Bengaluru Yodhas (wrestling)
Holds rights for: His animated avatar, which can be leased for multiple brands, films and entertainment ventures
Coming soon: A logo which can be used by brands for a fee and branded merchandise
Image: Virat Kohli (right) shakes a leg with Shah Rukh Khan. Photograph: Courtesy, BCCI