The digital audience knows the difference between healthy suggestions, which are welcome, and a downright breach of privacy, which is abhorred.
Illustration: Uttam Ghosh/Rediff.com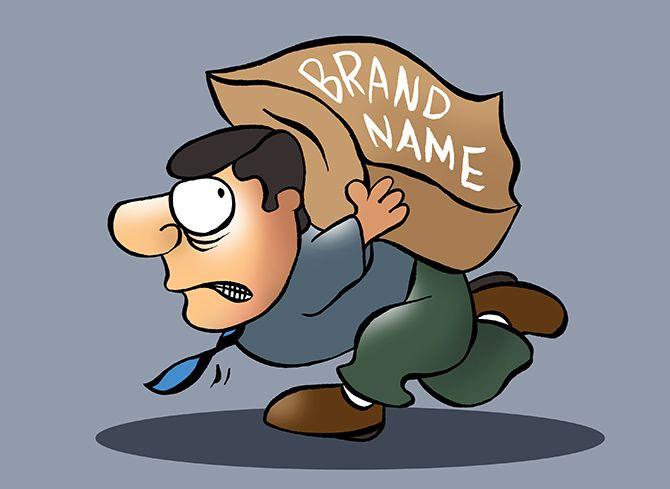 'Don't get creepy', is what consumers are telling brands, withdrawing their loyalties if they find them crossing the line on privacy, according to the Adobe India Brand Content report.
While majority of the consumers surveyed said this, those most irked by insensitive personalisation belonged to the 35-49 age band.
If 2018 was all about getting to know the consumer to give her what she wants, the year 2019 is likely to be about walking the line between proximity and intrusiveness.
The digital audience knows the difference between healthy suggestions, which are welcome, and a downright breach of privacy, which is abhorred.
And brands that get the balance right, will win their trust.
The study found that two-thirds of consumers in India are more likely to make an unplanned purchase from a brand, if the digital content is personalised.
Personalisation is welcome, but not when it gets offensive.
"A winning customer experience can take many forms, but the most common element in every brand's success story is personalisation.
"Brands that can strike the right level of personalisation will forge stronger connections, resulting in brand loyalty and growth," said Sunder Madakshira, head of Marketing, Adobe India.
Millennial and Gen X consumers are also engaging with brands across multiple devices.
Device usage peaks for the millennial at an average of 11 hours daily and minimum two devices are used by all age groups, with Indians accessing multiple screens up to 70 per cent of times.
If the content is contextually relevant and the experience is pain-free, brands will find repeat consumers across devices, the report said.
Consumer reaction to personalisation depends on the stage of the purchase cycle that he or she is in, said Shrenik Gandhi, co-founder and CEO of White Rivers Media, a digital marketing firm.
"While some amount of personalised advertising is important to ensure that one doesn't waste money in showing ads meant for consumers in Delhi to those in Bengaluru, it is important not to shock a consumer in a way that will impact their purchase decision," he added.
Both Indian users and advertisers are about a year away from fully understanding the issues as currently the entire ecosystem is trying to work out consumer habits, Gandhi added.
Social media platforms continue to be a major source of data for brands in India.
Majority of consumers share social media content on a weekly basis, with over 50 per cent of millennial users sharing daily.
Most Indians surveyed are also comfortable sharing their behavioural, geographic, demographic and personal information with brands, as they feel this helps them enjoy a better customer experience, noted the report.
The survey noted that 95 per cent of consumers express confidence in at least one social media channel, with YouTube and Facebook emerging as the most trusted mediums overall.
Younger consumers (18 to 34 years) trust YouTube the most, while middle-aged and elderly consumers (34+ years) rely more on Facebook.
"Interestingly, YouTube celebrities are one of the most trustworthy influencers for consumers between 18 and 34 years, with their word being preferred over that of family and friends.
"In contrast, elderly consumers (50+ years of age) value and trust content from a family member or a friend," added Madakshira.
Online news sources are the second-best method for consumers to source and share information.
Given the huge reach and access that these news aggregator apps now have in the country, the segment has seen a surge of new entrants with the Mukesh Ambani led Reliance Jio with JioNews being the most recent debutant.
"­­­Five years ago, a digital ad strategy would have been primarily about social media, but now brands need to understand that while users still spend time on social media, the consumption pattern has changed.
"So there is a need to factor in how much time across different times of the day do users spend on content, social media, news etc for brands to chart out a complete personalised ad experience for the users," said Gandhi.