'Should the government be in the business of running banks?'
'Particularly when it does not have the fiscal strength to continuously infuse capital into such banks?'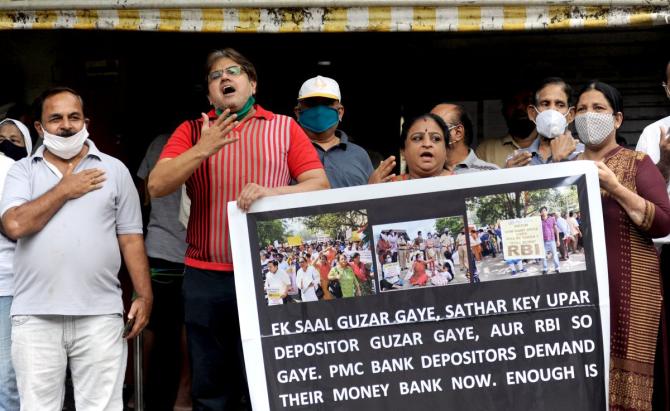 Tamal Bandyopadhyay is a well known business journalist specialising in banking for various publications over the last 25 years.
Currently a consultant with Business Standard, Bandyopadhyay has written five books: A Bank for the Buck; Sahara: The Untold Story; Bandhan: Making of a Bank; From Lehman to Demonetization, and HDFC Bank 2.0.
But it is his sixth book, Pandemonium: The Great Indian Bank Tragedy, explaining the rot in India's banking system post the fiasco of Nirav Modi and Vijay Mallya where they ran away with depositor money, that is making waves for the hitherto untold details it packs.
The timing of his book's release could not have been more fortuitous, with Lakshmi Vilas Bank being the latest to come under the scanner of Reserve Bank of India.
"In business, the promoters need to put in equity on the table first and then look for bank loans but in many cases in India the promoters used bank money for equity as well," Bandyopadhyay tells Syed Firdaus Ashraf/Rediff.com in the first of a two-part interview.
How did the idea for this book come to you?
The very first chapter of the book has the answer.
On 15 October, 2019, Finance Minister Nirmala Sitharaman spoke about the Indian economy at Columbia University. After she listed the Narendra Modi government's achievements, she took questions. Somebody cited former Reserve Bank of India governor Raghuram Rajan's comment that the first Modi government had not done well because it was 'extremely centralised'.
Sitharaman riposted that the government-owned banks had their worst phase when Rajan was the RBI governor and Manmohan Singh the prime minister. Someone who was present there, at the Jerome L Greene Hall at Columbia University, called me up from New York and sought my reaction to Sitharaman's comment.
That set the ball rolling. I thought let us explore who killed Indian banking, who is responsible for the mess. The 525 and odd pages of the book is this exploration.
How do you explain so well a complex issue like banking? What goes on in your mind before penning the book?
The answer is fairly simple: I am semi-literate when it comes to banking, finance and economy. I do not have the right academic background to be a writer of this genre. So, I talk to experts and try to understand things.
And since I am not exactly an intelligent person, I take long till I get convinced.
I don't write anything till I understand it well. And then, I pass this on to my readers. I don't need to impress them with my knowledge and expertise -- all I want is to communicate well.
Finally, if only bankers read my book -- or, for that matter, my weekly column -- then I am a failure. I want others, who have nothing to do with finance, also should read and enjoy my writings.
The book's title, Pandemonium: The Great Indian Banking Tragedy, how did you decide on it? Was it really inspired by John Milton's poem and Lord Shiva as you write in your preface?
To be honest, yes and no.
Look, I need to justify the title and that's how Paradise Lost came into the picture.
Being a student of English literature, I am familiar with the works of many -- Milton, Shelly, Keats, Byron, Shakespeare...
The sub-title 'The Great Indian Banking Tragedy' had been in my mind even before I started writing the book but Pandemonium -- the capital of hell -- I picked up from Milton.
Typically in the media, pandemonium is used to refer to a burst of uproars which is short-lived. Here, the pandemonium has been lasting long.
The Reserve Bank of India's asset quality review reminded me of the churning of the ocean or the samudra manthan.
The idea behind the churning was to get the nectar of immortality, but that released the lethal poison -- Halahala. Shiva consumed the poison to protect the world. In the process, he got a blue hue in his throat and became Nilkantha.
In India, we are still in search of a Shiva to consume the poison from the banking system. Who will do it?
After reading your book, will readers come to know 'Who killed Indian banking'?
Look, I have not given any answer. I am not qualified for this. I have explored and thrown up many possible answers and it is up to the readers to pick the right one.
They also need to read between the lines as there is no straight answer.
This is your sixth book. As an author does it give you the jitters whether your book will be well received or not?
Do these things matter to you when you choose a subject to write a book on or do you just write a book because you feel this is the subject which the people deserve to know the truth about?
I got into this arena by accident. A publisher dragged me into this. The first book was well received and that led to the second book on shadow banking. A Rs 200 crore defamation suit was slapped on me to stop publication of that book.
Now, it has become a passion. I have been continuously in search of ideas. Thankfully, all my books have done well. In publishing industry parlance, they are all best-sellers.
The purpose of bank nationalisation was to save the poor from crony capitalists, but after 40 years it looks like corrupt political leaders and corporates in nexus with bank officers have defeated the whole purpose.
In hindsight, was bank nationalisation by Indira Gandhi a blunder?
In July 1969, the first set of bank nationalisation happened. Another round of nationalisation followed in 1980. It was political theatre, but none can deny that nationalisation has helped in the spread of banking services.
It led to the rise in the share of rural branches. Rural branches were just about 17.6 per cent of the total branch network in 1969; now they comprise 29.5 per cent of network.
I would not call it a blunder, but probably it is time to take another look at the government-owned banking industry. Its share in the overall industry is coming down, but still it is very high and not too many nations have such a large government ownership in banking.
Should the government be in the business of running banks? Particularly when it does not have the fiscal strength to continuously infuse capital into such banks?
After 40 years we see that nationalised banks lend to the rich and it is the likes of Nirav Modi and Vijay Mallya who made these banks broke.
How and when did this crony capitalism creep into Indian banks?
The book tried to answer your question -- it graphically outlined how crony capitalists used the banking system to their advantage.
In business, the promoters need to put in equity on the table first and then look for bank loans but in many cases in India the promoters used bank money for equity as well!
Finance Minister Sitharaman says during Prime Minister Manmohan Singh's tenure loans were just given based on phone calls from crony capitalists.
Did this process accelerate the degeneration of nationalised banks?
Phone banking. It sounds nice. I am not very sure whether it did happen only during the Manmohan Singh era. It had happened earlier too. And this is only one of the many ways how the banking system has been misused by the owner.
The public sector banks are a political animal -- the government's milch cow, used for everything from funding infrastructure to supporting MSMEs; buying government bonds to bridging the fiscal deficit, and subscribing to electoral bonds to help political parties.
Also, beyond banking, they need to do so many other things, including sweeping the streets on Swachch Bharat Day.
Remember the old Tata Steel (the company was then called Tisco) advertisement: 'We also make steel'. Our public sector bankers can say, 'We also do banking'.
The middle class often complains that if they skip one EMI they are targeted by banks whereas industrialists take huge loans only to default, but no strict action is taken against them.
Is it true or it is just a perception of the Indian middle class?
Do we see properties of the rich class getting attached and they being sent to jails for non-payment dues?
There is truth behind this perception. We have a repressive financial system. And, as they say, if you take a small loan, say Rs 50 lakh, it is your headache but if you take a Rs 50 crore loan, the recovery is your bank's headache. That's how the system operates.
Things have started changing with the new insolvency law. It has infused the fear of God among the corporate borrowers, finally. They cannot take the bankers for granted, any more.