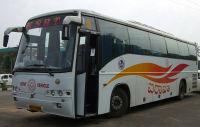 Global tenders are now being finalised for implementing the intelligent transport system in Mysore that the Karnataka State Road Transport Corporation, Mysore City Division, hopes to do in the next three months.
"The oft-announced project has been delayed because of the tendering process and the World Bank's procedures. World Bank is supporting the Rs. 22.76 crore (Rs. 227.6 million) project.
"Now that these have been completed, the tenders are at the stage of being finalised. We hope to launch the facility in about three months," Divisional Controller (Urban) M N Srinivas said.

"This facility, approved by the World Bank and the Government of India, will provide high-end services to commuters.

"Passenger information service will enable the display of time and positon of the buses and their movement from one bus stop to the other on LCD screens at 120 bus shelters.

"This will help avoid unnecessary waiting by passengers and also help attend to accidents immediately," he said.

When the facility becomes operational, Mysore will become the first city in the country to adopt the ITS, Srinivas said.

As part of the ongoing efforts to improve the city bus services, he said the KSRTC had planned the bus rapid transit system under the mass rapid transit system.

It will be introduced on a 12.92 km route from the Ganapathi Sachhidananda Ashram on Nanjangud Road to KRS Road junction, costing Rs. 112 crore (Rs. 1.12 billion) in the first phase.

Dedicated lanes would be created exclusively for KSRTC buses on this route so that these vehicles can operate without any hindrance. This will save time for the travelling public.

In addition to the three bus depots presently in Banni Mantap, Kuvempunagar and Sathagalli, the KSRTC has decided to open a new depot at Vijayanagar 4th Stage where land had been selected.

The upgraded bus stands at Kuvempunagar, Ilwal, Sathagalli and Chamundi Hills, taken up under the Jawaharlal Nehru National Urban Renewal Mission, were nearing completion and would have all modern facilities.

As part of modernisation of the bus system in Mysore under the JNNURM, the DC said the KSRTC had introduced 78 semi-low floor, 41 Marcopolo and 30 AC Volvo buses, in all about 150 new buses, taking the KSRTC's bus strength to 399.

These buses operating on 378 routes make 6,120 trips and carry 350,000 passengers daily in and around Mysore city.

In order to create interest among the public to take to the KSRTC services, 'Bus Day' will be observed on April 9.

Additional buses will operate right from 5 am on four major routes where road density was around 90 per cent.

Operating tourist sightseeing buses had been found uneconomical, except during Dasara when special trips to tourist places are conducted.