Infra segment, refinery product impacted the most, even as contraction narrows in latest month.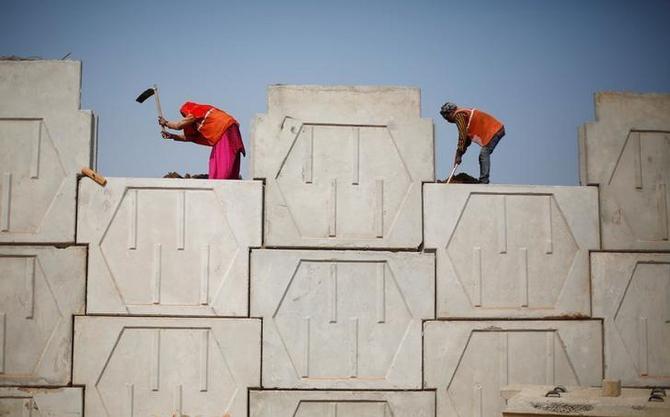 The fall in the output of the eight core sectors of the economy slowed in June as Unlock 1 kicked in, but the year-on-year decline was still 15 per cent as industries battled demand slump, and cash and labour shortages in the aftermath of the nationwide lockdown.
In May, the core sector output had plunged 22 per cent.
According to ICRA, industrial production could have witnessed 15-20 per cent contraction in June.
CARE Ratings pegged the figure at negative 20-22 per cent.
"The slightly positive factor is that the decline in growth has slowed down.
"Clearly, as the government started permitting more economic activities, there were some signs of production taking place, though at much lower levels," said Madan Sabnavis, chief economist at CARE Ratings.
However, the updated figures released by the commerce and industry ministry on Friday showed seven of the eight core sectors continued to contract in June, the same as the previous month.
The infrastructure segment continued to see the worst production shocks.
The already volatile sectors of steel and cement have been badly affected by the Covid-19 pandemic as social distancing norms meant that construction remained largely suspended across the country.
Steel remained the worst-performing sector for the second month in a row, contracting 33 per cent in June, after tumbling 43 and 79 per cent respectively, in the two previous months.
On the other hand, cement production managed to quickly cut its losses - June production shrunk by relatively small 6.9 per cent.
This was significant considering the sector had seen an 85.3 per cent drop in April.
"The differential performance of cement and steel suggests that construction activity resumed at a faster pace in rural areas than in urban areas.
"Production of consumer durables continued to lag the recovery seen in other sectors," said Aditi Nayar, principal economist, ICRA.
In June, production of refinery products also continued to be in negative territory as imports wilted.
The output fell 8.9 per cent in June, after contracting 21.3 per cent in May.
Crude oil production continued its downward spiral for the 21st month in a row.
The output reduced 6 per cent in June, after contracting 7.1 per cent in the previous month.
Natural gas production, too, contracted for the 15th straight month, reducing 12 per cent after a 16.8 per cent fall in May.
Coal was the only sector to perform even worse with production reducing 15.5 per cent in June, as against May's 14 per cent, partly reflecting the impact of subdued coal offtake levels.
The fertiliser sector stood out as it continued to grow, even as at 4.2 per cent, its growth was less than 7.5 per cent in May.
Photograph: Adnan Abidi/Reuters