It is important for businessmen and entrepreneurs to purchase insurance to safeguard themselves against events that can destroy all the assets they have built up over a lifetime, suggests Sanjay Kumar Singh.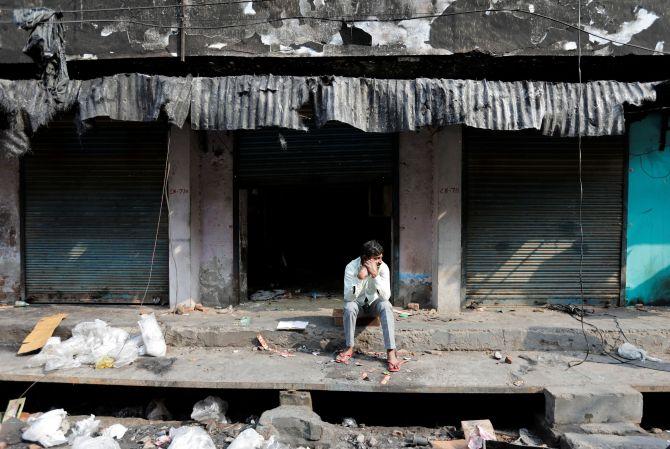 The riots that took place in northeast Delhi recently caused loss of lives and also resulted in the destruction of shops, houses, vehicles and other forms of property.
A riot in the nation's capital may be a rare, low-probability event, but it does occur.
The incident once again underlines how important it is for businessmen and entrepreneurs to purchase insurance to safeguard themselves against events that can destroy all the assets they have built up over a lifetime.
Business assets: Buy right sum insured
A businessman, who owns a shop, factory, or godown can protect them by buying a standard fire and special perils policy.
It provides cover against loss or damage due to riots, strikes and malicious damage.
It also covers these assets against other perils such as fire, lightning, explosion, implosion, impact damage, etc.
The cost of this policy, say experts, is not as high as many people assume it would be.
"The premium rates, as a percentage of the insured value, start at 0.066 per cent for a shop, 0.098 per cent for a godown, and roughly 0.193 per cent for a factory.
"They vary, depending on the nature of goods and products stored or manufactured in the premises," says C R Mohan, senior vice president and national head, property and risk engineering services, Bajaj Allianz General Insurance.
The premium rate will be lower, for instance, in case of a godown storing metals, and higher in case of one that stores inflammable chemicals.
At the time of purchase, make sure you are not under-insuring.
"The customer needs to decide the replacement value of the structure and buy that much sum insured. For stocks and other contents of the building, the pricing used is market value," says Mohan.
In other words, depreciation has to be taken into account when deciding on the sum insured for contents.
Insurance buyers need to keep an eye on increases in the value of the insured property, due to the purchase of new machinery, raw materials, etc. "Notify such developments to your insurer so that they can be covered by paying an additional premium," says S Vishwanathan, national underwriter, SBI General Insurance.
He also advises against opting out of any cover just for the minor discount in premium it may fetch you.
If the proposal form has questions about loss or claims history, disclose the facts properly.
If the property is situated in an area prone to flooding, that fact should not be hidden.
One silly mistake buyers commit is to give the incorrect address of the premises.
Many fill in their office address instead of giving the address of their godown or factory.
Vishwanathan suggests keeping a copy of your insurance policy elsewhere (away from the site) so that it does not get destroyed in an incident.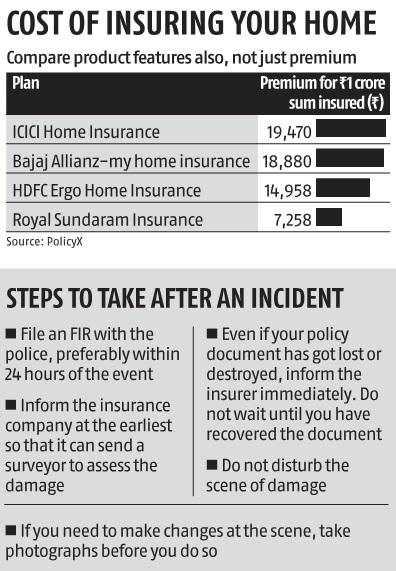 Home: Make correct disclosures
A home insurance policy will cover both your home (the structure) and the belongings within against damage in a riot.
"For about Rs 10,000-15,000, you can buy a home insurance policy that has a sum insured of Rs 1 crore," says Naval Goel, chief executive officer, PolicyX.com. Mohan adds that the premium starts from 0.014 per cent of the insured value for a residence.
To decide on the sum insured, use the replacement cost for the structure and market value for the goods within.
Goel suggests buying a home insurance policy that includes a burglary cover.
"The chances of burglary are higher than those of riots or natural calamities," he adds.
Disclose facts about your house correctly in the proposal form, such as whether it is situated within a society, whether it has guards, and so on.
These facts help the insurer arrive at the right premium.
Incorrect disclosure can become a cause for claim rejection.
In case of an eventuality, do not start repair work before the surveyor has visited and assessed the damage.
Buy add-ons with vehicle policy
The base motor insurance policy covers your vehicle against damage due to riots, acts of vandalism, etc.
But purchasing a few add-ons will help you get better coverage.
Two types of damages can occur to your car -- repairable and total.
When the damage is repairable, you take your car to the nearest garage in the insurer's network for repairs.
In this case, the insurer will compensate you for the depreciated cost of parts, not their full replacement value.
"You will have to pay the depreciation part out of your own pocket. If you live in a sensitive area with a higher probability of a riot, or other such incidents, buy a zero-depreciation add-on cover. The insurer will then compensate you the entire cost," says Animesh Das, head of product strategy, Acko General Insurance.
In case of total damage (the car is beyond repair), the insurer will pay you the insurance declared value (IDV).
Suppose that you had bought your car for Rs 10 lakh.
After, say, three years, its IDV may go down to 60 per cent, or Rs 6 lakh.
In the case of total damage, this is what the insurance company will pay you.
If you want to buy the same car again as a replacement, you will have to shell out Rs 4 lakh from your own pocket.
"To avoid this loss, go for return to invoice add-on. This will negate the loss caused by depreciation in case of total damage," says Das.
Some companies cover the ex-showroom value, which is Rs 10 lakh in this scenario.
Some even cover the invoice value, or the on-road price, which would include the additional registration cost, road tax, etc.