Check out five common sales pitches by insurance agents which can mislead buyers, says Sarbajeet K Sen.
Illustration: Uttam Ghosh/Rediff.com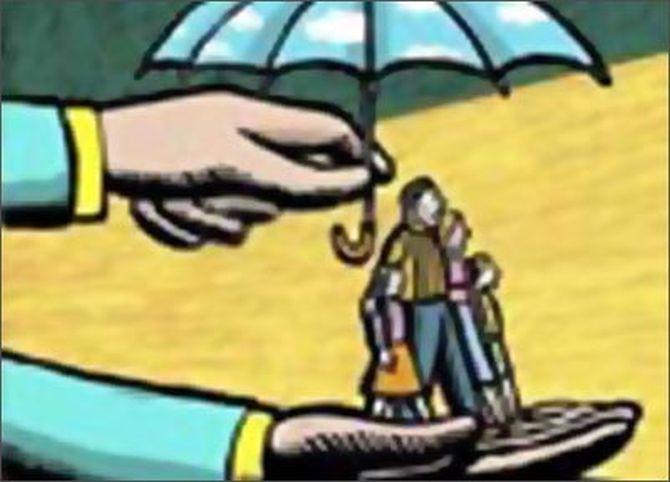 This is an investment product that will earn regular annual returns of 12 per cent," goes a typical sales pitch by an insurance agent.
And only after you have countered it with facts and figures will the agent confess that it is an insurance product, most probably a unit-linked insurance product, or Ulip.
However, most buyers of insurance products do little research and end up buying products that are least suited to them.
Proper financial planning requires you to be adequately insured, be it life, health or non-life.
But that does not mean you should burden yourself with products that are not needed, or merely a waste of money.
Here are five common sales pitches by insurance agents which can mislead buyers.
Don't buy term plans, invest in other products
Often, the primary driver for insurance agents is the amount of commission they get from a sale.
Hence, they often discourage a potential buyer from buying a term plan and try to push Ulips or traditional plans.
"This pitch will find many takers because of which the concept of term cover is yet to take off.
"But the reality is that term insurance cover is an effective plan that will help the loved ones live peacefully in the event of a person's untimely demise," says Naval Goel, CEO, PolicyX.com.
If you are planning to take an insurance cover, there is nothing better than going for a term plan.
These plans provide a large protection for a much lower premium.
Yes, the premium is forfeited if you survive the plan period.
But remember that insurance is meant for buying cover against death, and not for getting back the money.
Also, if you are getting a term plan for, say, Rs 10,000 a year whereas a Ulip costs Rs 30,000 a year for a similar sum assured, buy the former and invest the balance Rs 20,000 in a mutual fund for good returns.
Insurance is the best tax-saving instrument available
Sales agents often pitch for an insurance product by stating that it is the best tax-saving product.
It provides double benefit of tax deduction under Section 80C and the maturity amount or sum assured received by the nominee on death of the policyholder is also exempt from tax.
This is a good argument.
Life insurance is a good tax-saving option, but it is not the only option available.
You get 80C tax deduction benefits up to Rs 1.5 lakh by investing in a host of products including public provident fund (PPF), equity-linked savings scheme (ELSS) which are tax-saving mutual funds, and five-year bank fixed deposits.
Though tax-saving is an essential element of the investments you make during the year, before investing you should consider all the other options available and assess which ones suit your financial goals best.
Section 10(10)D benefit available for life insurance is an added benefit, but that comes only after a long period or on the policyholder's death.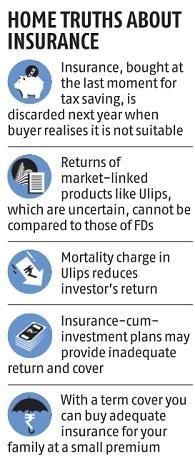 Traditional insurance products are better than bank FDs
Agents usually show the working (illustration) of endowment plans and that of bank fixed deposits (FDs).
"As a sales pitch, some distributors often pitch Ulips, which are market-linked products, against bank fixed deposits (FDs).
"By doing this, they try to attract bank customers to invest in their products," says Goel.
Also, agents often try to convince customers that traditional insurance gives higher return benefit on maturity, as no tax deduction at source (TDS) applies on insurance.
However, if you are planning to buy an insurance product, you should be aware that there are charges associated with insurance, and they provide maturity benefits and not specifically returns, as a bank FD would generate with certainty.
Unlike FDs, where the money is parked for returns, the principal purpose of an insurance product should be protection.
Therefore, you must first identify your need and then invest accordingly.
Ulips are better than mutual fund schemes
An insurance agent may tell you that a unit-linked insurance product not only gives you protection but also market-linked returns, whereas investing in a mutual fund is risky since it only offers market-linked returns and there is no element of protection.
They also suggest that Ulips are better products since they provide the flexibility of switching at no additional cost if the current plan is not generating good returns.
The fact is that several mutual funds have made huge returns for investors over time.
As for Ulips, only a part of the premium goes into investment, while the rest is used as mortality charges to provide you with the insurance cover.
Hence, it often lacks in both investment gains and insurance cover.
Moreover, policy surrender charges and other charges are usually not disclosed to the customer.
Insurance products are best-suited to meet your financial goals
One of the favourite pitches of insurance agents.
There's nothing wrong in planning for your goals through insurance products as long as you are fully aware of how it will fulfil those goals.
However, you have to assess whether the product you are buying is best suited for your goal.
For example, both insurance child plans and mutual funds can serve the purpose of providing for your child's future education.
However, quality mutual funds have helped build a huge corpus over the years and can be a better alternative for serving the same purpose.
Ankit Agarwal, managing director, Alankit Ltd, says insurance buyers should always do their homework before they meet an agent.
"To ensure that you are not mis-sold a product, you should keep yourself informed. Do not fall for the tall claims and promise of high returns of agents," Agarwal said.