Reliance Jio Infocomm (RJIL) has written to the Telecom Regulatory Authority of India (Trai) stating that a recent complaint against it by Bharti Airtel is a deliberate, malicious attempt at defaming RJIL's consumer-friendly tariff.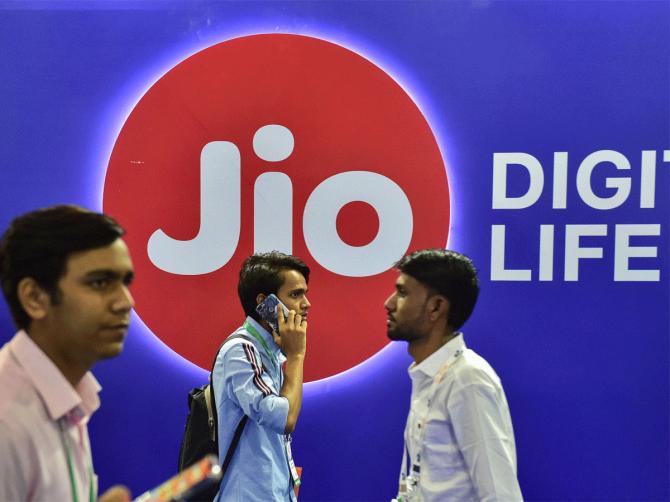 RJIL has also asked the regulator to warn Airtel against 'making such frivolous complaints in the future'.
The move is in response to Airtel recently requesting Trai to bring content aired through broadband under the regulatory fold and keep a check against discriminatory bundling tactics.
The company had recently approached Trai for a one service-one rate system that prohibits differential pricing by telecommunication (telecom) operators for content on their applications (apps) if the same content is available on direct-to-home and cable television (TV) channels, the Financial Express reported on Tuesday.
Subsequently, Trai sought parawise comments from Reliance Jio on the complaint on alleged predatory offers of live TV channels with broadband plans by RJIL.
"A close reading of the complaint letter would establish that Airtel's sole grouse is that JioFiber is offering reasonable tariffs to customers," Reliance Jio said in the latest letter — a copy of which has been reviewed by Business Standard.
"Evidently, all its unsubstantiated claims of predation, non-level playing field, non-compliance with the Telecom Tariff Order (TTO) and the New Tariff Order (NTO) are just woven around this singular theme.
"And this complaint should be dismissed simply on the grounds of being a frivolous attempt at protecting its own interests," the letter stressed.
TTO periodically issued by Trai dictates the rules, reporting procedures, and scope of the telecom tariff.
Alternatively, Trai's NTO reinstated the Rs 19 minimum recharge price cap on TV channel inclusion in an offered bouquet of channels by the broadcaster.
Controversial Indian Premier Leage (IPL) telecast
The trigger for the latest tussle had been the free telecast of IPL matches by Reliance Jio on its JioCinema app.
JioCinema owns the digital rights of IPL matches; Disney Star has the broadcasting rights.
JioCinema viewers can watch IPL matches gratis. However, Disney Star has to charge viewers as they have to follow Trai's order of a fixed channel rate of Rs 19.
An entry-level cable TV bouquet costs about Rs 325 per month — which may or may not have Disney Star.
However, Reliance Jio has now countered this by saying that the JioFiber back-up tariff is an "earnest attempt by RJIL to connect all consumers to fibre optics technology to deliver best-in-class connectivity services".
The JioFiber back-up plan is a 10 megabits per second fibre to the x (FTTx, or fibre in the loop is a generic term for any broadband network architecture using optical fibre to provide all or part of the local loop used for last-mile telecommunications) plan at a monthly rental of Rs 198 (plus taxes).
"This plan is available only on a five-month advance rental at one go.
"Further, subscribers have the option to add the add-on packs of Rs 100 or Rs 200 per month provided by Jio Platforms (JPL) to get access to up to 14 over-the-top apps, along with Jio's OTT apps provided by JPL," it said in the letter.
Based on this argument, RJIL submitted its product offering is limited to connectivity services and it does not include subscriptions to OTT apps or any broadcasting service.