Tata Neu, the super app from Tata Digital, is all set to get revamped with a better user experience.
According to sources in the know, the new version will be high on user interface and user experience design.
"With this revamp the anonymous journey of the user will begin wherein he will not have to sign in every time he accesses the app. All the changes are based on the feedback that the company has received from users," said a source in the know.
Among the changes, now users will not be required to authenticate themselves by entering an OTP.
BigBasket will get a designated chatbot, especially for BB Now. The design of the app will be much simpler and easy for use.
"The changes were made during the IPL season in order to get more users on to the platform with offerings and prizes to win. The IPL season will make sure that the user is highly engaged on the app," said the source.
The changes are significant for the company, which has not been able to match up to the hype it created when it was launched last year.
The two biggest brands under Neu that continue to outperform include BigBasket and 1mg.
"Croma will be a surprise package this year. Croma did not have much of a digital presence, but this year it has seen significant orders coming from online," added the source.
Meanwhile, the company also made a soft launch of its edtech offering called Tata NeuSkills. The platform is eyeing the reskilling and upskilling segment.
According to the initial advertisement offering, Business Standard has seen the platform offers coding skilling, an internship with Tata companies, interviews as well as placements.
At present two offers were on for Data Analytics and Front end development.
Along with these changes the company is also gearing up its senior executive team, the latest being Bhanu Pathak, founding member at Udaan, ex-Flipkart and J&J who will head the grocery segment at Tata Digital.
Rizwan Syed, ex-Flipkart and ex-Unilever, has also been onboarded.
Tata Digital has set up a target of 100-150 million users in the next two to three years.
According to a senior executive of Tata Digital in an earlier interview, "The total customer base of Tata Group company is around 122-130 million. The current database that Tata Digital has is 83 million (excluding Titan and Tanishq). Tata Neu already has 27 million NeuPass members."
Tata Digital reported a loss of Rs 3,051.89 crore (Rs 30.51 billion) for 2021-2022 (FY22), nearly 6x up from Rs 536.75 crore (Rs 5.36 billion) in the previous year, reveals data accessed by business intelligence platform, Tofler.
Revenue for FY22 jumped 3x per cent to Rs 15,979 crore (Rs 159.79 billion), from 2020-2021 (FY21) revenue of Rs 5,315.27 crore (Rs 53.15 billion), said the company in its regulatory filings.
Total expenses for the period were up over 200 per cent at Rs 19,316.3 crore (Rs 193.16 billion), from Rs 6,069.4 crore (Rs 60.69 billion) in FY21.
According to a study by Inc42 in its State of Indian Ecommerce Q4 2022 report, Tata Neu managed to throw quite a few surprises during the festival season sale in 2022, which saw total sales of $5.2 billion.
For instance, the in-app experience was relatively better than its peers like Flipkart, Meesho and JioMart, says the Inc42 study.
The e-commerce players were compared on a scale of 1-10, with Tata Neu scoring 4.8, the highest.
Regarding product delivery during the festival season challenger, Tata Neu and JioMart trumped the well-established players.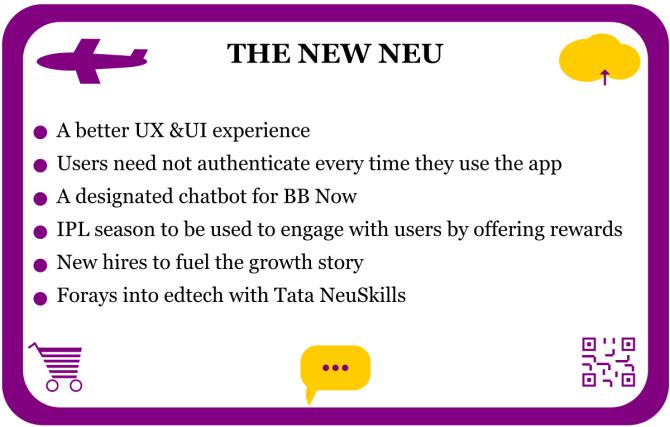 Feature Presentation: Ashish Narsale/Rediff.com