Affordability is just part of the story. The metal is easy on the skin, comes with classy designs that can't be created in gold and is as just as good a style statement, if not better.
Namrata Kohli reports.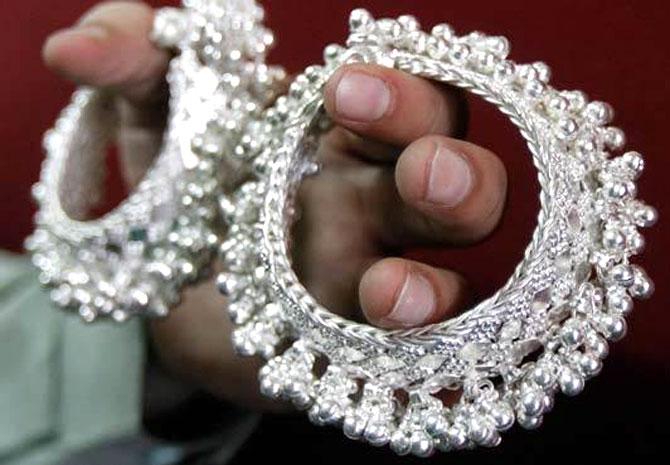 It isn't really a girl's best friend.
Not yet, at least. But it is getting there, slowly and steadily, and has already captured the fancy of Bollywood divas like Vidya Balan and Kareena Kapoor, who flaunt their Amrapali jewellery along with classy designer clothes by Sabyasachi and Manish Malhotra respectively.
But it isn't just the stars.
Just about every fashionable woman is today seen wearing statement pieces such as 'tree of life' earrings, a conch shell-inspired ring, a Ganesha choker, or a peacock pendant -- unique designs handcrafted in silver.
Ample scope for designing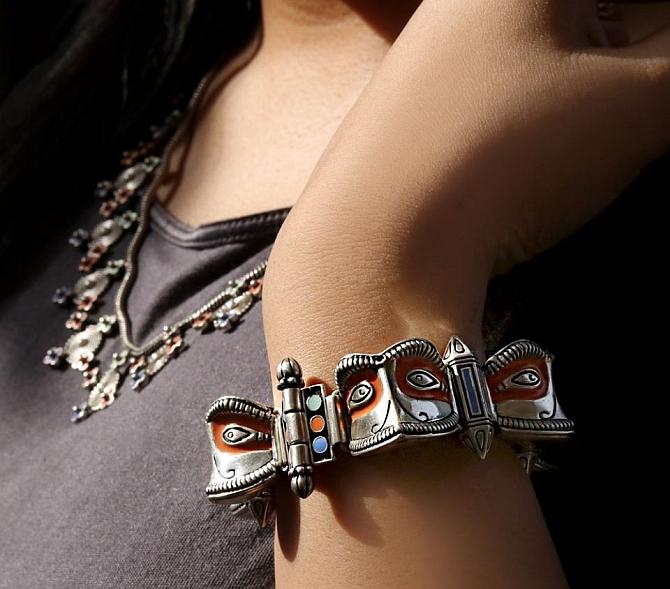 What is it about silver that allows a jeweller to play around with myriad designs and motifs, at a scale unheard of in other noble metals? "If you want to wear a 200- or a 300-gramme statement piece, you will not make it in gold as it will cost you a bomb," says Rajiv Arora, founder of Amrapali, Jaipur.
"Silver is a precious metal on which you can do intricate carvings and make beautiful motifs. The magnitude of designs jewellers can create in silver is far greater than in any other metal," he adds.
Arora says people who are stylish and don't just want to show off their wealth today go for a finely handcrafted piece of silver earring costing just Rs 4,000.
"But that piece will be a head-turner," he adds.
As silver jewellery ages, it becomes even more attractive.
"Oxidised silver gets a very good patina, turns dark like Victorian black jewellery, and people simply love it," says Arora.
Easy on the skin: Silver is naturally hypo-allergenic.
Even someone with sensitive skin will not suffer rashes or other allergies after donning it.
This isn't quite the case with other fashion jewellery.
Many varieties available
Jewellers manufacture three kinds of silver ornaments.
One, sterling silver (92.5 per cent silver and 7.5 per cent copper) is polished and made to look shiny.
This is mostly used to create contemporary designs.
Two, sterling silver is oxidised and used to make traditional designs.
The third is gold-plated sterling silver.
Gold-plating costs Rs 30-40 more per gramme than the oxidised variety, informs Arora.
Each of these has different takers -- a white salwar suit goes well with a silver piece but a Kanchivaram silk sari needs a gold-plated set.
Also, for destination weddings, no one wants to risk carrying real gold jewellery, so women wear gold-plated silver jewellery.
Says Kajal Jain, founder, Ahilya Jewels: "Gold-plated silver is no-worry, hassle-free jewellery. People don't want to wear costume or imitation jewellery given the auspiciousness of wedding functions. They want real metal."
Where silver scores over gold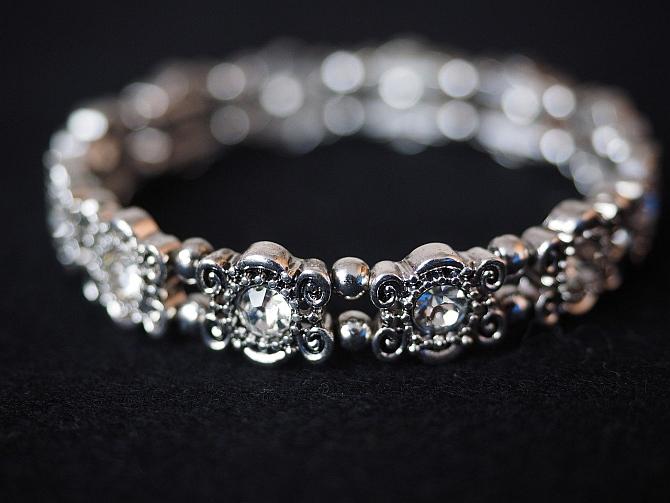 The metal offers designers far more flexibility in terms of design, finish and affordability.
Anything that gold can do, silver can do better, says Giva's co-founder Nikita Prasad.
"Silver complements things in a way gold can't -- add a high-quality zircon and it shines like a true diamond. Add a rose gold finish and it is indistinguishable from the real thing."
Complex patterns require multiple iterations, cuts and joints which leads to more wastage, so designs in gold tend to be more standard.
"Intricate designs can't be done on gold because wastage makes it expensive," says jewellery designer Divya Gupta, founder, Aliame Jewelry.
Because it is cheaper and malleable, designs with silver as the base tend to be more intricate.
Add to that the satisfaction that silver belongs to the noble metal family and yet is much cheaper than gold, platinum and rhodium.
"Silver costs about Rs 51 a gramme. In comparison, one gram of 22-carat gold costs around Rs 3,830 and rhodium is 10 times more expensive than gold," says Gupta of Aliame Jewelry.
New concepts in design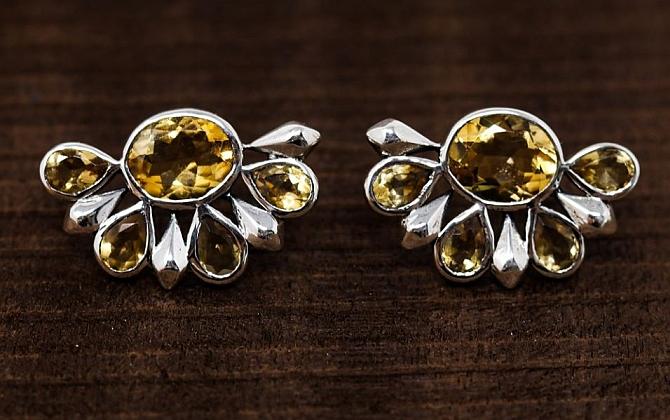 Nature and geometry rule in jewellery designs, but new concepts like science and astronomy are being introduced as well.
Chunky silver jewellery with tribal motifs is extremely popular, says jewellery designer Riddhima Kapoor Sahni.
"Rajasthani-styled vintage silver jewellery with inlay work, lotus motifs and Ganesh motifs is pretty popular. Silver chokers are very trendy right now, especially if they have an antique or vintage finish," she adds.
Chokers are evergreen.
Even a mainstream jeweller such as Tanishq has a complete line, Mia, devoted to silver.
According to Sandeep Kulhalli, senior vice president, retail and marketing, jewellery division, Titan, "There is an increasing demand for silver with an inclination towards light weight, modern and trendy jewellery."