If hallmarking data are anything to go by, the proportion of spurious jewellery in the country might have shrunk significantly in the past five years.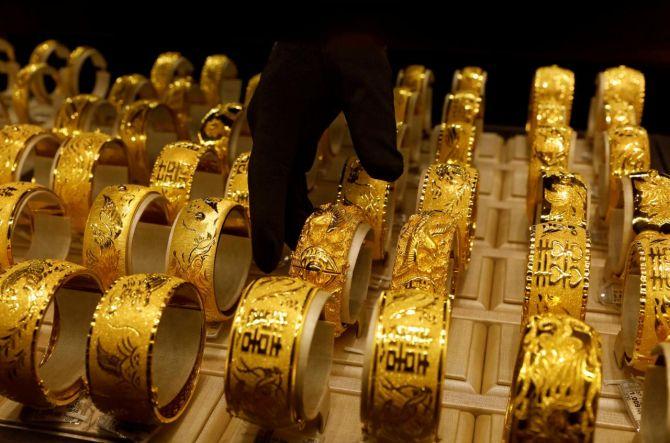 Often, Indian gold jewellery has been frowned at for its doubtful purity level.
But that may now be a story of the past.
If hallmarking data are anything to go by, the proportion of spurious jewellery in the country might have shrunk significantly in the past five years.
In 2018-19, the proportion of hallmarked Indian gold jewellery stood at 80 per cent, a major improvement from 2013-14, when only half the gold jewellery produced in India was hallmarked for purity.
Hallmarking of jewellery is not yet mandatory in the country, but the government has a plan to this effect ready for a rollout.
The Bureau of Indian Standards (BIS), which oversees hallmarking, also provides data on the number of jewellery pieces that were hallmarked in a year.
In 2013-14, the number of hallmarked jewellery pieces stood at 26 million.
The average weight of hallmarked jewellery is 10-12 g.
So, taking the median figure of 11g, this would come to about 286 tonnes, or 47 per cent of the 609 tonnes of gold jewellery produced in India that year.
By comparison, of the 621 tonnes of gold jewellery manufactured in the country in 2018-19, 494 tonnes (80 per cent) were hallmarked for purity, according to a data analysis done by Gold Fields Mineral Services (GFMS).
Experts cite a number of reasons for a surge in hallmarking of jewellery in India.
Among the key factors driving this are an increase in BIS-approved hallmarking centres, an increasing dominance of organised retail and customer awareness.
Debajit Saha, senior analyst, Precious Metals Demand (India and UAE), GFMS, says: "Organised jewellers encourage consumers to buy only hallmarked jewellery.
"This forces small jewellers to also go for hallmarking.
"Consumer awareness has also increased tremendously. As a result, instead of following the old maxim 'ghar ka sunar' (an exclusive goldsmith for a household), consumers are moving towards 'purity' standards."
So far as BIS-approved hallmarking centres are concerned, there has been a significant increase in their number, too - from 285 in 2013-14 to 797 in 2018-19, and 811 now.
It is worth noting that the BIS has so far permitted only 14-carat, 18-carat and 22-carat jewellery to be hallmarked.
There is also some region-specific demand for jewellery of other purity levels; these can also be hallmarked in the regions concerned.
Harshad Ajmera, president of the Indian Association of Hallmarking Centres, says: "Apart from an increase in hallmarked jewellery, there has been an improvement in the standard of hallmarking as well."
BIS does not allow much deviation in purity standards. Ajmera cites BIS data to say that the ratio of rejection was 30 per cent five years ago.
That implies nearly a third of hallmarked jewellery in 2013-14 was not really in line with the approved standard.
In the past two years, the ratio of rejection has improved to 10 per cent.
BIS officials collect samples of hallmarked jewellery from jewellers and test the purity of those randomly collected samples. In 2016-17, of the 2,965 samples collected, 892 (around 30 per cent) were rejected. In 2018-19, only 534 of the 5,013 samples were rejected.
However, a veteran jewellery industry official says: "Much of the jewellery made from recycled gold, especially in smaller cities and rural areas, are still not getting hallmarked.
"They are not even included in the formal data for jewellery fabrication.
"So, the actual proportion of hallmarked jewellery would be much lower than percveived."
BIS already takes action against the members of hallmarking centres if they fall short in quality or compliances.
But Ajmera wants more. BIS should also take action against its officials who approve hallmarking or audit them, he says.
What he does not say - and what some industry veterans mention - is that BIS officials and centres, and even some jewellers, are understood to connive and get hallmarking certificates for jewellery that is not actually hallmarked.
Ajmera says his organisation wrote to the bureau, saying "BIS should disclose all details of market samples approved or not approved, with the names of centres".
The second demand, he says, is that the BIS audits of all approved centres should be scrutinised randomly, and whenever a wrongdoing by auditors is found, the official concerned should be suspended for a year.
Photograph: Tyrone Siu/Reuters