From the start of the year to date, gold rose from Rs 31,489 per 10 gm to Rs 37,682 on August 20 on MCX futures, giving investors a return of 19.3 per cent.
During the same period, silver rose to Rs 43,695 from Rs 8,245 per kg, a gain of 14.3 per cent, points out Sarabjeet K Sen reports.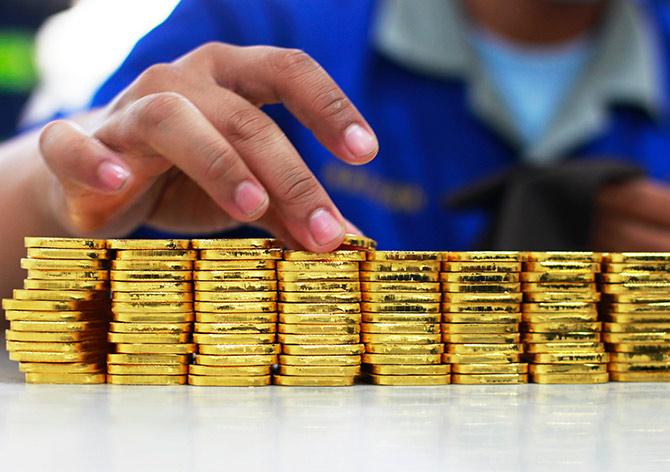 Ace investor Mark Mobius gave a blanket endorsement to gold.
He believes that the yellow metal should be bought 'at any level' for long-term gains.
His endorsement comes at a time when central banks across the world are loosening monetary policy and the rise of crypto currencies only strengthens the need to be in hard assets.
With the commentary on the economy and stock markets becoming increasingly gloomy due to domestic and global headwinds, Mobius' endorsement comes at the right time.
The shift towards gold is already happening.
And interestingly, even silver has been going up.
Both these precious metals have seen major buying in recent months by investors and central banks, pushing prices up to multi-year highs.
From the start of the year to date, gold rose from Rs 31,489 per 10 grams to Rs 37,682 on August 20 on MCX futures, giving investors a return of 19.3 per cent.
During the same period, silver rose to Rs 43,695 from Rs 8,245 per kg, a gain of 14.3 per cent.
Does this rally still have legs? According to commodity experts, it seems so.
"The underlying trend for both gold and silver is bullish. The US-China trade war, slowing global economy and dovish stance of all central banks are the kind of fodder precious metals need to propel forward. Gold is expected to test $1,600 by year end abroad, and in MCX we expect it to hit Rs 40,000 as early as next quarter. Silver also has moved in sync with gold prices and we may see Rs 46,500 by year-end. In COMEX, it may test $18," says Aasif Hirani, director, Tradebulls Securities.
Hareesh V, head, Commodity Research, Geojit Financial Services holds similar views on gold.
"A mild correction cannot be ruled out in the immediate run, but the trend remains positive and one can target $1,570/1,640 an ounce (on London spot).
At a later stage, even $2,000 an ounce is possible, if the ongoing positive fundamentals remain unchanged." According to him, a recovery in the rupee and feeble domestic demand can hit local gold prices, but it is unlikely to go below Rs 31,000/10 gm.
The immediate upside obstacle would be Rs 41,800.
Gold or silver
Experts suggest gold remains a better bet over the long term than silver.
"Silver is looking more attractive over a six-month horizon. But if one is betting on an instrument for more than a year, stick with gold. Since silver has underperformed gold, it is playing catch up now and will give better return in shorter period. But in the long run, gold will outshine silver as the demand for a safe haven will make gold more attractive," says Hirani.
Hareesh, too, advises investing in gold over the long term.
"Avoid silver as long-term investment. Profit-booking at regular intervals is recommended in silver as its prospects are not as bullish as gold," he says.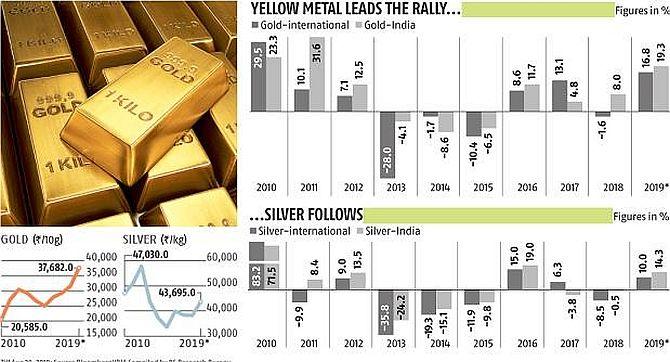 However, Gnanasekar Thiagarajan, director, Commtrendz Research prefers silver.
"In terms of a pure safe-haven play, gold is a better bet because any kne- jerk reactions on the back of news flows first impacts gold. But, silver tends to catch up eventually and takes huge strides and looks more preferable, if one is seeking good returns. So if one were to build a bullion portfolio, it is ideal to have a bigger share of silver compared to gold," he says.
Gold-silver ratio
The gold-silver ratio is an indicator that measures the price change between the two precious metals.
The ratio also indicates how many ounce of silver can be purchased with one ounce of gold.
Any rise in the ratio happens when silver prices move at a slower pace than gold, and vice versa.
In mid-July, the ratio was at 93 -- the highest in 25 years.
That was because silver prices were not rising in line with gold prices.
However, the ratio has fallen to 87 now as silver prices have not fallen in tune with gold prices.
It still remains high, indicating silver prices will continue to rise faster than gold or fall at a lower rate than the yellow metal.
In the last 12-18 months, the ratio has been trading at a high level above 80 because industrial growth has been slower, which is adversely affecting industrial demand of silver (55 per cent of silver demand is for industrial use).
Buy on dips
Hareesh says investors should accumulate by using the "buy and accumulate on every dip' strategy for gold.
Though prices have more potential upside, domestic gold is likely to be volatile further due to a fluctuating rupee, changes in demand pattern and other unforeseen reasons like changes in tax regime, policy changes and other factors.
Buying on dips is recommended in silver too," he says.
Hirani feels the bull run in gold and silver will continue for the next two years.
"Investors who are holding leveraged positions in future should be cautious at the current juncture, especially those who have short-sold in the futures market.
"For physical buyers, it is indeed time to buy as down the line, it will get more precious.
"We see more upside in both precious metals," he said.
Thiagarajan advises investors to wait for some time.
"At present levels, the price rise looks overdone and prices are struggling to cross near-term highs. So, wait for a correction before going long," he says.