With International Women's Day around the corner, the actor shares tips for the modern woman.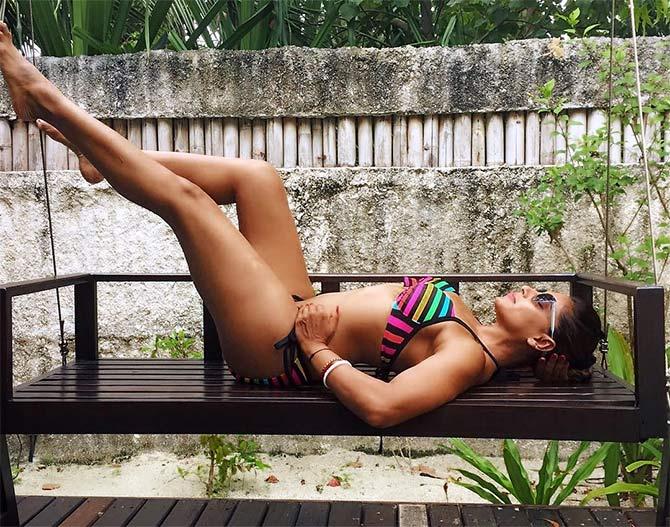 Bipasha Basu knows how to make a fashion statement in traditional silhouettes as well as western looks.
On the red carpet she always looks preened to perfection and her sartorial choices have inspired many.
The actor, who has nailed power dressing, feels that it is not as intimidating as it sounds.
'In a nutshell, it's choosing outfits and styles that keep you stylish and on-the-go; pieces that work double duty, so that you don't have to,' Bipasha reveals as she shares five tips on how women can dress powerfully at work.
1. Always choose smart fabrics.
You want to go in for breathable fabrics like cotton, jersey, linen, tencel and stretchable suede.
These not only frame your silhouette well, they also keep you comfortable as you go about your day -- from desk to drinks.
2. Opt for silhouettes that don't get in your way.
Think shift dresses, A-line skirts, boyfriend shirts, chic pussy bow blouses, flattering peg pants and high-waist flare pants.
3. Make comfortable shoes your closest friends.
Shoe bites and too high heels are not fun when you have a manic Monday ahead of you.
Opt for block heels that give you an instant lift, yet are sturdy enough to not keep you hurting.
Not a fan of heels? No problem.
Make mules, strappy sandals, and even sliders (for casual Fridays) your go-to. These are perfect slip-on-and-go styles.
4. Always, always have a transfer-proof lipstick in your bag for quick touch ups between meetings.
Make shades of nudes, plums, and pale pinks your pick.
5. Carry a wrinkle-resist blazer folded away in your tote.
This makes you always ready for impromptu meetings, whilst keeping you looking sharp. Go for blazers in tweed or spandex.
The Power Dressing Edit ' AXN exclusive collection on The Label Life is inspired by Tea Leoni's look in Madam Secretary. Watch the show every Tuesday at 10 pm on AXN.