Figuring out the nuances in the NFT market will mean opening and examining multiple new cans of worms, warns Devangshu Datta.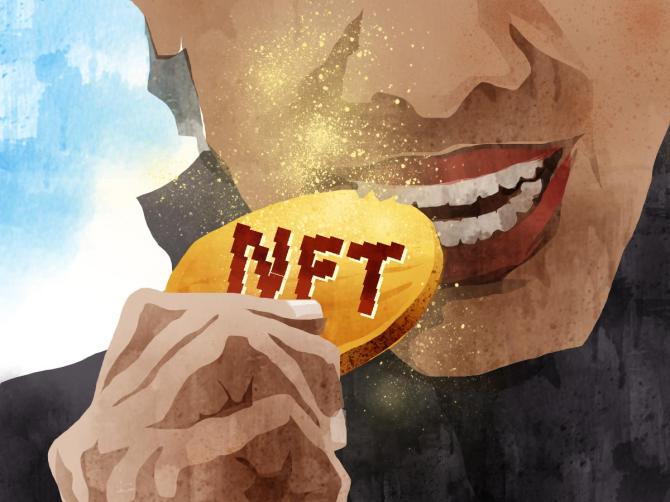 Last month, the artist Liam R 'Sharpy' Sharp posted a tweet that highlighted one of the huge problems with the shiny new non-fungible token, or NFT, market: How do you prove provenance for an NFT?
Sharp (@LiamRSharp) is a well-known graphic novel illustrator and novelist who's worked on commission for DC as lead artist on issues starring Batman, Wonder Woman and Green Lantern, besides doing his own stuff.
His tweet said, 'Sadly I'm going to have to completely shut down my entire @DeviantArt gallery as people keep stealing my art and making NFTs.
'I can't -- and shouldn't have to -- report each one and make a case, which is consistently ignored. Sad and frustrating.'
Below the text, he posted an image of a minotaur along with a message from DeviantArt Protect (www.deviantart.com
'This NFT is located on a public blockchain outside of DeviantArt and may be listed for sale in one or more NFT marketplaces.
'If your art's being used without permission, we suggest contacting those marketplaces to have it delisted.'
Details of the NFT location followed.
Sharp may be able to get redress since he is well-known and much of his work is public and his style, etc, can be verified with major publishing houses.
However, what is to stop some unscrupulous 'entrepreneur' from harvesting interesting stuff off the Web and then selling it as NFTs?
This is not only a copyright problem which affects creators of digital work that could be stolen.
It is also a situation where buyers of NFTs have to beware of picking up and paying for some pirated content.
Since all NFT transactions happen on blockchains using cryptocurrency, it may also be difficult to ever find the pirate and get that entity to disgorge payments or be punished.
When they wish to identify an image or establish its provenance, most people use publicly available tools like Google Lens and reverse image search, which will throw up an image if it's indexed by the search engine.
Image Match and Visual Search perform similar functions on Bing.
Picsearch is another specialised reverse image search tool.
There are other less popular tools that look at specific websites or archives.
DeviantArt, which has a reputation for hosting adult graphic content and a lot of morphs of popular celebs, etc, has its own search tool as mentioned above.
Apart from that, Getty Images has a reverse search tool, which will throw up images in the archives.
Pinterest has a similar visual search tool and a Pinterest Lens -- using the lens in addition to Pinterest reverse image is useful (as with Google Lens) because it may also throw up locations where that image is being sold.
TinEye is another tool that tends to be recommended highly by professional photographers -- this can be set up to send alerts if an image appears on a new location.
Pre Post SEO is often used by academics and writers to search for verbal plagiarism, but it also has a reverse image search -- this may be useful as well.
If you are buying an NFT, you should run the relevant image or images through all of the above and any other image search tools you can think of.
Even if none of them throws up a match, there are no guarantees that the NIFT is not plagiarised.
Well over two-thirds of the Web is not indexed by any search engine and it is entirely possible that a content creator, or Web site owner, may be asking the search engines not to index content.
If content is copied from any such location, it might not show up on any reverse image search.
So, while a positive reverse image result is a red flag, a negative result is no guarantee of clean provenance.
There are further complications, of course.
An NFT, which alters or morphs an existing image, or several images, could be entirely legitimate.
You might entirely change the impact of an image by simply superimposing a caption, for instance, or by swapping the head of a donkey (lifted from one copyrighted image) onto the body of a well-known politician (from another copyrighted image) to create a third image that is entirely new.
Figuring out these nuances in the NFT market will mean opening and examining multiple new cans of worms.
Dabblers in the NFT market will have to watch out for this angle.
The age-old principles of Buyer Beware apply.
Feature Presentation: Ashish Narsale/Rediff.com