Non-Fungible Tokens are unique crypto codes driving collectors of art and music.
Devangshu Datta traces the history of NFTs.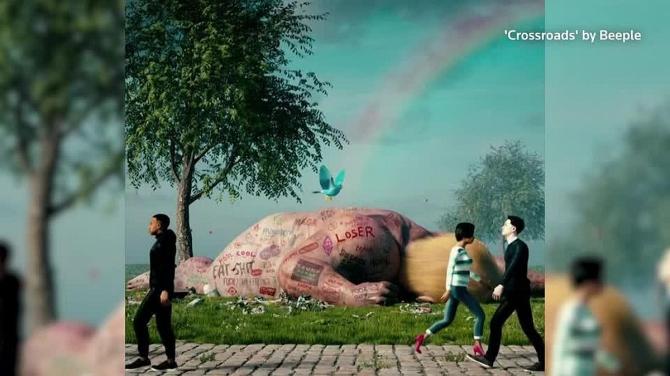 Would you pay huge sums for digital artwork, or a photograph, which you can legally view for free — and also download?
Would you pay to own a video clip, which is, again, legally available free?
Would you pay to view a tweet, which you can download (and retweet) for free?
Some people are prepared to pay huge sums for these "free" goods.
Or rather, they're prepared to pay for the cachet of owning a special copy, with the equivalent of a tamper-proof digital watermark.
Welcome to Non-Fungible Tokens (NFT) — digital constructs authenticated using an abstract mathematical application.
An NFT is a unique token added to some digital construct and registered on a blockchain with details of ownership.
The construct itself might be free (it often is) but the NFT along with the construct is worth "more".
The NFT market didn't exist until 2017 when "cryptokitties", or virtual cats, became available with NFTs.
The market is now worth around $350 million.
Speculators believe it is likely to be worth much more in future.
In October 2020, art auction major Christie's sold the first NFT linked to physical art — "Portraits of a Mind: Block 21", by artist Benjamin Gentilli — for over $130,000.
In February, Claire Boucher, a Canadian artist who's better known as Grimes (and Elon Musk's partner), auctioned a set of multimedia digital artworks, "WarNymph", with NFTs via the Nifty Gateway marketplace.
They went for $5.8 million.
Jack Dorsey, CEO of Twitter, has put his first-ever tweet up for NFT auction and the bidding is running at $2.5 million-plus.
And, investors have paid six figures for video clips of a few seconds of basketball action, which can be viewed for free.
NFTs are placed on blockchains, which, as you probably know, are open electronic ledgers.
The NFTs can be viewed by anybody, to verify transaction and ownership details. But entries cannot be altered.
A new entry can be added if ownership is transferred.
The blockchain was invented by the mysterious creator of the Bitcoin, Satoshi Nakamoto.
But it has been refined and adapted to many other purposes.
Most NFTs use the Ethereum blockchain — this is the second-most popular cryptocurrency.
Ethereum NFTs are usually built on a digital standard known as ERC-721 (Ethereum Request for Comments 721).
Four well-known geeks, William Entriken, Dieter Shirley, Jacob Evans and Nastassia Sachs, wrote and released ERC-721 circa 2018.
A NFT confirms a given copy of a given digital construct is owned by a specific somebody.
The NFT can be sold on, in which case, a new entry can be added to reflect change in ownership.
An NFT is, at first glance, an odd exploitation of the blockchain's potential.
But it extends a concept successfully implemented with some blockchains.
Say, a vineyard releases 20,000 litres of fine wine every year.
How does it distinguish this from fakes?
It can use a blockchain where each bottle is entered, along with details of the dealership.
Prospective tipplers check the blockchain for authenticity.
Similarly, blockchains have been used to authenticate designer goods like handbags and jewellery.
NFTs extend this concept to digital constructs.
Why would somebody pay for an NFT?
Think about a book signed by the author — that has extra value compared to an identical, unsigned copy.
Again, a photographer who releases a limited edition of signed prints could charge extra, even if the prints themselves can be easily reproduced.
An aficionado of digital art may want the satisfaction of "owning" the Twitter CEO's first tweet.
A cricket fan may want a clip of Rishabh Pant playing that reverse-sweep, complete with an NFT from Pant.
The Web has been around since the early 1990s.
There are plenty of people comfortable with the concept of paying to own NFTs related to digital constructs.
A speculator might also buy NFTs in the hope they will become more valuable in future.
New digital marketplaces are opening up for NFTs.
For example, Indian cryptotrading platform, ZebPay, is planning to launch an NFT marketplace, named "Dazzle" (the collective noun for zebras).
This could focus on digitised Indian collectibles.
Is the NFT phenomenon a bubble? It's hard to say.
Art and music are very difficult to value, and NFTs tend to fall into that broad category.
This could be just a brief mania that developed as a collective emotional reaction to the pandemic.
Or this might just be the beginning of a big new digital market segment.