Every brand and company in India too will soon need a metaverse strategy, notes Sandeep Goyal.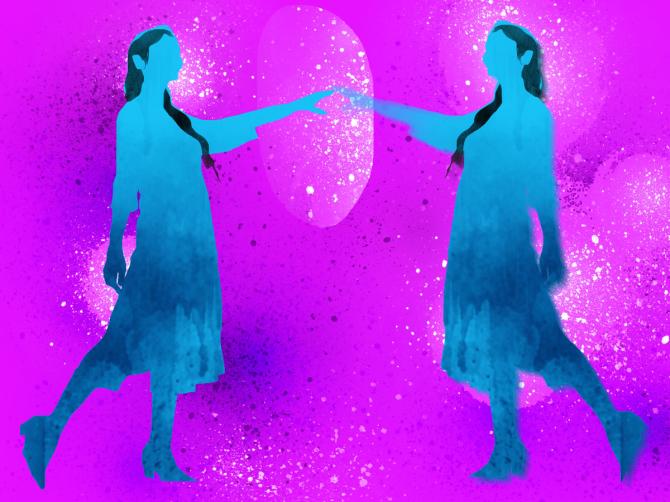 During his quarterly results call in late July, Facebook CEO Mark Zuckerberg spent a considerable amount of time on metaverse.
'It's a virtual environment where you can be present with people in digital spaces,' he said.
'You can kind of think about this as an embodied Internet that you're inside of, rather than just looking at. We believe that this is going to be the successor to the mobile Internet.'
Mr Zuckerberg is not the only one getting excited about metaverse.
In the past few months, Balenciaga has launched its dystopian game Afterworld, showcasing its futuristic clothing line.
Fortnite, a player-versus-player game played by hundreds of millions in the Gen Z age group, collaborated with Nike to promote its new Jordan sneakers and teamed up with rapper Travis Scott for a virtual gig to an audience of over 10 million.
And the hugely popular esports game League of Legends collaborated with Louis Vuitton for its latest world championship.
NASCAR will soon kick off a multi-year plan to get its brand in front of young gamers on the wildly popular platform Roblox.
For starters, NASCAR is dropping a digital car in the platform's breakout Jailbreak game and is selling apparel for players' avatars.
Players will also be able to design their own NASCAR uniforms as part of a fan contest, with the game's developers acting as influencers to promote it on social media.
Initially envisioned as a form of a decentralised open Internet, the metaverse -- first coined in Neal Stephenson's 1991 novel Snow Crash -- allows users, as digital avatars, to move and interact across digital worlds, and use or exchange digital items across platforms.
Although interoperability is still a long way off, the term has become a catch-all for new digital, immersive, and social spaces encompassing gaming platforms like Roblox, Fortnite and Zen Racing, or NFTs, VR, AR, cryptocurrencies and online marketplaces like Decentraland, all of which have ballooned in popularity in recent times, catalysed by the pandemic.
Every brand and company in India too will soon need a metaverse strategy.
Metaverse is an amalgamation of the digital world in which physical, augmented, and virtual reality converge.
Unfortunately, not very many marketers or ad agencies in our country quite understand the implications, and opportunities, of this new aperture.
Metaverse will soon, in fact very soon, become brands' calling card similar to how social media profiles, apps and Web sites work today. For now, at least, this is almost unknown, and uncharted territory for most.
In the Western world, brands like Warner Bros, Hyundai and Gucci have built their own virtual worlds; Coca-Cola, Anheuser-Busch and Crockpot are tiptoeing into the space by selling NFTs -- non-fungible tokens bought and sold on blockchain technology allowing people to own digital items like images or videos -- and Sephora, Nike and HBO are leaning into AR and VR experiences.
Somehow, the same interest, or momentum, or haste does not seem to have percolated to the Indian brand world.
One does hear mention of metaverse now and then in both local media, and industry circles, but the buzz is really on ultra-low frequency.
India actually has a massive role to play in leading the global metaverse revolution.
With 440 million gamers or 16 per cent of the worldwide gamers base of 2.7 billion, our country is among the top five global markets in terms of user base -- and growing.
For the first nine months of 2020 itself, India ranked number one in global mobile game downloads, thanks to the massive user base.
There are, to be fair, recent stirrings in the metaverse space in India.
BollyHeroes, a parallel Bollywood world, built in collaboration with production houses, music labels, brands, celebrities, gaming studios and animation companies launched a couple of months back.
The platform offers people to create a 'Bollyverse', where they can write, act and produce their own stories and characters to launch community-driven films, games, shows and animation.
On the other hand, OneRare is India's first play-to-earn-food-metaverse game on 0xPolygon. It allows users to follow recipes and farm the right ingredients to get their dish and unlock the Dish NFTs successfully.
The most interesting part is that there is only One Dish NFT of every recipe. Meaning, only one person will own that 'One Rare Dish' in the entire world.
LOKA, meanwhile, is India's first multiplayer gamified virtual metaverse based on 3D maps of real-world cities and locations, where players can participate in live and concurrent experiences.
These new developments, and initiatives, still seem very far from the world of Indian brands.
No one around seems to have the vision, the understanding or the desire to explore or invest in this new world of infinite possibilities.
Is it just a matter of time?
Methinks it is more a function of exposure, experience and enthusiasm.
We are still far too enthralled by 'jackets' in print and moment marketing on social media.
Mr Zuckerberg, please shout a wee bit louder ...
Sandeep Goyal is Managing Director, Rediffusion
Feature Presentation: Ashish Narsale/Rediff.com