'Allocate some parts of one's surplus income towards cryptocurrencies, considering the immense growth potential of this emerging asset class.'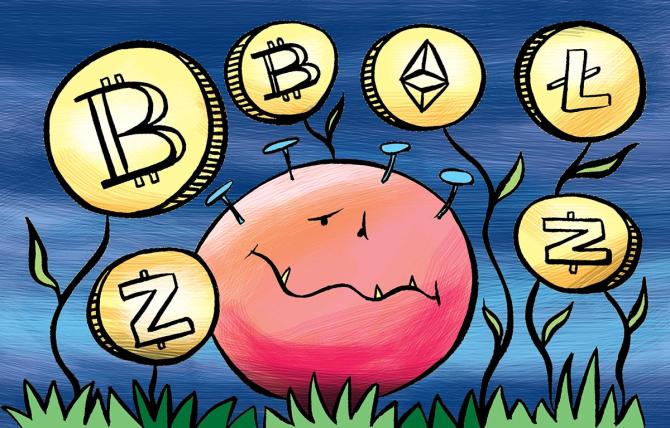 Investors in Bitcoin and Ethereum were in for a rude shock after the recent tweets from Elon Musk and China's stand on cryptocurrencies.
The developments wiped out over $500 billion in value from Bitcoin's peak market value in April this year, before recovering.
Some key cryptocurrency exchanges also suffered trading glitches as investors rushed to sell their holding.
Sumit Gupta, CEO and co-founder, CoinDCX, tells Puneet Wadhwa that the government recognises blockchain technology's potential and has cleared the air with respect to a blanket ban on cryptocurrencies.
How are you reading into the sudden crash in Bitcoin, especially the developments in China?
While the current volatility is partly attributed to the remarks by Elon Musk, long-term investors can draw comfort from the year-on-year appreciation in Bitcoin's prices.
The recent ban announced by the Chinese government seems limited to certain crypto-related transactions and is only an extension of the initial coin offering (ICO) rules sanctioned in September 2017.
Chinese investors can continue to invest in cryptocurrencies using other forms of fiat money like the US dollar.
With colossal global interest from the investor and crypto developers' communities, prices are expected to be stabilise.
From an investment perspective, we continue to maintain that investors should focus on the fundamentals and the long-term nature of the asset class rather than being perturbed by short-term volatility.
Do you think crypto currency should be a part of everyone's portfolio now?
If you look at the performance of all asset classes over the past decade, cryptocurrencies have outperformed them all and by a significant margin.
The foremost amongst them, Bitcoin (BTC), has seen multifold growth from its lows in April 2013 to its recent peak of $66,000 in April 2021; yielding a staggering CAGR of 145.5 per cent over the eight years and creating unprecedented wealth for its early investors.
With increasing adoption worldwide by renowned investors like Mark Cuban, Jack Dorsey and Elon Musk, retail investors have now started to sit up and take note of this asset class.
We believe that it would be prudent to allocate some parts of one's surplus income towards cryptocurrencies, considering the immense growth potential of this emerging asset class.
What feelers are you getting from the government in terms of regulations that govern cryptos?
The Indian government recognises blockchain technology's potential and has cleared the air with respect to a blanket ban on cryptocurrencies.
It has expressed intention to allow both entrepreneurs and investors alike to experiment with blockchain technology and related assets like cryptocurrencies, which bodes well for the entire crypto-asset-based fraternity in India.
The Supreme Court verdict negating the 2018 circular issued by the Reserve Bank of India has emboldened our efforts to further engage with the authorities and placate them by virtue of the self-regulation that the industry as a whole has implemented over the recent years.
We see a possibility of the Indian government considering forming a panel to regulate cryptocurrencies as digital assets than tokens.
Are there any global norms or regulations that can be emulated in India?
There are many examples of countries like Singapore, which have taken the lead in incorporating blockchain technology into the existing financial network through the Monetary Authority of Singapore, the city-state's central bank and its main financial regulatory body.
In fact, as part of their Project Ubin initiative, MAS has completed the development of a blockchain-based cross border payments system that can support a range of currencies and is touted to encourage other central banks to conduct similar trials using blockchain technology.
It is a brilliant example of how central banks can carefully monitor blockchain-based businesses and setting specific rules to regulate crypto-activity, which is now being adopted globally across countries like China, Japan, South Korea and the USA.
What about the taxation policies back home?
In terms of taxation policies, most countries treat crypto-currencies like any asset class where they are being taxed in the hands of the sellers in the form of capital gains tax, and the same is true currently in India as well.
IndiaTech -- an industry association representing India's consumer internet start-ups, unicorns and investors -- has recommended to the government that for a crypto trader, the gains should be treated under the head 'Profits or Gains from Business or Profession'.
For an individual, it should be taxed as a Capital Gain/loss depending on the period of holding that decides short-term or long-term.
That apart, the GST levy will be on the fee component levied by the exchanges only all corporates; businesses should disclose holdings at the end of the financial year.
All individuals, too, should disclose their holdings in their income-tax returns similar to a 'Schedule AL' at the end of each financial year.
All this would be possible if the government and RBI treat cryptocurrencies as digital assets instead of viewing them as currencies.
Banks, it seems, are still wary of providing support to crypto exchanges. What steps are you taking as an industry to convince them?
Post the Supreme Court's March 2020 order lifting the ban imposed by RBI vide its circular, we have seen Indian banks warm up to blockchain technology and cryptocurrencies in general over the last year.
Cryptocurrency exchanges have aligned themselves and started self-regulation by setting up KYC while also following all rules, regulations and laws of the country.
We are jointly working with our peers on a standard disclosure across all exchanges in India.
Are you seeing more traction in India for cryptocurrency as compared to a year ago?
The Indian crypto market has flourished since the onset of the Covid pandemic, with a clear shift being witnessed in terms of investment patterns.
More Indians in the 25-40 years age group have begun trading in cryptocurrencies.
We have also recorded an increase in new user sign-ups and enhanced trading volumes.
At CoinDCX, we have seen a Y-o-Y growth of 340 per cent in new user sign-ups.
Going ahead, a lot would depend on the development of a regulatory framework.
S&P Dow Jones has introduced cryptocurrency indexes. How soon can we see a similar product in India?
Yes, as the Indian market evolves, we should see similar instruments being made available for the general public to invest in.
The introduction of cryptocurrency indexes is seen as a move that will bring a lot of transparency and regulation to the overall broader working of the listed exchanges, which bodes well for investors who would like to invest in them.
A number of asset managers and stock exchanges have listed. Do you have any such plans?
This would be an exciting opportunity and there is a lot of activity at CoinDCX in such matters.
Based on the developments being driven by the Securities and Exchange Board of India and the RBI, we are confident that the listing process will be more pliable for us and we will announce our moves when the time is right.
Feature Presentation: Ashish Narsale/Rediff.com