The Ola Money and Uber tie-ups demonstrate how insurance companies, including even government-run ones, are forging partnerships with every possible service company to offer products.
Illustration: Uttam Ghosh/Rediff.com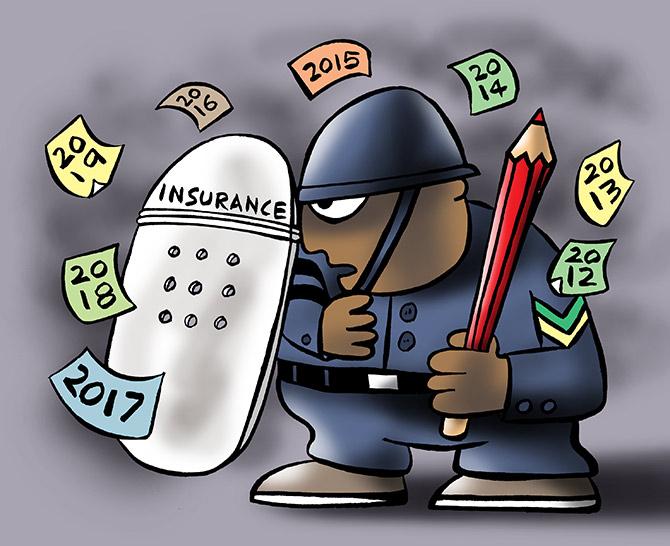 Ride-hailing competitors Uber and Ola rolled out competing rider insurance products this week through tie-ups with insurance companies.
At the same time, insurance broker Marsh has demonstrated another example of using blockchain to make it easy for clients, carriers, and brokers to share real-time information and feedback on how to book and hold the best insurance covers.
Changes in technology and marketing are cutting the ground from the feet of India's more than 400 insurance brokers.
So it is difficult for them to celebrate the liberalisation of rules to allow 100 per cent foreign direct investment (FDI) in their sector (insurance intermediaries).
The field is in any case skewed with only the top six, including Marsh, Willis Towers Watson, and Aon, that have joint ventures with a concomitant foreign investment stake of up to 49 per cent.
The challenge for everyone is how to fend off competition from insurance companies and the sweep of technology, making their business models irrelevant.
The challenge will mount as giants like Amazon and Google begin to compete with the very same intermediaries.
"Consumer-friendly tech giants have set their sights on health care.
"They don't yet command the landscape, but their disruptive power could bring dramatic changes," notes Boston Consulting Group lead author Sanjay Saxena in a report on the sector, released in August.
While no proposals to raise FDI above 49 per cent have come in so far after the Department of Financial Services issued the notification on August 27, all the leading brokerages said, in response to emails from Business Standard, they were studying the alternatives.
The Ola Money and Uber tie-ups demonstrate how insurance companies, including even government-run ones, are forging partnerships with every possible service company to offer products.
These go beyond tie-ups with banks to reach clients to offer insurance products, or establish a big presence in car dealerships to offer motor insurance. Those are now passé.
New marketing plans are making insurance intermediaries irrelevant.
This is why just after the Budget announcement in July this year, the Insurance Brokers Association of India sent a list of grievances to Union Finance Minister Nirmala Sitharaman.
Significantly they did not list the raising of the FDI cap among those.
This is possibly because foreign joint ventures are also members of the association.
Insurance intermediaries like brokers critically provide trust for consumers, and blockchain removes the need for cultivating that trust.
"New insurance processes and business models built on blockchain will call into question current orthodoxies and challenge multiple pain points that are prevalent across the value chain," notes lead author James Colaco in a Deloitte report "Blockchain in Insurance".
A Gartner research estimates that even by conservative estimates the large-scale deployment of blockchain in the sector is not more than three years away.
The advantage of ubiquitous presence intermediaries provide is also being under-cut by general insurance companies, here and abroad. Brokers are supposed to operate on behalf of customers against insurers while agents represent the companies.
Both are under threat. Tie-ups with ride-hailing companies by insurance companies make these intermediaries irrelevant.
Among India's 421 intermediaries on the list of the Insurance Regulatory and Development Authority of India, consolidation is therefore likely to precede higher FDI.
"Based on trends in technology and changing business models, consolidation among the intermediaries is quite possible", said S Mohan, principal officer and director, Paavana Insurance Brokers.