Mercedes-Benz joins the connected cars revolution with the launch of their app -- 'Mercedes Me'.
Photographs: Rajesh Karkera/Rediff.com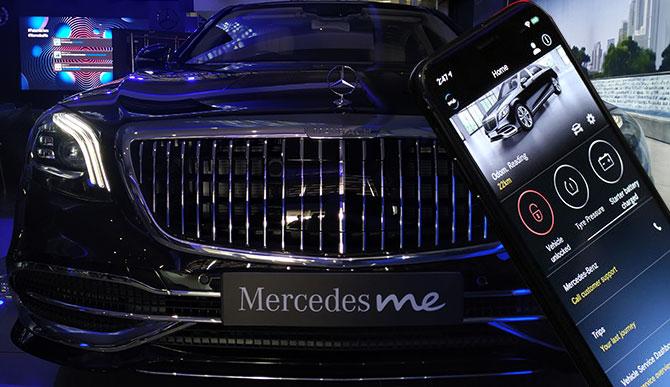 Mercedes-Benz has announced the launch of the Mercedes Me app that will ensure you stay connected to your precious possession.
And in path-breaking move, the carmarker announced that it will cover not just the new cars but all ranges since 2007 will get the update.
Shell out just ₹5,000 and you can get 'connected' to your Mercedes even if it is a 2007 model, it is as simple as that.
However, Mercedes cars purchased in 2019 will get this upgrade for free.
Thus, Mercedes-Benz finally joins the connected cars revolution.
The Mercedes Me adapter, a plug-in hardware, can be installed at service stations.
The first phase of this update will go live from November 15, 2019.
Along with the Mercedes Me app, the luxury automaker has also announced the launch of its e-commerce platform in India which will soon have new cars, certified used cars, and collector's items for online booking.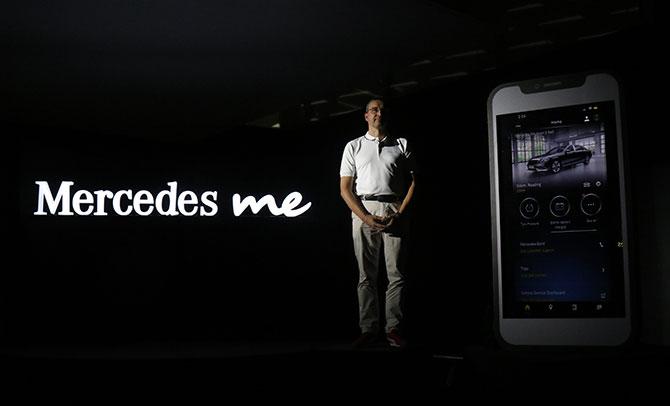 Mercedes plans to implement the connected car tech in three phases.
Phase 1 will cater to all existing cars.
For Mercedes, taking care of existing customers is important.
Merc will be the first luxury carmaker to integrate this connected system into vehicles as old as 2007.
The Mercedes Me adapter app will include 14 features including vehicle health, online appointment booking, roadside breakdown management and refueling list.
'Mercedes Me is a personal digital companion that brings your Mercedes into your life, giving you access to a whole range of connected services designed to make your life and mobility easier,' the carmaker said in a press release.
In Phase 2, they will introduce the Mercedes Me Connect, which is an ex-factory solution, with an embedded SIM in the car for transmission of data to the cloud which, the carmaker emphasised, would maintain the customer's privacy to the utmost using the best practices in the industry.
Mercedes Me Connect will be available across select models, said Martin Schwenk, managing director, Mercedes-Benz India.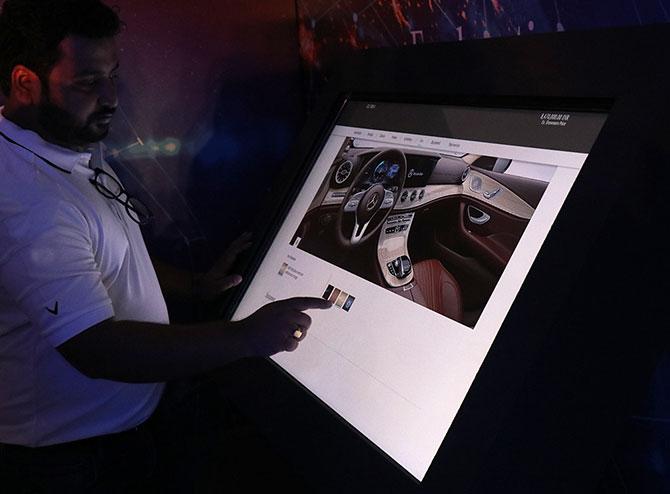 And in Phase 3 they plan to introduce a virtual Mercedes-Benz User Experience (MBUX), which they are calling 'Hey Mercedes'.
This will be similar to the Hello MG features which we already know of and with Mercedes, we are certain that the features will be perfectly tuned to a smart virtual assistant.
This feature will be coming soon to India with over 30 features, said Schwenk.
In addition to the connected tech, Mercedes also introduced an online car configurator which allows customers to experience the entire Mercedes-Benz portfolio digitally and a car app which allows customers to explore and virtually test-drive a realistic 3-dimensional Mercedes-Benz model.
This, too, will be launched in India soon.