While questions may arise over the sheer dominance of a single corporate group in running airports in the country, it pretty much fits into the government's plan to get out of this space and earn revenue without working for it.
Sai Manish reports.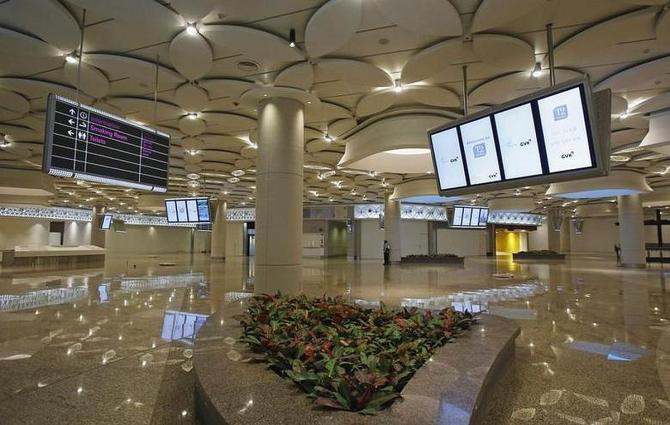 The government has no business to be in business.
This mantra of capitalism, invoked by Prime Minister Narendra Modi to US investors in 2015, was reiterated recently by his Civil Aviation Minister Hardeep Singh Puri.
With Air India's privatisation hanging fire amid extended deadlines, Puri on August 30 said, 'The government should not be running airlines and airports.'
Puri's statement came a day before the Adani group bought majority stake in Mumbai airport from GVK.
The Adani group now controls seven airports in India which makes it the biggest private operator in this space.
Ahmedabad, Lucknow and Mangaluru were the first to be awarded to it after a competitive bidding in July 2019 against stiff competition from GMR, Fairfax, Flugafen Zurich AG and others.
Two weeks before the Adani group bagged Mumbai, the Modi Cabinet accorded approval for Guwahati, Jaipur and Thiruvananthapuram as well.
While bidding for the six airports happened simultaneously, the Cabinet approvals were staggered.
These seven airports handle almost 21 million international passengers; almost a third of India's total international passenger traffic.
That's in addition to 62 million domestic passengers; almost a fourth of all domestic air traffic in India.
In effect, the Adani group now has access to 26 per cent of all air passenger traffic in the country.
No private entity, except GMR, which operates Delhi and Hyderabad, controls two or more airports.
While Adani's seven airports handle as much passenger traffic as GMR's two airports, they have shown exponential passenger growth -- much higher than the national average.
They are also expected to grow faster than others.
The conglomerate itself estimates that in the near future, passenger growth at the six airports (excluding Mumbai) will be 17 per cent as compared to 12 per cent for other Indian airports.
These airports come with 225 acres that can be monetised for non-aeronautical purposes till 2070, when Adani's 50-year lease will expire.
While questions may arise over the sheer dominance of a single corporate group in running airports in the country, it pretty much fits into the government's plan to get out of this space and earn revenue without working for it.
The Modi government was mulling not allowing a single corporate to run more than two airports.
But no concrete proposal or rules have been notified yet.
Lease revenue from Delhi and Mumbai airports accounts for almost 30 per cent of AAI's annual Rs 14,000 crore (Rs 140 billion) revenues.
Revenues have dipped over the past few years, from around Rs 3,800 crore (Rs 38 billion) in 2016-2017 to Rs 3,000 crore (Rs 30 billion) in 2018-2019.
Adani's deal for the six airports is different from AAI's agreements for Delhi and Mumbai.
For India's biggest airports, AAI gets a share of the revenues earned by their operators.
So when revenues dip, so does the money received by AAI.
While Adani's takeover of GVK's stake in Mumbai will not change this arrangement, AAI will be hoping the deal for other airports fetches it higher revenues every year.
Under the concession agreements signed for Ahmedabad, Lucknow and Mangaluru airports, Adani will pay AAI Rs 177, Rs 171 and Rs 115, respectively, for every domestic passenger.
AAI will also receive twice these amounts for every international passenger.
Assuming that a similar arrangement is also made for Thiruvananthapuram, Guwahati and Jaipur, an off-hand calculation shows that Adani could end up paying Rs 750 crore (Rs 7.5 billion) for these six airports to AAI every year.
With these airports expected to witness high annual passenger growth, this could well translate into better revenues for the government.
A caveat to this would be the revenue loss from not running these airports for AAI.
A significant portion of AAI's non-lease revenues comes from the 21 international airports it operates.
The 78 domestic airports, eight customs airports and the few civil enclaves in defence airfields account for a much smaller portion.
Almost all of these are loss-making.
After the deal with Adani, AAI would be left with 15 international airports.
The six airports leased out to Adani reported revenues of Rs 1,700 crore (Rs 17 billion) in 2018-2019.
Four of them -- Ahmedabad, Guwahati, Mangaluru and Thiruvananthapuram -- were profit-making.
These airports, the only few which recorded profits, made Rs 200 crore (Rs 2 billion) in combined gains.
So while AAI would have to forgo almost Rs 1,700 crore in revenues after leasing these airports to Adani, it would net another Rs 500 crore (Rs 5 billion) by not running them.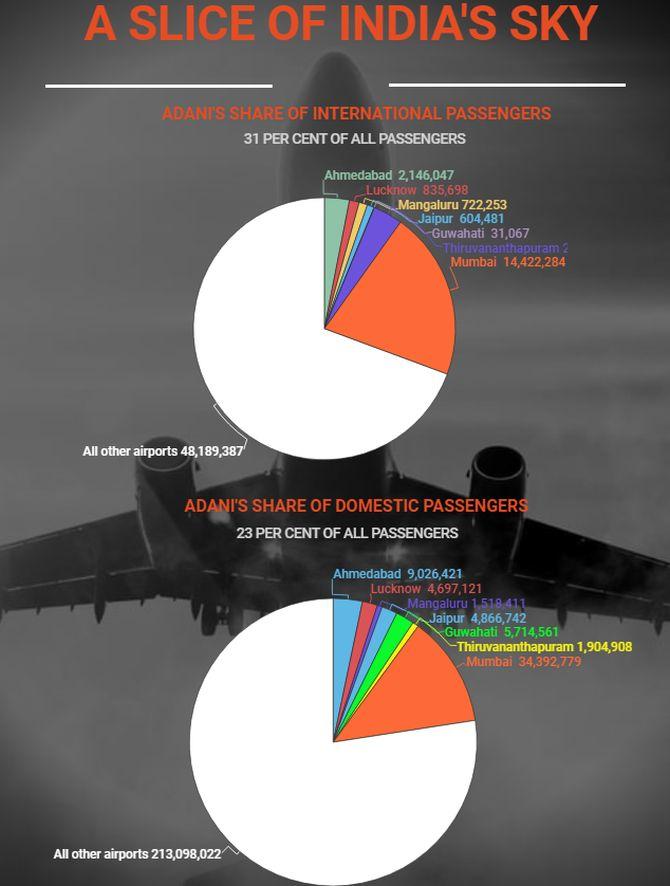 Feature Presentation: Aslam Hunani/Rediff.com