With passenger growth pegged at 14 to 15 per cent, airport infrastructure could be a make or break business for both new players and incumbents.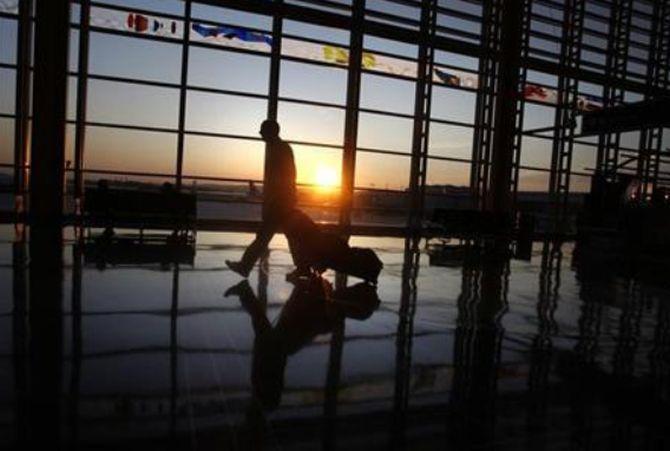 With nearly half the country's airline passenger market under their control, south India-based GMR and GVK groups dominate the airport infrastructure business.
The rest of it is shared between state-owned Airport Authority of India (AAI), the states and some private-public partnership projects.
Over the past few months, this business has suddenly perked up with two significant new private players with very different strategies making their entry.
First came the Adani group, which a few weeks ago emerged winners in the bidding for six airports that were put up for privatisation, leaving GMR and government-backed National Investment and Infrastructure Fund far behind.
From virtually nowhere (it used to run the Mundra airport in Gujarat), this west-based group has emerged as a big contender in the business.
Then recently, the Tata group, decided to pick up a 20 per cent stake in GMR Airports, the company through which the group controls its stakes in Delhi (in which it has 64 per cent stake), Hyderabad (63 per cent) and Goa (wholly-owned).
The deal gives the Tata group a toehold in a business that has eluded it for almost two decades, this time as investors.
For GMR, which had approached the Tatas after Mitsubishi did not agree with the terms of the sale, the deal will bring them much-needed cash to reduce their group debt of Rs 20,000 crore by around Rs 8,000 crore.
It will also provide them with an investor with the brand name to attract fresh capital and wherewithal to bid more aggressively for global and domestic airports.
To put the new battle lines in perspective, the Adani group, by winning the six brownfield airports, would control over 11 per cent of the domestic passenger market and just below 10 per cent of international passengers.
The six airports - Jaipur, Lucknow Ahmedabad and Guwahati, Thiruvanthapuram and Mangaluru - are expected to see domestic passenger growth of 15 per cent to 25 per cent a year.
To be sure, the Adanis has a lot of catching up to do.
That is because GMR is not stopping its relentless drive for winning new airports and expanding old ones.
It has won Goa and Vizag, both of which are greenfield projects, and is the highest bidder in brownfield Nagpur.
With these airports in their bag, the group will continue to lord it over the Indian airport infrastructure business with 33-34 per cent of passenger share.
The group is winning global airports - Cebu in the Philippines, Crete in Greece, with annual capacities of 30 million.
It is also doubling capacity in Delhi (119 million in phases from 65 million currently) and almost tripling it in Hyderabad (34 million from 12 million).
A source close to the company points out: "With the Tatas as investors, GMR will have a strong financial partner to support them in investing in expansion of airports as well as capital for greenfield projects.
"GMR on the other hand has the expertise to run airports and is already the fourth largest airport operator in the world. It's a win-win for both"
Old rival GVK, meanwhile, is also getting its act together.
It may have had to sell Bengaluru airport to investors led by Fairfax to overcome a cash crunch but it still has an over 20 per cent share of international passenger and 14 per cent of domestic traffic from Mumbai.
And it recently reportedly halted an attempt by the Adani group to get a toehold in Mumbai airport by invoking the first right of refusal and acquiring the stakes of its partners led by Airports Company South Africa and increasing its stake to 74 per cent from 50.5 per cent earlier.
GVK has also won the concessionaire bid for the new Navi Mumbai airport, which will have a capacity to handle over 60 million passengers a year.
It is the new kid on the block, the Adani group, that could face the most challenges.
The winning bid was based on an inflation-linked per-passenger fee offered to the Airports Authority of India.
On average, the difference between the bid by Adani and the second-highest bidder varied from 20 to 155 per cent.
Many say the high bid is the price for market share.
Competitors, however, say that the bids are unsustainable.
"While aero revenues are controlled by the regulator and fixed for five years, the airport operator will pay more every year per passenger as the fee is pegged to inflation annually.
"The model looks unsustainable as the operator will be dependent merely on huge annual increases in non-aero revenues to make up for the increase in costs," says one of the competitors who decided to bid low.
Adani says it will require fresh investments very soon because most of the airports need expansion, adding about Rs 10,000 crore to the bill.
Plus the group will have to pay a book value of the airports to AAI which will then transfer the assets - again, a cost.
CAPA, however, says that they could sweat assets by putting up additional capacity and handle up to 200 million passengers in the six airports annually of around 31 million for 11months between April 2018 and February 2019.
With passenger growth pegged at 14 to 15 per cent, airport infrastructure could be a make or break business for both new players and incumbents.
Photograph: Jason Reed/Reuters