Innovation ranging from exterior designs of vehicles to EV charger locks grabbed eyeballs at the Auto Expo.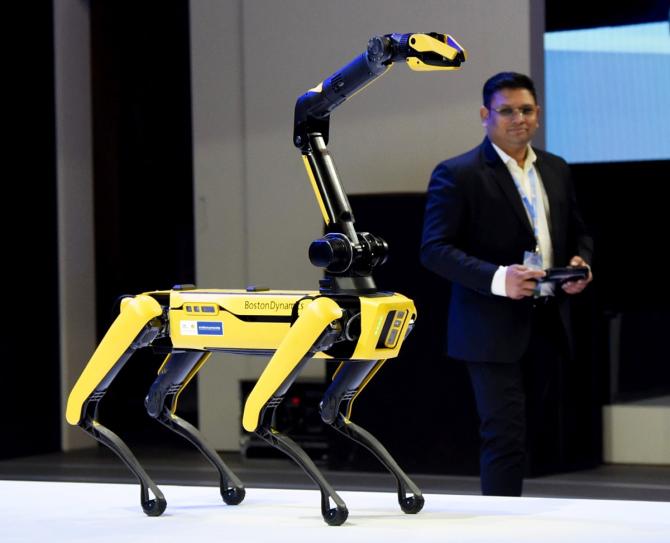 Electric vehicles (EV) hogged the limelight during the Auto Expo 2023 with the likes of Maruti Suzuki, Hyundai, Kia, Tata Motors and MG Motor showcasing their futuristic products.
However, it was not just EVs that people were inquiring about but also the latest technology, which attracted them to the auto expo.
Innovation ranging from exterior designs of vehicles to EV charger locks grabbed eyeballs at the expo.
Godawari Electric Motors, an electric two-and-three-wheeler manufacturer, showcased electric vehicles made with the Dicyclopentadiene (DCPD) plastic.
The material is impact resistant and has been virtually unbreakable, making the vehicle strong enough to work during harsh conditions.
The manufacturer claims that the sheets have gone through various tests, and can withstand heavy or repeated impacts, in extremely hot temperatures and even after exposure to a variety of chemicals.
A rust-proof material gives the vehicle a car-like paint finish.
The DCPD gives the vehicle long life and superior fit and finish. The company has also received a patent for the DCPD material.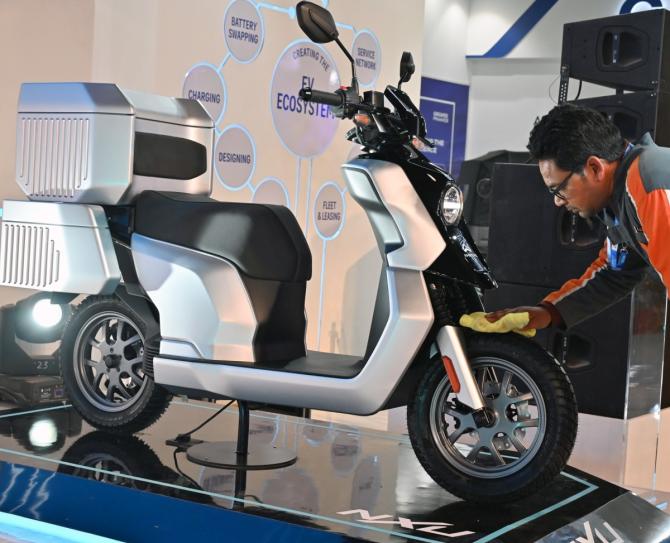 Another technology on display was from LML.
Its newly-unveiled product, the LML Star, comes with two detachable batteries of two kilowatts each.
The batteries can be taken out by pressing a button. One can charge the batteries at home or at the shop.
It may do without a charging infrastructure to charge the batteries.
Lohum, a battery recycler, which has received a government licence to import Lithium-ion batteries, displayed its recycling technology.
In an industry that is driven by Lithium Ferro Phosphate (LFT) mining, Lohum differentiates itself by using a direct recycling model (a chemical-free model) to extract cathodes directly.
It is also using membrane-based technology to extract lithium deposits from NFC batteries. The company is focusing on second life for Lithium-ion batteries.
Exicom, an EV charging infrastructure provider, introduced a mobile application for an efficient, effortless, and hassle-free charging of electric vehicles.
It will be a Super EV charging application that provides features such as smartphone pairing and voice assistance using Amazon Alexa and Google Assistant.
The app has provisions for sharing EV charging with friends and family.
This application is based on an advanced technology stack that lets EV users take control of the charging.
The app allows remote charging management to schedule automatic EV charging.
This feature not only prevents overcharging but also allows taking advantage of lower electricity rates.
It will provide all the consolidated information in an easy-to-comprehend way.
Repos Energy also showcased its BIO-EV charger (EV-DATUM), which could generate power solely from waste.
This model is a wireless one with no dependency on the grid and is a self-sustaining charging solution.
The EV-DATUM is primarily for meeting the needs in housing societies, malls, restaurants and institutions, which face challenges with waste disposal.
Innovation gets wheels
Godawari Electric Motors showcased EVs made of material that is impact-resistant and unbreakable
LML displayed detachable batteries that can be charged with minimal infrastructure
Lohum, a battery recycler, showcased a chemical-free model in its focus on Lithium-ion batteries
Exicom introduced a mobile application for an efficient, effortless, and hassle-free charging of EVs
Repos Energy brought out its BIO-EV charger (EV-DATUM), which could generate power solely from waste
Feature Presentation: Rajesh Alva/Rediff.com