Maruti Suzuki is facing its biggest challenge in nearly two decades thanks to the economic slowdown and the impact of Covid-19.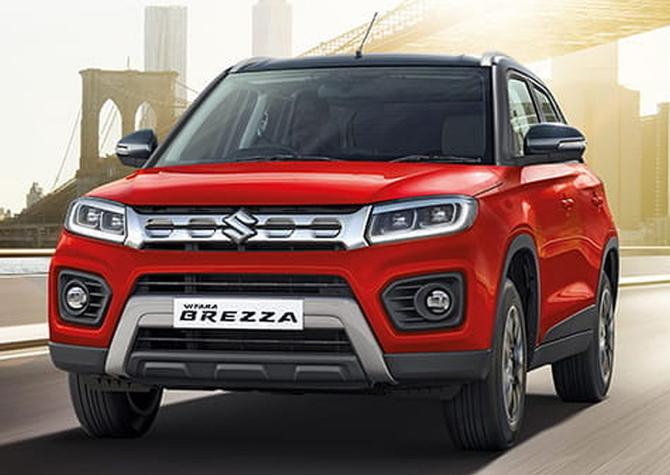 Its production declined for the third consecutive year in financial year 2020-21 (FY21) to an 11-year low, while sales volume contracted for the second year to the lowest since FY15.
The company manufactured around 1.08 million vehicles last fiscal, a decline from 1.17 million the previous year, and a steeper fall from its all-time high tally of 1.62 million reported in FY18.
The company's net sales were down for a second year in FY21, while net profit contracted for the third year in a row.
This is the first time in over two decades that the company reported consecutive years of earnings decline.
The company's books, available since FY99, show that its net sales declined only twice — in FY01 and FY12.
As a result, the company's financial ratios declined to their lowest levels in nearly two decades in FY21.
It reported return on capital employed (RoCE) of 10.1 per cent in FY21, down from 14.3 per cent in FY20 and recent high of 29 per cent in FY17.
And, its return on equity (RoE) declined to 8.6 per cent from 11.8 per cent in FY20 and high of 22.2 per cent in FY17. (See charts).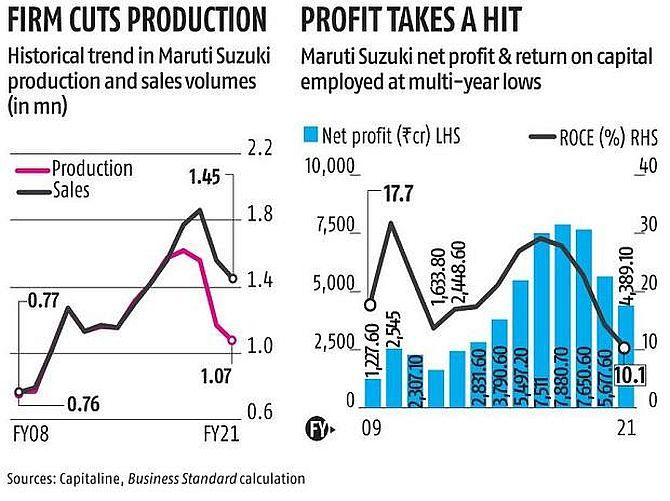 Maruti Suzuki sold around 1.46 million units in FY21, down 6.7 per cent year-on-year (YoY) and the lowest since FY17.
This included around 30,000 units of light commercial vehicles (LCVs), a market that the company entered in FY17.
Excluding LCVs, passenger vehicle (PV) sales of 1.43 million units was the lowest since FY15, when the company has sold 1.29 million units.
The decline in vehicle production was, however, much sharper as the company now outsources a significant part of its sales volume from its parent Suzuki Motor-owned manufacturing unit in Gujarat.
Own manufacturing only accounted for around 74 per cent of total sales volume in FY21, down from 75 per cent in FY20 and 84 per cent in FY19.
This is likely to decline further as Suzuki Motor Gujarat has now raised its production capacity to 750,000 units, equivalent to nearly half of Maruti Suzuki's own manufacturing capacity.
The company blamed the volume decline on a structural slowdown in car sales in India.
"It is a matter of some concern that the rate of growth of car sales has been steadily declining in the last decade. During the period 2010-2015, the compound annual growth rate of car sales in India dropped from 12.9 per cent to 5.9 per cent and in the next five-year period the growth rate further declined to 1.3 per cent," said the company's chairman R C Bhargava informed shareholders in the annual report for FY21.
The PV industry witnessed its sharpest demand contraction in the last two decades in FY20.
The pandemic worsened the situation, the company said in its annual report.
According to Maruti, PV demand in FY21 just recovered to FY16 levels.
Bhargava attributed this decline to the rising cost of car acquisition.
"The cost of acquisition by consumers has increased due to regulatory changes, rupee depreciation, increase in cost of raw materials and taxes.
"The GST on cars, based on the past rates of excise duty, is much higher than the GST (or equivalent) in all other major countries," he said.
And, the current financial year too looks challenging for Maruti Suzuki.
Its net sales in Q1 was the lowest in the last five years, while net profit was the lowest in nearly nine years.
The comparison excludes Q1FY21, when sales were impacted by the nationwide lockdown.
Analysts, however, remain upbeat on the company.
"Maruti Suzuki (MSIL) reported a weak performance in Q1FY22, weighed by the impact of the lockdowns on volumes as well as commodity cost inflation.
"While commodity inflation would persist in Q2, there are drivers in place for sustained volume and margin recovery from the second half of FY22," write analysts at Motilal Oswal Financial Services.
"We remain positive on MSIL due to expectations of a cyclical upturn, which generally lasts for at least three years. We expect volumes to improve to 1.9 million units in FY22E and 2.2 million units in FY23E, driven by the robust order book, pent-up demand, improving macros and new product launches," write analysts at Emkay Global Financial Services.
Photograph: Courtesy Maruti Suzuki