MNCs like Stryker, Medtronics are eyeing the growing robotic surgery space in India, reports Sohini Das.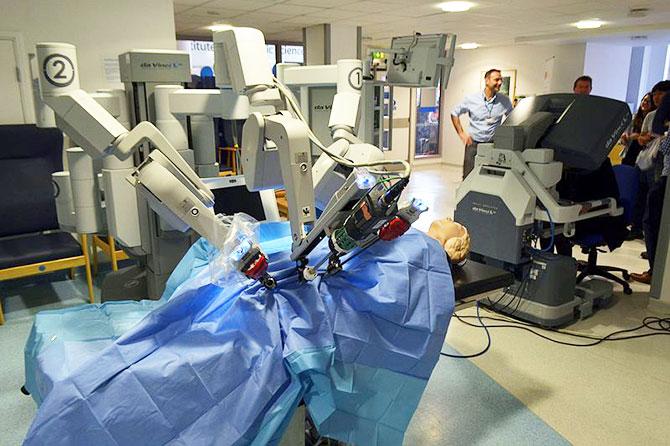 As robotic surgeries pick up pace in the country, major multinational players are planning to bring their new technologies here.
Analytics Insights says this market was worth $129.9 million in 2016 and will be $372.5 mn (Rs 2,600 crore) in 2025, a compounded annual growth rate of 19.2 per cent.
The medical devices market here is expected to grow at 28 per cent a year, to touch $50 billion (Rs 3.6 trillion) by 2025.
The industry claims about 30 Indian health care facilities are performing high-end robotic surgeries.
These includes the Rajiv Gandhi Cancer Institute, Sir Ganga Ram Hospital, Fortis Healthcare, Medanta, All India Institute of Medical Sciences, Apollo Hospitals, Max Hospitals, Kokilaben Dhirubhai Ambani Hospital, Tata Memorial Hospital and Jaslok Hospital.
Johnson & Johnson Medical Devices Companies (JJMDC) says its platforms are currently unavailable in India but it is working to bring its global innovations here.
"One example of this is a co-created digital eco-system, being led by DePuy Synthes (part of JJMDC) that will personalise solutions for patients undergoing total knee arthroplasty," said a spokesperson.
UK-based CMR Surgicals sold its first Versius robotic surgical system to a Pune hospital in October.
This is used primarily for laparoscopic or minimally invasive surgery.
The firm is also launching the world's first clinical registry for a surgical robotic system -- it would record and monitor patient outcomes of all Versius procedures.
US-based Intuitive Surgical Inc is a fast growing robotic surgery systems company in India.
Mandeep Singh Kumar, its general manager for India, said: "The robotic-assisted surgical market is in an early phase in India, still maturing.
"India is a long-term, important market for Intuitive and we are investing here for the future.
"In mid-2018, we moved to a direct business structure, rather than utilising distributors.
"We have installed more than 70 of (our) da Vinci surgical systems throughout India."
Some hospitals where this system is installed are Manipal and HCG Hospitals in Bengaluru, Max in Delhi and AIIMS in Delhi.
Adds Kumar, "To strengthen our presence in India, we have invested in training centres, hiring employees, including teams that work closely with surgeons, and to support hospitals for the long run.
We recently opened an additional training centre; we aim to provide training and support (in this technique) for surgeons."
Cost/access:
Hospitals, say once insurance companies start covering robotic surgeries, the demand can rise significantly.
Says Ranjan Pai, chairman of the Manipal Education and Medical Group: "Robotic surgeries have come of age in India over the past five to seven years.
"We are witnessing significant advances in it, especially in oncology, urology, gynaecology and thoracic surgeries."
However, the number of centres that perform these procedures are limited, in the context of India, he says.
"As the equipment is expensive, the cost to patients is higher than normal surgeries.
"In addition, medical insurance schemes often do not cover robotic procedures, thus reducing the number of patients opting for it.
"This becomes somewhat of a vicious cycle, as a higher number of patients choosing robotic procedures could have brought down the costs, making it much more affordable and accessible."
Multinationals are readying their portfolio for India.
Medtronic and Stryker, major entities in robotic surgical systems, have launched products here.
Medtronic's Mazor X Stealth edition is used for spinal surgeries here.
Stryker's expertise is in hard tissue or bone surgeries, and has products across the orthopaedic and other spaces.
Stryker's MAKO is a robotic technology that uses three-dimensional CT data for reconstructing a patient's anatomy.
MAKO has approval of the FDA, the US health regulatory agency, for hip and knee surgery.
Says Meenakshi Nevatia, managing director at Stryker India, "We are seeing tremendous traction from both large corporate hospitals and hospitals in tier-II and tier-III cities.
"There is a lot of interest to understand the global landscape of robotics and hospitals are keen to learn about the impact on patient outcomes.
"Improved patient outcomes will be the most important conviction for adoption of robotic technology."
Sats Ruchika Singhal, director, restorative therapies group, Medtronic Indian Subcontinent: "Robotic-assisted spinal surgery is at a nascent stage in the country and has developed only over the last couple of decades globally.
"As we've just launched the technology in India, this year, we are currently focusing on the metros and will be expanding to other cities eventually."