Cobots are most useful in relatively lighter tasks that humans can perform but are repetitive and expose the worker to bodily harm, says Pranjal Sharma.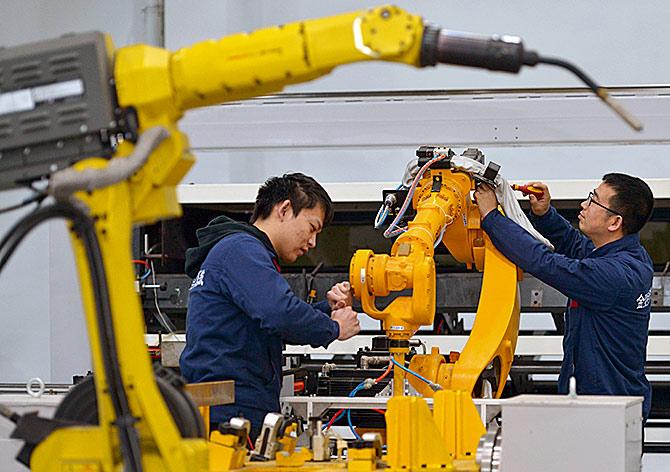 Robots are capturing our imagination by performing human like tasks.
But most of these are futuristic and have not become part of mainstream lives yet.
The real revolution is happening with another category of machines.
Cobots have emerged as an important agent of efficiency in corporate India.
Cobots or collaborative robots work with humans in tandem.
They support specific actions of humans where there is mundane repetitive action.
This has proven useful for several manufacturing and process applications.
Cobots are most useful in relatively lighter tasks that humans can perform but are repetitive and expose the worker to bodily harm.
For instance, packaging, putting boxes on pallets, stretch wrapping or placing stickers.
They can be moved around and placed at various locations within a manufacturing unit and recalibrated for various tasks.
A cobot doesn't have the popular humanoid features of a robot but can simply be an arm which can be configured for specific actions.
At India's leading two-wheeler maker Bajaj Auto, cobots are a critical part of the process.
Cobots are used at Bajaj Auto where the flexibility of making several models is combined with support from shopfloor workers including women.
Universal Robots which provided the cobots says this in its case study, "Several processes such as material handling and machine tending were collaboratively handled by our cobots and Bajaj employees.
"Moreover, new decal applications which are now patented by Bajaj, were also devised by the company to make the most out of the flexibility provided by the cobots."
Take a look at how the Mahindra group is benefiting from cobots.
Assembly lines for engines are at the core of the manufacturing process in the automotive world.
While making the engine, critical joints need extra care while assembling; otherwise it leads to leakages and results in engine seizure.
One such critical assembly operation is cam cover ventilation (CCV) sealant application and its torqueing.
Sealant application on CCV is usually done manually.
However, this manual process often results in loss of quality and cost of manufacturing.
For the Mahindra team, the challenge was to introduce efficiency in the process within constraints.
They considered using automating the process to ensure that the quality of manufacturing could be enhanced.
But adding a totally new robot or an automated machine appeared difficult.
There wasn't enough space for installing a six-axis robot, which would typically do the work.
A space of about 4 sq m was required.
The other issue was of the safety of the works station worker.
A robot would require some kind of fencing around it to prevent any harm to the workers around it.
The team came up with a solution different from a traditional robot: Installing a collaborative robot that would use only about 0.4 sq. m space.
The worker would do the task side by side with the cobot while enhancing the quality and efficiency.
Cobots made it possible to increase the production capacity in the existing area.
This solution also led to reskilling employees to develop talent for successful transformation.
The company could reduce wastage of sealant by over Rs 14 lakh per year.
The Mahindra group uses about 250 robots which are deployed in welding shops, paint shops, engine assembly lines and vehicle assembly lines.
Cobots also have a use in sectors like banking where they are being used in note processing.
Universal Robots and german currency management firm G+D (Gieseck + Devrient) have developed cobots for banks in india.
Costing about Rs 15 lakh a piece, the cobots will be used for picking and placing currency notes in various banks.