'If the money we spend on importing pulses reaches our farmers, there won't be any suicides'
'There has been an overall increase in the prices of almost every commodity. But I don't see the anger in people's eyes'
'It is time the PM concentrates more on domestic policies than foreign policy because a lot of things require the PMO's intervention'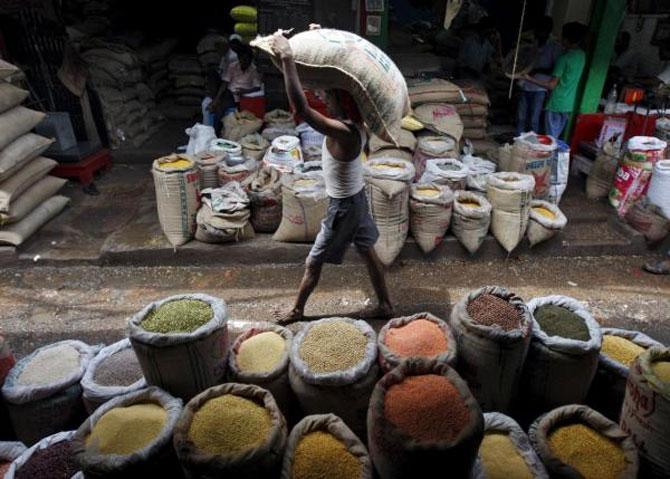 Just as onions left many crying, it is now the turn of pulses (dal). The price of the poor man's staple has doubled and there is no visible measures to check its spiraling growth. While India has reached self-sufficiency in many food items, which includes milk, rice and wheat, it has not been able to do the same with pulses. While all these revolutions had their own god fathers like Varghese Kurien or M S Swaminathan, pulses, one of the most used ingredients in the Indian kitchen, had not found support from any quarter. Approximately an annual import bill of $2.6 billion is incurred by India only on pulses. If this amount were to reach our farmers, they may never think of leaving farming – leave alone committing suicide.
Binu Alex, co-founder and editorial director of www.commodityonline.com, in an interview to Syed Firdaus Ashraf/Rediff.com, says the lack of policies or clarity on agriculture planning has led to this crisis which is not going to abate in the near future.
Why this sudden spike in retail price of pulses especially with Diwali being round the corner?
As a rule, the demand for all commodities reaches a peak during the festival season in India. Pulses are no exception. But this time, the prices of most lentils have peaked well before the festive season. This means a further pinch in the budget as Diwali approaches.
Yes, India is facing a crisis because of deficient rainfall. But we cannot blame this alone for this crisis. We already have a huge pulses' deficit and this kharif season will make matters worse. If you compare the retail price of tur dal, it was Rs 76 in June 2014 and it peaked to Rs 101 in June 2015 and now it stands at around Rs 170.
The case is also the same with urad dal. To make matters worse, kharif output of pulses has fallen 21 per cent over the past four years, to 5.63 million tonnes in 2014-15. Crisis is mainly in tur and urad dals, two of the most consumed pulses, as total pulses' production dipped to 17.2 million tonnes last year against 19.25 million tonnes in the previous year.
How much pulses do we consume and how much does India produce?
Domestic production may be just 17 mt against the demand of 27 mt. Maharashtra, Uttar Pradesh and Madhya Pradesh are the major pulse-producing regions followed by Karnataka, Andhra Pradesh and Telengana. Surprisingly, Canada's Saskatchewan province is India's saviour. Though consumption of pulses in Canada is meagre, this province is looking to overseas buyers and India consumes most of it, leaving nothing to others. Can you imagine, farmers in this province are looking to festivals in India, China, Pakistan and other South Asian countries to plan their crop? Ukraine, the US, Australia, Myanmar and a few African countries also contribute to India's pulses need.
Why do we have to depend heavily on imports for our lentil needs?
Let's go back to the last five decades. Pulses production in India has shown less than 40 per cent growth during this period and this has led to almost halving the per capita availability to 30 grammes now. So this precisely means the prices are doubling at an alarmingly low periodicity.
We also have to take stock of the Green Revolution and what it has achieved. Though we are self-sufficient in rice and wheat, crop rotation has made the soil of some of the northern states, where it all began, unfit for use. The result is there for all to see. But crop rotation and diversification could have helped retain the soil. But we never put other essential commodities in this agriculture cycle and the net result is that the farmers of Canada, Myanmar and Australia are benefitting instead of our own.
Approximately, India's annual import bill of pulses alone is $2.6 billion. Imagine this reaching our own farmers, they may never think of leaving farming – leave alone think of committing suicide. Just see the granaries of public distribution system like Food Corporation of India warehouses. Wheat and rice are rotting because we are over-producing both. Why can't we replace one of these with pulses? The question is, who will the farmers go to if something goes wrong with these decisions?
Do Indian farmers want to produce pulses? Is it profitable?
It is not that we cannot incentivise the production of pulses. There are many ways to do it and India's climate is suited to grow most of the lentils we consume. But I believe there have been no policies or clarity on agriculture planning. If Saskatchewan with less than a million population and cultivated farmland area of nearly 19 million hectares accounts for 65 per cent of the world's lentil exports and 54 per cent of the world's pea exports, why can't we as an agrarian economy feed ourselves?
Which are the crops that the government helps farmers to grow?
Commodities are political hot potatoes. They are used as vote bank by all parties in India. Farmers are therefore merely statistics for political establishments.
This Minimum Support Price mechanism is also not transparent and depends on various political factors. It has nothing to do with demand and supply or simple economics. Some of the lentils do come under MSP but they are not attractive enough for farmers to concentrate merely on pulses. Since the prices of pulses are at their peak now, farmers have the
MSP benefit on cotton unlike pulses, so they are most likely to stop producing pulses now that the prices are higher. And most of all, cotton is convenient to stock. So it is a matter of convenience and price recovery for farmers.
It is for the government to look into this with a balanced approach. Not all pulses come under the ambit of MSP. But more than MSP, it is procurement guarantee that matters.
Can we see India self-sufficient in lentils anytime soon?
No. Not in the near future. To feed our growing population we need at least 30 million tonnes of lentils by 2030 which is close to five per cent growth annually. We are no way near. So we will continue to burn our foreign exchange reserves forever.
Yes, we can reduce it by seriously considering a proactive approach towards commodities. A two-pronged approach -- to enhance productivity by using government subsidised technology and a cent per cent assurance from the government that it will procure all the pulses through some agencies like the National Agricultural Cooperative Marketing Federation of India or Food Corporation of India -- may help.
I have been maintaining that our agriculture universities have failed to provide any worthwhile inputs in this regard. They merely act as academic institutions working out of the campus. The farmers are left to fend for themselves in such an important decision-making process.
Is it true that the government restricted the import of pulses earlier this year?
Pulses are given the benefit of duty-free import. But inter-ministerial issues are dogging this decision because the agriculture ministry says it will put the interest of farmers to risk while the food ministry wants to control inflation. We have not yet heard this duty-free exemption extended after September 30 when it was supposed to expire. Now I don't understand why both cannot run simultaneously. You fix a price for pulses and procure the entire stock from the farmers and make up for the rest through imports.
Why do governments continue to wake up only in crisis time? Is it true that all big decisions depend on the PMO and not the ministries, and no files move without the PM's okay and that is why no quick decisions on such issues is possible?
Import of lentils is a regular process carried out year round depending on the stock, demand and domestic supply. There are specified agencies which do this job. Once the tender is accepted and order is given, it takes three to four months for the goods to arrive via ocean freight from any port, whether it is Adelaide or Vancouver. Myanmar is closer so we get it faster. There has to be meticulous planning, complete de-centralisation of decisions and a proper monitoring on the demand that leads to robust supply in the market. I don't see that it has happened this time around.
Whether it is because the decisions are centralised is a matter of speculation. But in hindsight, it is time the PM concentrates more on domestic policies than foreign policy because a lot of things need to be done which requires the PMO's interventions.
Is it true that pulses are selling today at Rs 160 per kg instead of Rs 80?
Yes, they are. There is nothing anyone can do to control this because this is purely market-driven and is the result of demand and supply equilibrium. What the government can do is to intervene by putting more supply into the market which is not happening now. Until that happens, prices will rise.
Has the Modi government and state governments failed to crack down on hoarders of pulses? When is the next crop of pulses and by when can we expect prices to fall?
Hoarding of commodities by traders and speculators is a never-ending process. The government acts when prices get out of control. It is like a policing job. The cops arrive only after a crime happens. The best practice is not to give the hoarders any chance.
The next crop is scheduled to arrive in January. But that is insignificant since we are heavily dependent on imports. The government has revealed that 3,223 tonnes of pulses have already reached JNPT Mumbai and Chennai port and by October 20, 2015, the entire quantity of 5,000 tonnes originally tendered, would arrive. In addition, government has ordered further 2,000 tonnes of tur.
As far as sowing is concerned, it is actually more than last year. By early September, sowing was reported over 10.84 million hectares, from 9.76 mn ha at the same time last year. But harvesting may not yield better results because of adverse climatic conditions.
Some people also feel that after the beef ban the consumption of pulses has gone up because many more people are eating pulses, is that true?
No. Dal cannot be replaced by meat. It has no connection at all except that lentils do provide plenty of protein just like most meat. So it is actually a good substitute for each other.
The government first failed to check the prices of onions and now lentils. What steps does the Modi government need to take to keep a check on food inflation?
By merely checking the prices of pulses, inflation is not going to be under control. There has been an overall increase in the prices of almost every commodity. But I don't see the anger in people's eyes. They are now destined to live with it. And even if they vent their anger, a situation that has come out of economic indecision cannot be reversed by political maneuvering.
From what I can perceive as a person with no information of what is going on inside the corridors of power, it looks like the government is not getting correct and sage advise. There is no concrete economic action on the ground.
Apart from discussions on roads, statues, smart cities, Internet and elections, we are not discussing or acting on the real ground situation. To a large extend the media is also at fault because it has ceased to be a mirror to the government. The Modi government cannot take any step different from its predecessor at this moment because it is less than two years old and any new and revolutionary steps have to be preceded by major policy decisions.