'You can't take money from Shaktikanta Das (the RBI governor) and give it to Nirmala Sitharaman (the Union finance minister). She will blow it away on Modi.'
Illustration: Dominic Xavier/Rediff.com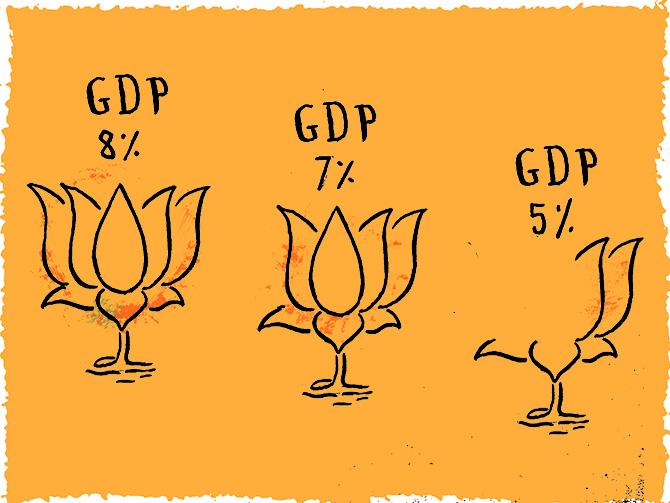 Mohan Guruswamy, senior economist and adviser to then finance minister Yashwant Sinha during then prime minister Atal Bihari Vajpayee's 1999 to 2004 tenure, discusses the Narendra D Modi government's 'historic' decision to cut corporate income tax rates.
On September 20, Finance Minister Nirmala Sitharaman announced the Cabinet's decision to reduce corporate income tax from 34% to 25% for existing manufacturing units, and a far more attractive rate of 17% for new manufacturing units that will be set up in India.
As a result, the government's income from the measure is likely to reduce by a whopping Rs 1.4 lakh crore, at a time when economic slowdown is already eating into the government's revenue collection on the direct and indirect tax front.
"You have brought (India's corporate tax rate) to Russia's level now and Russia, for your kind information, gets zero foreign investment despite the corporate tax cuts there," Guruswamy tells Prasanna D Zore/Rediff.com in the first of a two part interview.
SBI Research has issued a study that the corporate tax cut will help corporates save Rs 50,000 crore for some 3,500-odd listed companies.
What kind of multiplier effect, if at all, can this savings have on the economy or on aggregate demand, because right now what lacks is demand?
The total (household) savings rate in the economy is about 30% of GDP. That means our savings are about Rs 60 lakh crore.
Even if one were to assume that Rs 50,000 crore will be saved by corporates, what difference will it make to the overall (household) savings rate?
How can one be sure that this Rs 50,000 crore will go to capital investment or for capacity expansion? A good part of that will be retained earnings, another good part will go as dividends, and who are the main shareholders these days?
These majority shareholders and promoters could buyback their own shares also.
But new investments will not come until the climate of demand is created. The climate for demand is created by investments.
Now, for that the government has to do the announcements; you can't accept the private companies to build roads from Bombay to Nashik.
When the government makes such announcements, cement production will start (going up), steel production will start (going up), consumption will start (going up).
What we require right now is government-driven capital expenditure.
This (slashing of corporate income tax) is the kind of palliative you do in America. In America, industrial growth is driven by the private sector.
In India, we are not looking so much for industrial growth rate as we are looking for infrastructure growth rate.
In India it is the government expenditure that stimulates demand and through it creates employment. The cycle is different.
In India, the government invests in basic industries, then you create employment and that employment comes into the consumption cycle.
Wages go up, then there is demand for labour and consumption cycle changes.
Essentially, to get our economy moving forward again at the pace that will gainfully employ the millions and push up wages we need to make huge investments in infrastructure and the big employment sectors like construction and textiles.
Growth in India is state capital expenditure which mostly drives infrastructure growth. Private investment does not go into it as it has a short term perspective.
Only public expenditure can afford a long term perspective. The government must hence focus on kicking up the Capex/GDP ratio, which in turn means kicking up the Savings/GDP ratio which implies kicking up the Tax/GDP ratio.
You got to understand the Indian condition. You can't prescribe solutions that work for American (economic) conditions.
I think the government should think at this stage about collecting more money, and not throwing away money (to corporates).
Instead we are aping American macroeconomic solutions where private investment drives growth and where job creation is no longer the primary focus.
But how can the government do that? It has already taken Rs 1.76 lakh crore from the RBI reserves.
I don't consider the RBI a holy cow. It has got Rs 9.6 lakh crore as reserves, and to give away Rs 2-3 lakh crore is not a problem.
I have always said that it's like a family budget. When the conditions get tight, the man has to give up smoking and drinking, so that his children can keep having milk and eggs. But you can't make the children give up milk and eggs if you will continue smoking and drinking.
Now, what is the government doing by not cutting (unproductive) expenditures? It is smoking?
You got to cut some subsidies. Most subsidies are unmerited. Who gets the bulk of the fertiliser, power and sugar subsidies?
So you are suggesting that the government can go dip more into RBI reserves to raise resources?
Not all of it, but they must judiciously use it. That's the key.
And that's why I suggested creating an India Infrastructure Investment Board, which will manage these funds (that come from the RBI as dividends). You can't give it to the government.
I see no problem in the government drawing on RBI reserves, but it must be dedicated to making capital expenditures in infrastructure, defence manufacturing, irrigation and construction, sectors.
You can't take money from Shaktikanta Das (the RBI governor) and give it to Nirmala Sitharaman (the Union finance minister). She will blow it away on Modi.
The money shouldn't go into the hands of the government. You must create a World Bank kind of institution that will judiciously spend the money by evaluating projects, make the states compete for projects.
You have also suggested raising money via sovereign bonds. What other measures could the government undertake to raise resources for capital expenditure?
Your (the government's) foreign reserves are sitting in American banks. Up to $450 billion to $460 billion now; at least $60 billion can be moved out easily.
Kaushik Basu (former World Bank chief economist and currently professor of economics, Cornell university) says half of it could be removed.
Now, I would not say bring that money to India, and then demonetise it, and then add to much money supply here. I would say that instead of keeping that money in American banks and getting zero per cent interest, you invest that money in Indian bonds, which will fetch you three or four per cent of whatever (amount you choose to bring in).
And that bond fund again invests in India. Instead of investing it in America, you invest the money in India.
You said the government has pressed the panic button by slashing the corporate tax. What makes you say so? Could you highlight some mistakes made by the Modi government in handling the economy?
You have already cut the (corporate) tax rates which are already low in the world. You can compare it to any country. You have brought (India's corporate tax rate) to Russia's level now and Russia, for your kind information, gets zero foreign investment despite the corporate tax cuts there.
So, you are only creating a class of Russian elite, Russian oligarchies.
So, who is happy about these tax cuts? CII, FICCI, Assocham, Mukesh Ambani, this fellow, that fellow, Piramal, Godrej; all are singing his (Prime Minister Modi's) praises.
Do you foresee a crowding out of investments because the government will now earn Rs 1.4 lakh crore less?
Yes, the government's fiscal deficit will increase now. From where will they get the money? The government should be collecting more money to spend rather than giving away money to the undeserving.
Now even in the times when this (corporate) income tax rate (cut) was not there, the economy was growing; investments were taking place, but you need to understand why it was growing and investments happening.
So this corporate rate cut is not going to act as a magical bullet?
I don't think so.