Rediff.com's Syed Firdaus Ashraf and Hitesh Harisinghani speak to millennials to find out if the ease of ride-sharing apps like Ola and Uber was a reason for them not buying a car.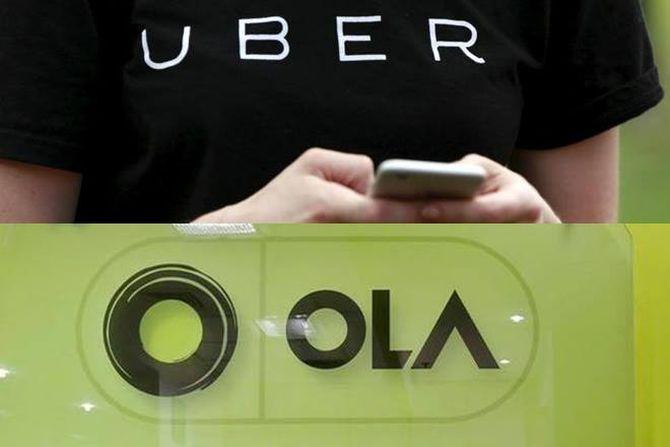 Finance Minister Nirmala Sitharaman shocked one and all earlier this week by stating that the auto industry was facing a crisis because millennials were not buying cars thanks to the proliferation of Uber and Ola ride-sharing services.
Though statistics show otherwise (external link), when Rediff.com quizzed millennials they agreed with the finance minister's statement and said there was no point in buying cars.
Some added that because there was an economic slowdown they would rather wait and buy a car, but anyway they don't feel the urgency to do so as the ride-sharing apps are doing good.
Vidha Sharma
Soft skills trainer
Watch the video of Vidha Sharma here
"Living in Mumbai provides us with lot of public transport options. They are more economical and you don't have to bother about parking space. Traffic is also crazy so I would rather take the train."
"I want to buy a car in 2-3 years but it will be more of a milestone achievement. But before buying a car I will have to think about the hefty investment, maintenance and returns on investment. Is it an economical option to drive a car and the traffic surge -- these will be the factors make me think twice before buying a car," says Vidha Sharma.
Snehsikt Anand
Young entrepreneur
Watch the video of Snehsikt Anand here
"Millennials are savvy with their funds and they understand they have to keep their rotation money low. This holds true not only for the car industry but also real estate companies too. Millennials don't want to pay EMIs on homes or pay maintenance money. They don't want to be tied down to one house. This is the trend that will follow. Big builders will hold on to the price but the bubble will burst.
"Slowly and steadily life is becoming like you don't want a car. It will not go down to zero as there will be people who will buy cars but the larger mode of commuting will be Ola and Uber. It takes away the effort from me of driving in traffic. It is someone else taking the effort of driving and I can sleep in the car. And today I work for 15 hours so it is rather good that someone is driving you and you go to sleep," says Anand.
Devansh
Bengaluru
Watch the video of Devansh here
"I don't have a car because of car renting options like Zoom Cars. It gives me flexibility and it fulfils my need to own a car. Plus for intracity commute there is Ola and Uber plus there are autos and buses.
"I would love to buy a car soon but because of the economic slowdown I am waiting. I am (hoping) there will be certain discounts in GST which will make the purchase lucrative. Millennials are not buying cars but in future they will go in for buying a car," says Devansh.
Rashmi Ravadia
Student
Watch the video of Rashmi Ravadia here
"People are not buying cars because of pollution and traffic. And the worse thing is that you get stuck in traffic in an emergency and if you are in your own car you cannot do anything about it.
"Another reason the millennials don't buy car is because of low salary and even if they have good salary they don't buy a car because of financial issues. This could also be a reason to not buy a car," says Rashmi Ravadia.
Omkar Chavan
Watch the video of Omkar Chavan here
"I as a millennial don't feel there is need for a car. Without a car you can manage because there is Ola and Uber. Moreover, maintenance is a problem for cars. Even if I have money I will choose not to buy a car and rather go for Zoom Car and other apps which gives you cars on rent.
"Economic slowdown can be one of the reasons and there may not be growth in car sales. And people are thinking why to buy car when you can travel buy metro. I don't think people will buy cars in future," says Omkar Chavan.
Nikhil Kamble
Graduate
Watch the video of Nikhil Kamble here
"As students we go by Ola and Uber. Car pooling is hot for youngsters. Youngsters like to travel by Ola and Uber. Also BEST buses in Mumbai have reduced their ticket price so it is good for millennials. Moreover, the metro is coming to Mumbai so there is no point in buying a car. There is mono rail too in Mumbai. We need electric buses for the city, not private vehicles," says Nikhil Kamble.