'Vajpayee used to consult the Opposition; Indira Gandhi used to consult the Opposition. Which khet ki mooli is Modi?'
Illustration: Dominic Xavier/Rediff.com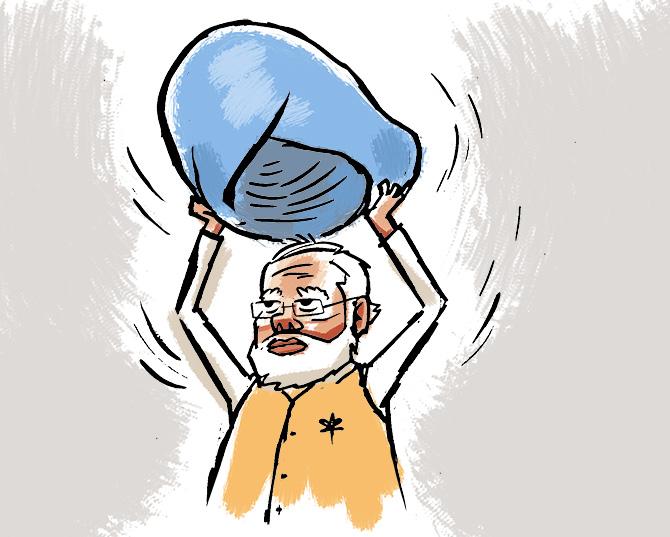 "For growth to be equitable and fast we must be an investment-led economy. Instead, we have been dazzled by the consumption led growth brought about with the top layers of the pyramid growing and taking the most," Mohan Guruswamy, economist and then finance minister Yashwant Sinha's economic adviser, tells Rediff.com's Prasanna D Zore in the concluding segment of a two-part interview:
What will be the impact of the corporate tax cuts on the fiscal deficit?
Fiscal deficit will go up, but I don't consider fiscal deficit a holy cow either.
Who gave you the 3% figure (the Modi government has steadfastly kept the fiscal deficit a little above the targetted figure of 3%)? Some Washington economists gave it to you; why should you obey the Washington Consensus (a set of economic reforms set by the International Monetary Fund for developing economies that prescribe cut in corporate taxes, controlling fiscal deficit, inflation, etc)?
The US has no foreign reserves; it has an enormous fiscal deficit, then why should this fiscal deficit rate (of 3% of GDP) should apply to India? Why?
The government's contention is that foreign investment that is moving out of China because of the trade war to Southeast Asia, where corporate tax rates are lower than India before this cut, will now move to India.
Is that how foreign companies move capital in search of cheaper corporate income tax?
Nothing (no industries) is moving out of China. What is happening (moving out of China) is overseas Chinese investment.
70% of China's foreign investment is Chinese. And these companies are moving out of China because wages are going up in China and so these companies (that are moving out of China) are moving to low wage countries.
Unfortunately, India is a high-wage country. The minute you get comrade Dasgupta (referring to left wing trade unions in India that demand higher wages) into the trade union, the wages shoot up.
Compared to China, even the organised sector in India is a high-wage pocket. So, unless you have very harsh labour conditions, like Bangladesh where they work for even 20 takas (the Bangladeshi currency) a day (foreign investment will not come into the manufacturing sector in India).
But here you are guaranteeing (high wages) to a Hind Mazdoor Sabha or a Bharatiya Mazdoor Sabha (trade unions); these people will come and destroy you.
What happened to the Nokia factory (in Chennai)? It couldn't be revived. Labour became militant.
Would you suggest that the government, instead of cutting corporate income tax, should go for land and labour reforms to attract foreign direct investment in the manufacturing sector?
Absolutely. And then you go back to creating special economic zones, where some of these laws (labour laws that guarantee higher wages and job security) will not apply.
You therefore create entities within the country which will have tough working conditions and become pockets of excellence.
Which means if the market (for your product) is not there, you shut your factory down.
Why should the owner of a company have a lifelong obligation to keep unwanted labour employed?
When you don't have money, you ask your house help to go home; you and your wife does all the jhaadu-bartan (household) work.
And if you want to have a welfare republic, then spend money on health and education, which is also not happening in India.
Here, there's welfare only for some people who have organised themselves under a bunch of goons as labour unions.
What is the labour union these days? It is an extortion racket to take money from the fellow who is desperate.
What could be some blockbuster reforms you may want to suggest that the Modi government undertake to revive the economy?
What is wrong with our economy is just this. For growth to be equitable and fast we must be an investment-led economy. Instead, we have been dazzled by the consumption led growth brought about with the top layers of the pyramid growing and taking the most.
The economy where the majority of people live has been going backwards. The reality is catching up.
As for reforms, I would suggest labour reforms.
I would suggest an investment-friendly atmosphere, that is, ease in land acquisition.
Who is going to pay five times the market value to buy land? The law now requires a buyer of hundred acres of land to pay five times the market value.
Let the government acquire land and create land banks for us.
Instead of creating zones of high excellence we created special economic zones and then the Manmohan Singh government typically turned it into a real estate play.
The problem is that the Modi government doesn't have (talented) manpower.
You mean talent in the Cabinet?
Nirmala Sitharaman was a junior manager at some call centre. Since she had a gift of the gab, so Venkaiah Naidu (former BJP leader and Union minister, now the vice president of India) made her the BJP spokesperson.
You are now making her do open-heart surgery (of the economy).
Aren't you being too harsh on the finance minister?
No, I am being very generous to her. I would use the same statement for Mr Modi.
I have never minced words ever in my life and I wouldn't mince words for people in this government.
This government has a solid majority in Parliament and it has used it effectively to revoke Article 370 in Jammu and Kashmir, raided the RBI reserves, implemented the NRC.
Do you think the government should use this political dividend to bring in unpalatable labour and land reforms?
I think so.
But does the government have it to undertake labour and land reforms?
This is the proof of the pudding.
I think if this government was intelligent, it would consult the other parties and say 'We are in a mess; the economy has slowed down and so we need to get out of this; let's have ideas.'
Closed-door meetings can be held. (Then prime minister Atal Bihari) Vajpayee used to consult the Opposition; (then prime minister) Indira Gandhi used to consult the Opposition.
Which khet ki mooli is Modi?
Should Prime Minister Modi seek advice from Dr Manmohan Singh to mend the Indian economy?
Of course. When I was in the Vajpayee government, he used to keep saying, 'Go and meet Dr Manmohan Singh; ask him what he thinks (about the economy)'.
Did you meet Dr Singh? What did he tell the Vajpayee government?
Dr Singh, for instance, said (when I met him during Vajpayee's tenure) that what you (the Vajpayee government) need is a big infrastructure project, which is why the Golden Quadrilateral (a lasting legacy of the Vajpayee government's economic policies) roads were created. He was among the people who suggested it (building the Golden Quadrilateral).
He would always say 'You need something big. You need something big' to change the mood in the economy.
So, right now, the government should seek consultations from the people who understand what the economy needs to help it come out of a morass?
Yes. This government should hold closed-door meetings, seek help from the Opposition. Unlike revocation of Article 370 when they did not consult anybody.
For all you know, a lot of Opposition parties too would have supported the Article 370 move had the prime minister consulted them.