'I knew there was a huge business opportunity, but it was Dr Kalam who made me jump into it as an entrepreneur.'
From Microsoft to making jackfruit flour to control diabetes.
That is the journey of a former director at Microsoft, James Joseph, now the founder of Jackfruit 365.
India has the most diabetes cases in the world after China, with around 77 million patients. One in six diabetics in the world is an Indian.
Now comes the news that Covid-infected patients have a high risk of becoming diabetic.
It is against this background that the National Start Up India award in the food category, won by James Joseph, an entrepreneur from Kerala, becomes significant.
The connection between diabetes and the green jackfruit flour he sells is that, it reduces blood sugar levels.
It is not just a claim he makes. Joseph has published a paper A Randomized, Double-Blind, Placebo-Controlled Study to Evaluate the Glucose-Lowering Effect of Green Jackfruit Flour in Type 2 Diabetes Mellitus Patients in the American Diabetes Association's journal.
The paper was based on a randomised controlled study he has conducted in India, and the result was that raw jackfruit flour reduces blood sugar level.
It all started when Joseph decided to move back to Kerala to live on the banks of the Periyar river and continue to work as a director at Microsoft. He went on to write a book based on his experiences, God's Own Office.
The book ended with him planning to start Jackfruit 365 and this caught the attention of former President A P J Abdul Kalam.
From meeting President Kalam in 2015 to winning a national award as an entrepreneur is James Joseph's journey so far, which he shares in a two-part interview with Shobha Warrier/Rediff.com. The first part:
Did relocating to Aluva bring you closer to jackfruit?
The relocation made me closer to jackfruit because I had always felt that raw jackfruit was not given the importance it deserved. It is never there on any of the 5-star menus when it is a full meal and also like a salad. But nobody is aware of it.
Once when I had mashed potato in a restaurant at New Orleans, I felt why couldn't they have raw jackfruit instead of mashed potato, which is more fibrous.
I had such wild thoughts when I was working in the USs. They came to me because I grew up in Kerala, and raw jackfruit was a part of our lives during its season.
And when I was writing my book, I could see a jackfruit tree from my window, and that had my undivided attention.
Was becoming an entrepreneur not in your plans then?
No, in fact, I was against it. I was just enjoying the flexibility in life I had.
Was meeting President Kalam the triggering point to be an entrepreneur?
That was the triggering point of not giving up
Towards the end of my book, I had mentioned about starting Jackfruit 365, and that caught Dr Kalam's attention. He wrote a mail to me wanting to meet me. That was the trigger.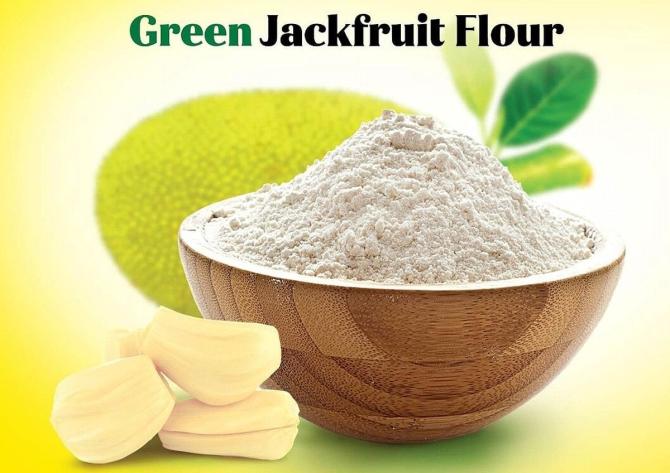 I had reached early to meet him, and was waiting in his secretary's room. As I was waiting, Dr Kalam walked into the room to leave a paper on his secretary's table.
I stood up and when he saw the gift bag I was carrying, he said, 'You are not supposed to bring any gift to me.' I said, 'This is no gift. This is jackfruit.'.
His reply was, 'Oh, you are the jackfruit man! Tell me what you are doing with jackfruit.'
I told him what I was doing, and also the story of a diabetic priest on insulin becoming hypoglycaemic after taking a meal of raw jackfruit.
I also told him that from then on I was chasing doctors to do a study on how the sugar value changes in diabetics after taking a normal meal and also after a raw jackfruit meal.
Interestingly, only in Kerala and Sri Lanka we have the habit of eating jackfruit as a meal. And Dr Kalam was aware of raw jackfruit as a meal as he had spent many years in Thiruvananthapuram.
After hearing me out, he fell silent for a few minutes as if he was meditating. Then he said, 'This problem is not confined to Kerala. You are an engineer, you must find a way to control diabetes without changing the eating habits of the people. And don't worry about seasonality. I will be with you. We will import jackfruit from Brazil when it is not available in India.'
Imagine, I was worried about jackfruit getting wasted in India, and he was talking about importing it. He knew how big a problem diabetes is for India.
Diabetes is a ticking bomb especially after Covid.
Yes, it is going to ruin our economy.
We must understand one thing. Changing food habits is as hard as changing religion. Asking the rest of India to eat chakka puzhukku (the most popular jackfruit dish in Kerala) is not going to happen.
So, the challenge for me was to find out how to make them eat raw jackfruit without changing their food habits.
Dr Kalam told me to come out with such a product. He said, 'We will go around the country campaigning for it.'
I thought, if Dr Kalam were to campaign for me, I wouldn't need any study or doctor with me.
I didn't even take a picture with him thinking I would when I went back with a solution to the problem thrown at me by Dr Kalam.
Earlier itself, I knew there was a huge business opportunity, but it was Dr Kalam who made me jump into it as an entrepreneur.
When I came back to India, my original plan was to be with Microsoft for three years and then work for the Gates Foundation.
But my idea changed when I realised diabetes was going to be a big problem for India, for everyone -- from the rich to the poor. Also, farmers are not getting any money from growing jackfruit.