It requires a lifestyle overhaul, says Pramod Tripathi.
Illustration: Uttam Ghosh/Rediff.com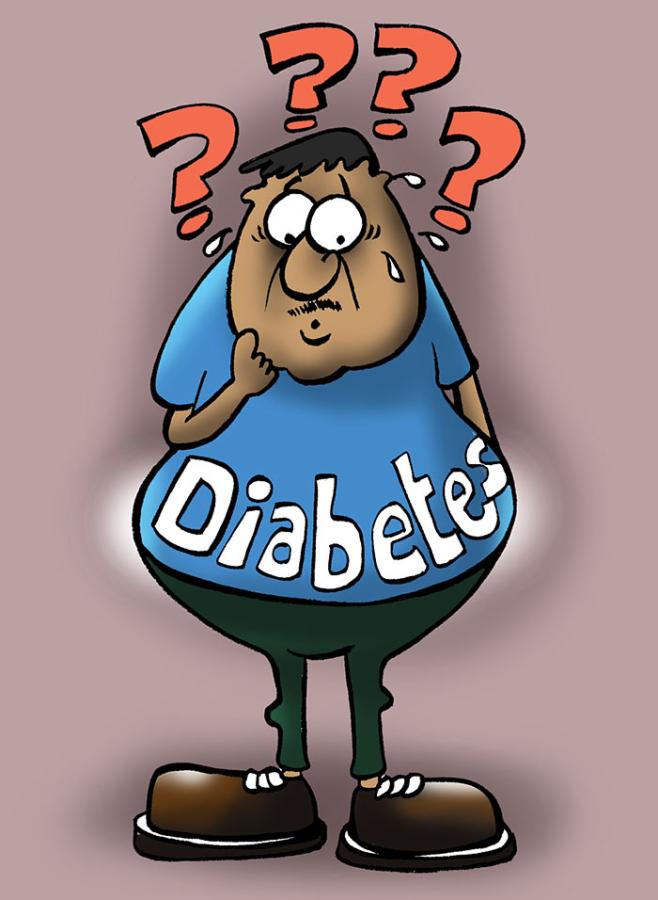 Diabetes is broadly categorised into two types, commonly known as Type 1 and Type 2.
Type 1 is caused due to lack of insulin secreting beta cells from the pancreas. These cannot be regenerated and, therefore, the disease can't be reversed once the damage is permanent.
Insulin resistance is the main cause of Type 2 diabetes and it can be reversed.
The symptoms can be reduced by reducing inflammation and body fat and by increasing muscle mass, strength and stamina.
A deficiency in micronutrients must be checked as well.
Completely reversing Type 2 diabetes requires a complete change in lifestyle.
One has to undergo a diet overhaul, develop a systematic exercise regime and keep away from stressors.
What to eat
Try to consume only one grain per meal.
Focus on traditional Indian grains like emmer wheat (khapli wheat), unpolished rice, jowar, bajra, minor millets like proso, kodo and little millets more commonly known as kodra, kuttu, sawa, kangni, varagu, thenai, et cetera.
All major meals in a day should be equally divided into four parts each for grains, pulses, cooked vegetables and salads. This is called the 25 per cent formula.
For breakfast, largely eat pulses based items. Avoid grains till you become free of all diabetes medication.
Increase the amount of green vegetables you consume.
Eat more beans and pulses in your meals.
Eat more raw, soaked and sprouted foods, along with nuts and seeds.
Avoid the following items till you become free from all medication: Sugar, white rice, wheat breads, ragi (nachni), potatoes, pumpkin, watermelon, pineapple and jackfruit.
To enhance the taste, allow sweet, sour, salty, spicy flavours to come together during the process of cooking. Integration of tastes makes the food more palatable and interesting.
Exercises
Do lymphatic and energy based exercises like dry rubbing, shaking, tapping, et cetera.
Climb up and down a few steps -- about 10 -- two hours after a meal, for about 10 minutes.
Weight training and resistance band training should be performed three to four times per week for 20 to 30 minutes at a time.
Patients can also benefit from high intensity cardio regimes such as high intensity interval training.
Specific yoga programmes can have a significant impact on a patient's overall health.