Cycling should try to put the Lance Armstrong doping case behind it, Spain's double Tour de France winner Alberto Contador, who returned from a two-year doping ban in August, said on Saturday.
The Saxo Bank-Tinkoff rider told Spanish TV that once the evidence in the Armstrong case had been sifted and the appropriate measures taken the sport should look to the future.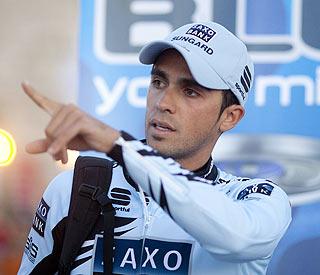 "A certain number of things are being said and in the end we have to look at what there is and what there is not, the different institutions and measures that need to be taken," Contador told Canal Plus.
"And then as far as the rest goes we have to focus only and exclusively on the present and future of this fine sport," added the 29-year-old, who won last month's Tour of Spain.
The International Cycling Union (UCI) is expected to give its reaction on Monday to the US Anti-Doping Agency's allegation that seven times Tour winner Armstrong was involved in the "most sophisticated, professionalised and successful doping programme sport has ever seen".
Contador, a former teammate of the American's at Astana, was banned for two years after traces of clenbuterol were found in urine samples collected during the 2010 Tour, which he won before being stripped of the title.