Sahara Force India driver Paul di Resta drove the new brand VJM06 for the second time and managed the fourth-fastest time on the second day of the pre-season testing in Jerez.
In all, the Scot did 89 laps and his fastest lap came in one minute 20.343 seconds.
"I felt very comfortable all day and we managed to get through the programme as we focussed on collecting aero data and understanding how well the car correlates with our simulation tools at the factory," Di Resta said.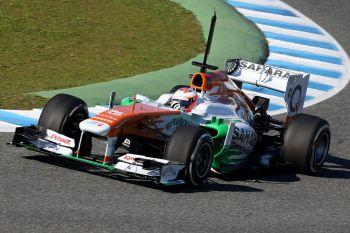 "We also started trying to learn as much about the tyres as possible so that we can carry that into tomorrow and optimise the set-up. The new compounds are quite different with the new construction and I've already felt a difference with the balance of the car in the low and high speed parts of the lap."
Jakob Andreasen, the Chief Race Engineer was pretty satisfied with how things went for the team.
"From the install lap onwards we managed to keep to the programme, even with the disruptions for the red flags. In the morning we focused on aero data collection before moving to baseline set-up work just before lunch.
"For the afternoon Paul completed some longer runs as we started to get an understanding for the 2013 tyres, especially the medium compound, and how they perform.
"All the while we made good progress with our system checks and we are in good shape ahead of tomorrow," he said.
Photograph: Mark Thompson/Getty Images