McLaren gave their rivals something to chew over on Tuesday as Jenson Button kicked off Formula One's pre-season testing with a lap comfortably quicker than anyone else's.
The Briton's first day back in the cockpit was much less dramatic than his 2009 championship year with Brawn GP, when his car was half a second quicker than the rest on its first lap out of the garage, but he still caught the eye despite having a fuel pump problem early on.
Button, who won the season-ending Brazilian Grand Prix last November as well as the 2012 opener in Australia, did 37 laps with a best time of one minute 18.861 seconds, 0.848 quicker than the fastest that Red Bull's Australian Mark Webber managed over 73 laps.
It was also nearly two seconds faster than Mercedes, who will have Button's former McLaren team mate Lewis Hamilton in the car on Wednesday, after that team suffered electrical problems and cut short the first day.
Testing times are often misleading and largely meaningless at this stage of the year, with teams performing routine systems checks and running through different programmes with varying amounts of fuel, but they do carry a feelgood factor.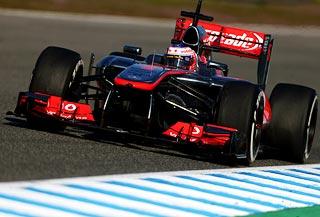 Ferrari's Felipe Massa, only sixth fastest in the new F138 that the Italian team hopes will banish the memories of a year ago when the 2012 car was painfully off the pace, certainly noticed.
"The 18.8 is an incredible time definitely, but the 19.7 (Webber's time) I don't think so," said the Brazilian, who was at least relieved that his car is a big improvement on last year's.
Webber, whose triple world champion team mate Sebastian Vettel will not be driving until Thursday, agreed the McLaren has made a statement.
"Yeah, it's a strong lap time. I don't know what compound of tyres he was on or what was going on but it's certainly not a slow lap around here - 18.8 at Jerez on Pirellis is a pretty handy time."
NICE FEELING
To put it into perspective, only three drivers went quicker over the four days of testing at Jerez last year than Button did on Tuesday. The 31-year-old was not about to get carried away, however.
The fuel pump failure, after three laps in the morning, had cost precious time but the afternoon restored his spirits.
"In terms of the feel with the car it's a nice starting point but not the mileage we obviously hoped for on the first day of testing," he told reporters.
"There's nothing that stands out where you think 'Wow! That is something we have to work on', so it's a good base."
Inevitably, only hours after the wheels had turned for the first time and with two full tests to come before the season starts in Australia on March 17, Button was asked whether it is a championship-winning car.
"Who knows? The important thing is there is a nice feeling with the car. Lap times mean nothing right now, and they won't mean anything at the last test," he said.
Frenchman Romain Grosjean was third fastest in the Lotus, ahead of Britain's Paul Di Resta in the Force India with Australian Daniel Ricciardo next on the list for Toro Rosso.
Mercedes had Nico Rosberg on track but only for 14 laps before he stopped with flames momentarily flaring at the rear of the car. The team blamed a wiring loom problem.
The team were fifth overall last season and have struggled to impose themselves since taking over Brawn GP in 2009 but Rosberg sounded positive that the car was a step up.
British rookie Max Chilton was at the bottom of the time sheets after his day was cut short by a rear suspension failure hours after the new Marussia had been presented to the world.
"Something gave way," he said.
Photograph: Paul Gilham/Getty Images