Lewis Hamilton crashed his Mercedes on the 2008 world champion's first day of pre-season testing with his new Formula One team on Wednesday.
The Briton's car careered in a straight line across the gravel runoff at the Jerez circuit and nose first into the tyre wall at turn six, the Dry Sack corner.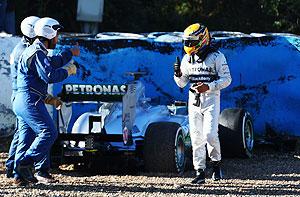 The car was slowed by the gravel but the wheel tracks indicated Hamilton had been a mere passenger with no response from the steering as it went off the track.
The 28-year-old, who was second fastest with a best lap of one minute 19.519 seconds when he brought out the red flags, stepped out apparently unhurt.
Hamilton, who had completed 15 laps, is opening a new chapter in his Formula One career with Mercedes after six years with McLaren but the British-based team have had a difficult start to the first pre-season test of 2013.
Germany's Nico Rosberg completed only 14 laps on Tuesday, the start of the test, after problems with the car's wiring loom left him stranded on the track with flames flaring briefly around the rear of the vehicle.
Photograph: Paul Gilham/Getty Images