Formula One tail-enders Hispania (HRT) gave Australian Daniel Ricciardo a dream 22nd birthday present on Thursday by handing him a race debut at Silverstone in place of India's Narain Karthikeyan.
The Spanish-based team said in a statement that Ricciardo, whose birthday is on Friday, was joining as an official driver in a collaboration deal with world champions Red Bull Racing.
"Ricciardo...will finally see his dream come true and become a Formula One race-driver starting from next week's British Grand Prix," HRT added.
Karthikeyan, the only Indian F1 driver ever to score points and also the only one on the starting grid this season, also remained an official driver along with Italian Vitantonio Liuzzi.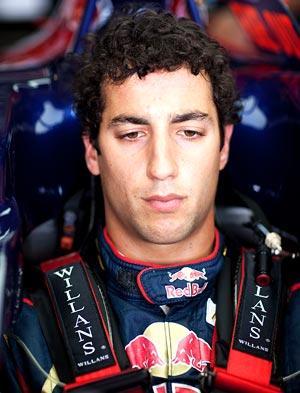 A team source said that Karthikeyan, who has backing from India's Tata Group, would be back behind the wheel for his country's inaugural Grand Prix in New Delhi in October.
"It's a dream come true for me - for the first time on an F1 starting grid," said Ricciardo, who has taken part in Friday practice sessions as reserve driver for Red Bull-owned Toro Rosso, in the HRT statement.
"I had to pinch myself a couple of times to be sure that it's real. I'm excited and can hardly wait to drive at Silverstone. It's a new challenge, a new experience, a new team, but I'm ready and will give of my best in any event".
WEBBER'S SHADOW
The youngster will be very much in the shadow of Australia's other driver on the grid, with Red Bull's Mark Webber gunning for his second British Grand Prix win in a row.
Getting to the finish will in itself by an achievement for Ricciardo, whose new team have yet to score a point since their debut in 2010.
Karthikeyan was making his comeback this season after racing for Jordan in 2005, where he finished fourth in the infamous US Grand Prix that started with just six cars.
Ricciardo has been tipped to get a full race drive with Toro Rosso next year, and possibly even Red Bull if Webber moves on or retires.
"He should learn the team, all the race tracks, to work together with the engineers, get a little bit of knowledge about the press work, about the marketing and this should be the preparation for him to race for Toro Rosso in 2012," team principal Franz Tost said back in May.
The highly rated Australian was British Formula Three champion in 2009 and has impressed with his Friday performances.
Many in the paddock had expected the Australian to replace Jaime Alguersuari in the Toro Rosso line-up before the end of the season but the Spaniard has scored eight points in his last two races.
Liuzzi, who also drove previously for Toro Rosso and Red Bull, will provide a good benchmark to measure Ricciardo's talent.
"I'm happy to welcome Daniel to the team. I'm glad the team managed to conclude this deal together with (Red Bull advisor) Dr. Helmut Marko who deserves my personal respect," said HRT principal Colin Kolles.
It will be the second year in a row that HRT have dropped an Indian driver and second time they have rung the changes for Silverstone.
Last year, the team drafted in Japan's Sakon Yamamoto in place of Brazilian Bruno Senna and made several further changes over the rest of the season with Indian Karun Chandhok dropped at the following race in Germany.