Narain Karthikeyan's hopes of a triumphant return to Formula One at the Australian Grand Prix after a six-year break may yet be put on ice with concerns that the untested Hispania (HRT) cars may struggle to meet minimum pace in qualifying.
With the "107 per cent" rule re-introduced this season after being cancelled last year to help the championship's new teams, Karthikeyan must coax his car to within 107 per cent of the fastest time to qualify for Sunday's race.
"Yes, of course, (the pace) is a concern, but we believe the car is a good step forward with the Williams rear end and everything else so it should be a positive step, at least on paper, but until you drive you never know," said Karthikeyan, India's first F1 driver, who joined the struggling HRT team in January.
The championship tail-enders unveiled their F1'11 earlier this month but Karthikeyan and his Italian teammate Vitantonio Liuzzi were not able to test it in Barcelona because certain suspension parts had not cleared customs.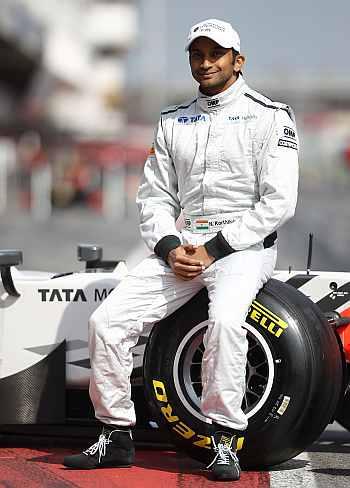 It will be the second year in a row that Cosworth-powered HRT have arrived at the first race with a completely untested car, having missed much of Friday practice in Bahrain last year as they rushed to complete the cars.
The team's 2010 drivers Karun Chandhok and Bruno Senna both retired in that race, managing less than 14 laps between them.
Although written off by many, HRT survived a point-less season last year and finished enough times to be placed above fellow debutantes Virgin Racing in the constructor's championship.
"Yeah, we had some mileage in the old car but the new car, we will have to see how it goes tomorrow as it will be the first time," Karthikeyan told reporters at Albert Park on Thursday.
"An uphill task but I will go with the flow and see what happens," he added.
IMPORTANT YEAR
The 34-year-old last raced in F1 for Jordan in 2005 when team boss Colin Kolles was also in charge of that team, and the Indian's return follows stints in the Le Mans series racing and NASCAR truck racing.
Karthikeyan's return also coincides with the debut of the Indian Grand Prix in Delhi this year, and HRT have not shied away from the Indian's status as a "pay driver" with commercial appeal and the financial backing of Tata Group.
Karthikeyan, who has scored five points in 19 F1 races, said it was a matter of holding on as the season progressed. "When updates come we should be in a reasonable position.
"Anyway we will go with the flow and it is an important year for me with the Indian Grand Prix.
"As you know motorsports in India is going to grow a lot. I am looking forward to it so hopefully we will have a reasonable year.
"First qualify and then finish the race, we will see," he added.