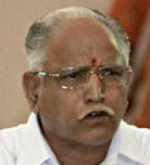 Former Karnataka chief minister and Bharatiya Janata Party strongman said on Wednesday that it was impossible for him to stay on in the party. "I have made up my mind about not being a part of the BJP," he said.      
Yeddyurappa was speaking to reporters at his Dollars Colony residence in Bangalore on Wednesday evening.
"The decision to quit the party was made long back
in the month of December. I was given a lot of assurances but none of them were fulfilled. I have been hurt and it is now impossible to stay on in the BJP. There is also no question of my return to the BJP."
Yeddyurappa, however, did not make it clear if he was going to launch his own party.
Yeddyurappa had hinted at quitting the party 15 days back. He is expected to step down along with 20 MLAs and float his own party by November 19. He is expected to enter into a post-poll alliance with the Congress.